New York/Archive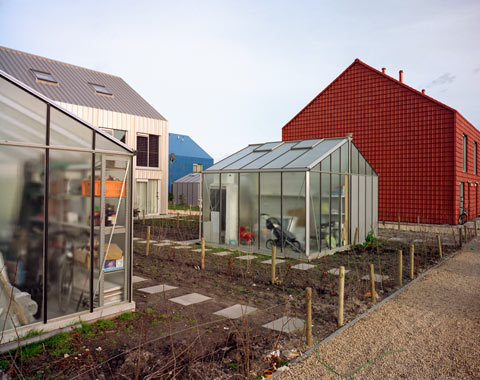 Ypenburg, The Netherlands, (4x5 film)
I've been spending a lot of time with my architectural photography archive of late. Most of the early pictures are 4x5 transparencies, the favored film format at the time. Later, I switched to negative film, which better handled mixed interior lighting, and those negs were duped on positive print film. After that, I scanned my negatives directly, and delivered digital files to my clients.
I've been scanning a lot of the older stuff for portfolio and stock purposes, and I'm catching up on a few things that were never given the attention they were due. One in particular, MVRDV's houses in Ypenburg, near the Hague, in the Netherlands. I made these pictures for my portfolio, so there wasn't a client involved.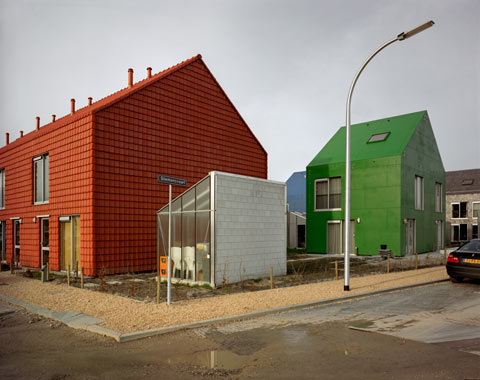 Ypenburg, The Netherlands (4x5 film)
MVRDV is one of most interesting Dutch firms, and I've photographed two other projects of their's, including the Silodam where I lived for several years before moving back to New York. The houses in Ypenburg are in one of these only-in-the-Netherlands suburban developments where many different architects are asked to each design a neighborhood within a rigorous overall plan. The effect is often a patchwork of signature styles all vying for attention and never quite cohering as a harmonious quilt.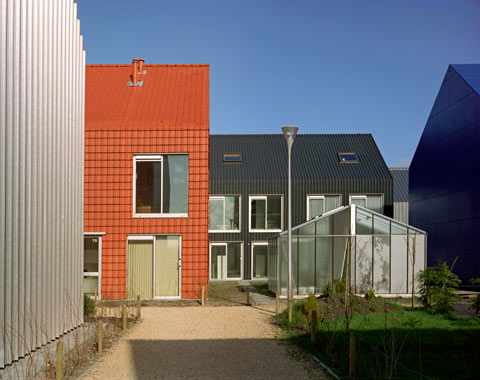 Ypenburg, The Netherlands (4x5 film)
Individually, the projects can be quite successful, as is this collection of multi-colored, variously clad houses. They are sort of
ur
houses in the sense that they riff off of western culture's most elemental concept of house--a box with windows, a sloping roof, and little gardens around. The architects were required to limit automobile access, so the houses are laid out on a grid of paths with parking on the perimeter of the block. I'm not sure that the layout is any better than row houses on streets, but someone thought that banishing cars from the inner circulation of the development would create a more pedestrian friendly environment. Ultimately, Ypenburg, and other Dutch suburban new towns, are very car-oriented places, though much denser than typical American suburbs.
Like most of MVRDV's work, these houses don't really express a particular design style so much as a conceptual solution. I can't speak to the usability of the design--how about the transparent storage sheds?--but I enjoyed photographing these brightly colored Monopoly houses.