New York/LES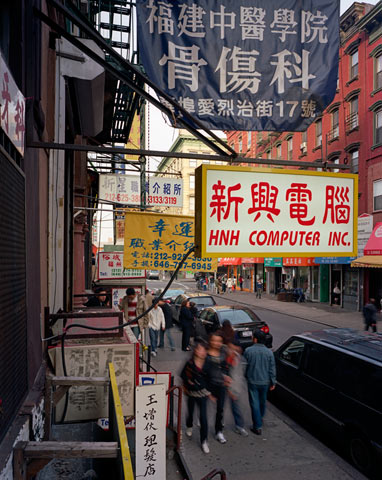 Eldridge Street (4x5 film)
Just getting around to scanning some earlier Lower East Side photographs including the view above of Eldridge Street in Chinatown.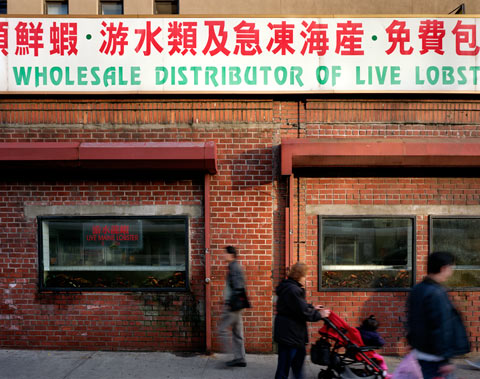 Allen Street (4x5 film)
No more Polaroid and other digital issues
There are several interrelated things that are of great concern to me these days all related to changing technology. The first has to do with recent announcement that Polaroid has stopped producing 55 and 54 film along with the rest of their line of instant films. Polaroid 55 is a black and white peel apart negative/positive film, and 54 is a similar positive only film. I use these films routinely for architectural photography. Both are 4x5 sheet films.
Polaroid 55 is particularly useful for previewing interiors--B&W being ideal for seeing light and dark areas of the image-- and helpful when doing lighting. Moreover, the negative is especially useful for seeing critical focus with a loupe. The negative grain is much sharper than the resolution of the print. I use Polaroid 54 mostly in the field for checking exposure and, occasionally, for the satisfaction of seeing an immediate image. It's a little cheaper than Polaroid 55, though both films have gotten crazy expensive.
Now that production has stopped those of us who continue to use film are being forced by circumstances to change a tried and true method of work. A number of architectural photographers have already gone to digital cameras, and they usually bring a laptop with them to preview their work. There are several reasons I resist this route. One is that even the best 35mm digital camera (Canon EOS 1Ds Mark III) does not approach the resolution possible shooting analog and then scanning. I also don't care for the wider 35mm frame. There are digital backs that go on medium format cameras--and even view cameras--but these are prohibitively expensive for photographers like myself. The Mark III is $8,000 for the body only. Phase One backs and the like cost tens of thousands of dollars. As it is, I just spent over $3,000 for a new dual processor Macintosh.

I also resist digital because I find carrying a laptop on a shoot one more thing to lug, and one more level of distraction. I currently use a light-weight ArcaSwiss view camera, pre-packaged film, and normally carry three lenses. All this fits in a backback, with the tripod hanging off the side, that I can carry around by myself. Although a laptop provides a wonderfully detailed image for previewing focus and composition, it has the potential to become a rather intrusive presence in an otherwise streamlined shooting/thinking process. That, I should acknowledge, however, is not a problem for either Albert Vecerka or Paul Warchol, who I spoke with the other night at the ASMP panel. (See earlier post). Both use digital cameras as their main tool, but occasionly go back to the 4x5 when needed.
I will have to see where things go for me. At the moment I use the same camera, same lenses, same film, same lab, and same scanner for everything--my fine art work and architectural assignments. The process has been working really well. Now, with Polaroid disappearing, I am being forced to re-evaluate. Photography has always marched in step with technological developments. There is no way that conventional color darkroom printing compares to what is possible using Photoshop, and few would want to go back. But in the camera/film area--image capture, if you will--technology is advancing faster than quality can keep up.