Travelers Passing Through
Boulevardiers and Fast Folk

In 1977 I came to New York as a photography student. I was, however, just as serious about songwriting, though I had only begun writing a few years before. As soon as I got settled in to my apartment in the East Village I set out to locate the local music scene. I knew that the punk/new wave clubs on the East Side were not the place for acoustic music—certainly not folk music—which seemed hopelessly unhip at the time.
I knew about Folk City as the club where Bob Dylan got his start, and perusing the Village Voice ads I saw that acoustic music was happening in various other clubs in Greenwich Village. In September of 1977 I went with my guitar to the hoot night, or open mic, at Folk City and pulled a number that, as it turned out, doomed me to playing well after midnight. I sat through hours of mediocrity and worse waiting for my turn when suddenly, one after another, a string of extraordinary songwriters took the stage for their allowed two songs each. One of them was Jack Hardy. I don't remember what he played that night, but I do remember that I was stunned.
Later that week I saw him do a full set at Kenny's Castaways around the block on Bleecker Street. Jack stepped on stage in a black velvet jacket, and announced: "I'm Jack Hardy and these are a few of my tunes," with a mocking emphasis on the word tunes. The performance was spellbinding—Houston Street, Murder, The Tailor, Go Tell the Savior and many other classic early Hardy songs. I knew instantly that I had found what I was looking for, a songwriter who had absorbed the influences of Dylan and other poetic based songwriters and turned it into something new and exciting.




Joe Henderson, Jeff Hardy, Jack Hardy, and Howie Wyeth in front of Kenny's Castaways on Bleecker Street, late '70s -- © Brian Rose

It may be hard to imagine now, but Jack at that time was not known as the songwriting oracle he became later. He was a happening. Charismatic, handsome, bristling with sardonic wit and brimming with confidence, he was 29, seven years older than I, and seemed poised for great things.
A few days later I found my way to the Cornelia Street Café where Jack and other songwriters were meeting to try out and critique their new songs. I played my most recent song, and then promptly broke the rules by playing something written by a songwriter friend I admired. David Massengill introduced himself and apprised me of my rights—new songs, original only, don't do it again, happy to have you here. Jack then approached, looked me up and down, and said, "Kenny's Castaways, Friday night, second set, front table."
With that introduction I became a regular of the songwriters exchange, which met for several more years at Cornelia Street before ending up a few blocks away in Jack's apartment on Houston Street. I also became a regular at the Folk City hoot, and discovered that the numbers were not as randomly doled out as I presumed. While going full time to school, studying and making photographs, and working part time as a typist in a Midtown advertising agency, I managed to hang out almost every night in the Village dragging my guitar everywhere just in case there was an opportunity to play.
In April 1978, the New York Times ran a banner headline across the front page of the Sunday arts section: Folk Music is Back With a Twang. The article written by John Rockwell focused on four acts, Steve Forbert, The Roches, George Gerdes, and Jack Hardy. This was the kind of establishment anointment that everyone had secretly hoped for, while publicly maintaining a blasé let-them-come-to-us attitude. Jack's career and stature as leader of the New York folk scene was at its peak, and as a new acolyte, I felt I had found myself at the center of the universe.
In the beginning Jack was a mentor to me, encouraging me to write and play as often as I could. I was definitely a work in progress, an unconvincing performer with a screechy off pitch voice, but Jack never seemed to doubt that I could improve if I worked hard and kept at it. I wasn't the only one who experienced Hardy's ability to boost the morale of fledgling artists. Christian Bauman, who came to the songwriters exchange years later says it well: But his acceptance of me (you see, he didn't accept everyone) so early on, when I wasn't all that good frankly, his ability to see the flame of something in me below all the smoke, his willingness to have me around and encouragement, meant so much to me.
Jack didn't tell you how to write a song, he taught by example. He believed in songwriting as a process, a craft that was only learned by repetition. Jack was certainly not opposed to the idea of inspiration--for him song was also magic and incantation--but he believed fervently that one improved at writing by doing it over and over, gradually separating the wheat from the chaff. During that period when we met at the Cornelia Street Café Jack set the standard by bringing in one brilliant song after another. I remember hearing the first drafts of songs like All Saint's Eve, The Guttersnipe, and The Inner Man, as well as simpler ballads like Potter's Field and the Irish inflected Blackberry Pie and May Day.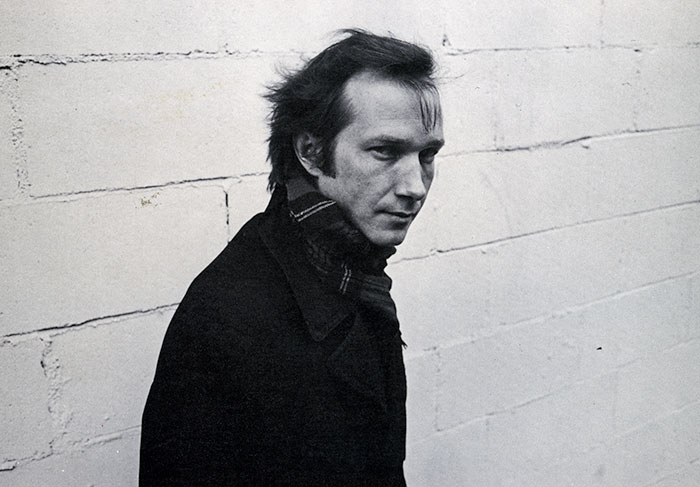 Cover photo for Mirror of my Madness, late '70s -- © Brian Rose
Within two years of the great folk revival trumpeted by the Times, John Rockwell walked back his praise of Jack Hardy and delivered a staggering blow:
Mr. Hardy's problems are a sophomoric fascination with intellectual and literary conceits, particularly Anglo-Irish ones, and a bathetic, overwrought Romanticism. The result makes his songs sound conceptually hollow; one finds it hard to believe him, which is surely the exact opposite of his intention.
Rockwell then gives advice: If he'd just relax and realize that less really can be more, he'd be far better off. That evening after the review came out, a bunch of us gathered in Jack's apartment, laid him out on the top of the bathtub in his tenement kitchen, placed flowers on him, and held a mock Irish wake.
The review, of course, was also overwrought, written by a critic who didn't get the complex mixture of seriousness and silliness that Jack cultivated. And he wasn't the only one. Jack seemed at times to revel in making himself untouchable to the commercial music world creating a character that was mercurial and difficult to nail down for a general audience. Sometimes, I wondered whether Jack's multi-hatted persona—his chimerical identity--actually got in the way of what really counted, the songs.
There was Jack "The Nameless One." When I first met him, Jack had recently shorn his cowboy whiskers and had adopted a more severe mien, frequently wearing a black cape and going on about William Butler Yeats and the bardic tradition. But he was most interested—obsessed might not be too strong a word—with James Clarence Mangan, a brilliant, but obscure Irish poet who influenced Yeats and Joyce. He died in 1849 of cholera, an addict, penniless.
From Mangan's poem "The Nameless One:"
And tell how trampled, derided, hated,
And worn by weakness, disease, and wrong,
He fled for shelter to God, who mated
His soul with song.
In 1978 Jack released "The Nameless One," an album that included several of his Irish, Mangan saturated songs including the title song:
and she is tending them all like a shepherd with her opiate cure
and the gull that flies from fishamble street
in the cholera cold he dies of the heat
not far enough from the seed of his origin
and she whistled him down with the wind
She, meaning the Leanhaun Shee, described by Yeats as the mythic Gaelic muse. Yes, this stuff is Romantic with a capital R as Rockwell wrote in the Times, but if you dig into the songs, and weed out some of the gothic trappings, there is a sophisticated use of language virtually unknown to the idiom of popular song. The joke about Jack was that he was not of this time—that he was a living historical artifact—and his songs were of ancient provenance rather than modern. Jack thoroughly enjoyed the image, and I think he understood that his songwriting aesthetic was out of step with most contemporary sensibilities.
There was Jack as "singing cowboy:"
Despite all the dense literary experiments and excursions into Irish mysticism, when Jack came back home, home always seemed to be on a trail out west, a loner or outlaw on horseback, seeking freedom from conformity and repression. His earliest recordings like 45 Calibre Man or Go Tell the Savior were about leaving and the price of freedom, about loss and disappointment. The songs followed familiar themes of country western music, occasionally channeling Hank Williams and the masterful songwriter Paul Siebel who in the late '70s was semi-retired and hanging out in the Village at Kenny's Castaways.
In the last years of Jack's life, the singing cowboy persona returned, and fully inhabited two of his late albums Bandolier and Rye Grass. It can be argued that these albums are Jack's finest with elegantly shaped melodies and lyrics stripped to the essential elements, shot through with sly humor and a weathered wisdom.
hope springs eternal in the mind of the cowboy
who won't let a sleeping dog lie
for a good horse'll do that--know when it's cornered
then break for the wide open skies
As my own work grew both as a songwriter and photographer, Jack and I became friends and comrades-in-song, but it would take a while longer before I would begin to understand the sources behind these self-consciously honed masks and the startlingly fluent musicality of his songs. Above all, I knew Jack as a New Yorker, an urban animal like me, despite the frequent pastoral imagery of his songs, living in a dingy railroad apartment on Houston Street, disdainful of material goods and the finer things of life. But it didn't make sense. Not yet.
In 1980 I finished school and launched a project to photograph the Lower East Side using a 4x5 view camera. I was fascinated by the streets and architecture of the old immigrant neighborhood, now home to many artists and musicians including lots of the folk songwriters I knew. I wrote songs about the city as if seen through a lens—I was using metaphors and images in my lyrics and Jack approved.





Suzanne Vega, 1980 -- © Brian Rose

One evening while hanging out in Folk City I found myself at the bar talking to a slightly built pale young woman with serious eyes and a quick laugh. She said she wanted to be a songwriter, and I replied, rather ostentatiously, given the reality of my status, that I was a songwriter. It was Suzanne Vega, recent Barnard graduate and presently a receptionist. I don't recall when she met Jack, or if I introduced them, but she was soon attending the songwriters exchange. She had a song as brittle as bones called Cracking, and a gorgeously wistful song, Gypsy, about a fleeting summer love.
Suzanne wrote many of her best-known songs over the next few years. I remember clearly the day she came over to my apartment in the East Village and tentatively picked her way through two new songs The Queen and the Soldier and Knight Moves. By then Jack, Suzanne and I had banded together jokingly as the Boulevardiers, based on a movie I had seen about Parisian philosophers sitting all day in cafes writing and acting very puffed up and important. We must have appeared a little ridiculous to the other songwriters, if not insufferable, passing notes full of boasts and gossip to one another under the tables in the Cornelia Street Café. But the atmosphere and the chemistry were electric.
Suzanne wrote a song about us called the Boulevardiers, which didn't make it onto any of her albums, but it catches some of the quicksilver of the moment. I'm the lover of the city and Jack is bright, quick, and fair:
He loves the city
With the bricks and broken bottles
And the pretty little flowers
As they grow against the wall.
He is dark,
He is tall,
He is the tallest one of all
Of us.
You are bright and quick and fair
And seems that you have lost some hair
But this is all right.
This is ok. we do not mind.
We write and fight and sing
And this is fine.
Aside from passing notes, however, we began writing songs to and in response to one another. I found myself in Four Ways to Frame the Spring "staring at the tenement stairs/carefully lining up his shot." And much of Jack's White Shoes album comes out of that period of mostly friendly sparring. From the song Subway:
to be sure i only wanted to go to the upper west side
where i could feel nature and watch the stars shine
and i could see that one star of first magnitude
somewhere in the heavens somewhere above us
but i was never really ready for that ride
that roller coaster, rattling, gattling-gun ride
on that long serpentine subterranean train
for which the big apple is so famous
What a great song that is. The star of first magnitude—indeed—she and Jack one evening had a midnight picnic on the steps of St. John the Divine near Tom's Restaurant where Suzanne one day imagined how the scene might look through my photographer's eyes. The result was Tom's Diner, a slender narrative sung a cappella that a few years later got remixed with a dance beat and became a worldwide phenomenon.
In the summer of 1981 Jack suggested that I come along with him on a cross-country trip to visit relatives and his new record company, which was located in Seattle. By then I knew something about Jack's background and had been several times up to the Hardy family's colonial house in Durham, Connecticut—one of several places where Jack lived growing up. Gordon Hardy, Jack's father was the dean of Juilliard and head of the Aspen Music Festival, an important person in the classical music world. Lillian Hardy was from the Studebaker family, the defunct automobile company. I would find out more about Jack (John Studebaker Hardy) as we traveled the back roads together for a month in a tiny Subaru.
The intention was to avoid Interstates and freeways all the way to the west coast and back, and for the most part we were successful. I took my view camera with me, and we stopped frequently so that I could haul the camera out and take pictures. First stop was South Bend, Indiana and Jack's grandmother's place, which turned out to be the converted carriage house on the former Studebaker estate. Jack showed me around South Bend where he was born and spent periods of time in his youth. I took several photographs of the abandoned Studebaker factory buildings. Jack told me the details of the Studebaker story, which he chronicled in his song Wheelbarrow Johnny, about how his great, great, great, grandfather headed west in the California Gold Rush and parlayed his skill at making wheelbarrows into one of the major American car manufacturers.
through the hills of pennsylvane
through the state of ohio
as far as the southern bend
of the muddy old saint joe
to build a home
a blacksmith and his family of nine
in the days we came to know as forty-nine
shoeing horses building wagons for the road
he taught his sons to build a wheelbarrow
oh that wheelbarrow you're going to roll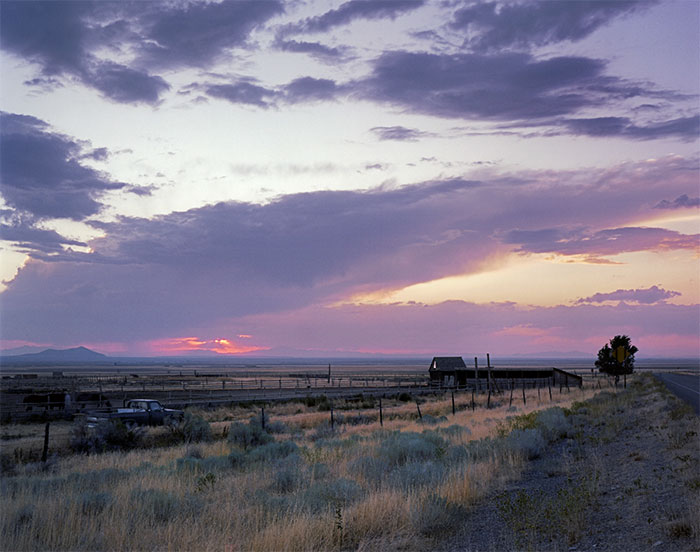 On the road in Wyoming with Jack, 1981-- © Brian Rose
From South Bend we rolled on up through Chicago, and then into Wisconsin where Jack's sister lived on a small back-to-the basics family farm far, far away from the New York of her upbringing. We stayed a couple of days and then headed off across the plains states. Rather than taking the pass directly west of Denver we drove north into Wyoming and then down the back side of the Great Divide eventually arriving in Aspen. Jack did most of the driving because the Subaru was equipped with a stick shift, which I couldn't handle, though sometimes I took over on the straight stretches when the highway would run for hours without interruption to the horizon.
After traveling the back roads for days, Aspen was a shock--a quaint mining town transformed into a wealthy ski resort, and in the summer cultural activities like the Aspen Music Festival brought thousands of well-heeled patrons of the arts to town. The Hardy home in Aspen was nestled in the mostly undeveloped valley along Castle Creek to the south. It was a tastefully designed modern structure perched on a hillside facing the nearby mountain peaks. One morning a string quartet played for TV cameras on the deck outside, and most nights, late, Jack's father played blues and jazz on the piano. We stayed at Castle Creek for a week, and I went with Gordon Hardy every day to the festival performance tent in his vintage two-seater Porsche availing myself of every opportunity to soak in some of the finest classical music in the world. This was the world Jack Hardy came from, and to a great extent separated himself from. This is where his musical roots developed—he actually studied opera before becoming a folksinger. And, incidentally, where he learned to ski and ride a horse.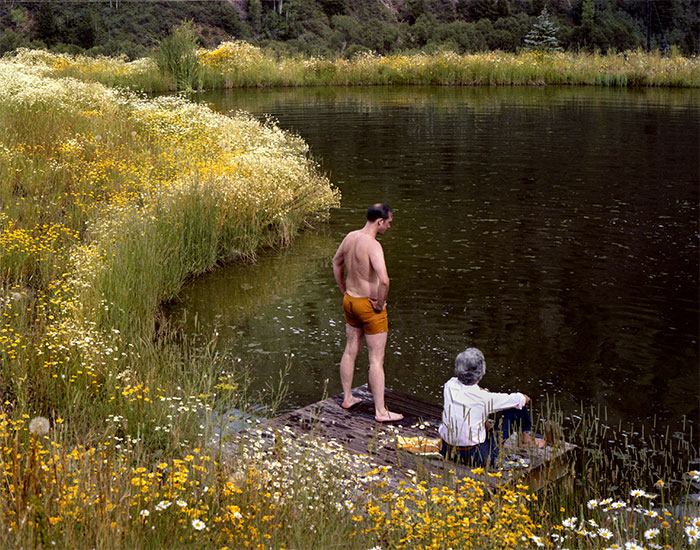 Jack Hardy and his mother Lillian near Aspen, Colorado, 1981 -- © Brian Rose
In Aspen Jack knew some of the townies, the year-rounders who keep the place going, and we hung out with a couple of musicians at a club downtown. At the end of the week we hit the road again driving day and night across the desert through Utah and Nevada and then over the Donner Pass into California. Reaching the foothills of the Sierra we made our way down into Placerville, the Gold Rush town where Wheelbarrow Johnny made the money that he took back east to South Bend. In the town's historical museum we found an original Studebaker wheelbarrow on display and Jack posed next to it for my camera. On the one hand Jack seemed to have disowned his past and all its comforts in favor of the hand-to-mouth existence of an itinerant folksinger. On the other hand, he appeared proud of his heritage and the accomplishments of his parents, a puzzling dichotomy never resolved, as far as I could see, during Jack's life.
From Placerville we briefly touched down in San Francisco and then made the scenic drive up the Pacific coast passing through Portland before finally reaching Seattle. Jack met with his record company, a small outfit for sure, and I waited in the street sipping a cappuccino from a sidewalk vendor—Seattle even then had a coffee culture. Did the meeting go well? I can't really say, but I doubt that any dealings Jack had with the music business went swimmingly. As much as Jack sneered at commercial success, I know that a part of him wanted that kind of acknowledgment—at least on his own terms--and as he got older I saw him weary at times of taking the unending high road of his own choosing.
We then drove east to Coeur d'Alene, Idaho to visit Jack's brother Chris, another Hardy sibling who had retreated from the rarefied cultural world of their youth. Chris was living literally off the grid with his wife in a log cabin deep in the woods, an outhouse in the back and a refrigerator hooked up to a utility pole at the end of their driveway, about a half a mile from the house. From there we drove over the mountains of Glacier National Park and then on across the plains of Montana and North Dakota. One evening, while driving Route 2, known as the High Line, we pulled the car over and watched a vivid display of the Aurora Borealis. That's where Jack's song the High Line comes from:
the northern lights are out tonight they dance across the sky
the lightning from a distant storm i can't outrun tonight
and the foxes lying on the road they don't know why they tried
running on the high line against the borderline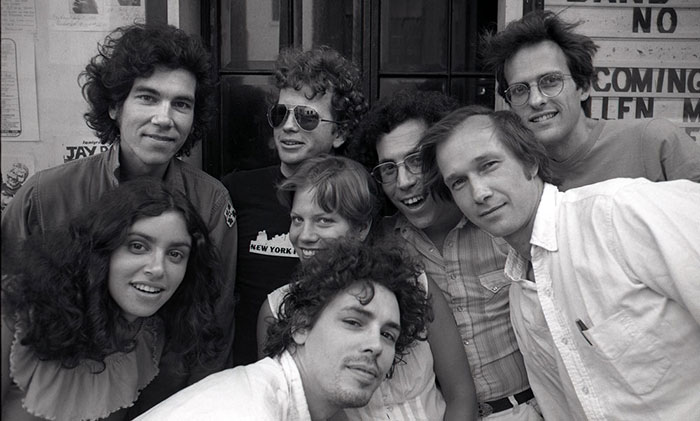 In front of Folk City -- Lucy Kaplansky, Rod MacDonald, Gerry Devine, Martha P. Hogan, David Massengill, Tom Intondi, Jack Hardy, and Bill Bachmann, early '80s -- © Brian Rose
Back in New York changes were afoot in the local club scene. Folk City, which had recently been sold by owner Mike Porco was seeking to reorient its booking. Folk music was still part of the mix, but it was no longer our clubhouse, and those of who used to breeze in for free and perch at the bar were no longer welcome. So, our community of songwriters was immediately interested when we heard about the Speakeasy, a cheesy looking falafel place with a backroom stage and sound system on MacDougal Street. Musician Vinnie Vok and Angela Page, Jack's longtime girlfriend (who he eventually married) had been talking to the owner, and by the fall of 1981 things were up and running—a cooperatively run club—by and for the musicians. Naturally, Jack was in the thick of things, and for a number of years it was our musical home.
Sometime at the end of 1981 Jack approached me with the idea of doing a magazine that would be an outgrowth of both The Speakeasy and the songwriters exchange. We would record new songs while they were fresh, press an album, and include a printed insert to accompany the LP. Jack would coordinate the recording end and I would do the printed magazine. We called the first issue The Coop, the Fast Folk Musical Magazine and it came out in February 1982. From the beginning it was a crazy venture with guerrilla style recording—songwriters would take the subway out to Brooklyn and quietly climb the back stairs to bass player Mark Dann's attic studio in his parents house. Flawless first takes were encouraged. Overdub fixes were not to be counted on. The magazine inserts were created in my tiny tenement apartment on E4th Street. There were no computers in those days, and all the articles were typed on a borrowed IBM Selectric, the brilliant typewriter with the interchangeable type balls. Everything had to be pasted up by hand, and the magazine inserts were physically slipped into the LP sleeves. At times there were 10 or 15 people working in my apartment, boxes stacked everywhere and a blizzard of paper cuttings on the floor.
Putting out a monthly magazine—music and text--was enormously time consuming, and I was struggling to make ends meet doing freelance photography. People did not submit articles on their own initiative. I had to plead and cajole to get articles written, which once received were often barely acceptable and in need of extensive editing and rewrites. People were unhappy with the editing—Jack was unhappy with any edits made to his articles no matter how well intentioned. We even argued about our titles on the masthead. The finished magazine sold for $2 out of a bin in Speakeasy, which I'm convinced never covered our costs. I have little doubt that every issue of the magazine that first year was subsidized out of some invisible pot Jack had access to. Subscriptions were coveted because we'd receive a chunk of money each time someone made a year-long commitment, but new subscribers weren't coming in fast enough to stem our losses, and I pointed out to Jack that what we were operating was basically a ponzi scheme. At some point, the piper would have to be paid.
In the end, however, we did an amazing thing—a cutting edge thing—by putting out a record every month for a couple of years. It had never been done before, and it was greatly beneficial to many songwriters, both soon to be famous and not. In mid-1982 I stepped away from my unpaid founding editor's job. I needed to make real money, and I was burnt out, tired of the uncompensated work, and tired of the scene. Although I continued to contribute songs, and Jack kept things going for a while longer, Richard Meyer eventually took over. By then LPs were replaced by CDs, and the magazine insert was downgraded in importance. In the end, all of it went to the Smithsonian as part of their Folkways record label.
Stepping back from the Fast Folk was a watershed moment for me. Jack had thrown himself into the Fast Folk at great cost to his career. Whatever window had existed a few years earlier for Jack to get beyond our local scene was no longer there, and Suzanne Vega, thanks in part to the Fast Folk and the Speakeasy now had a manager and there was talk of a major record deal. Eventually her opportunity came, and the cozy world of the Boulevardiers and our band of not-for-profit entrepreneurs began gradually to disperse. It was the beginning of a new era that led me to Europe and on to new photographic ventures. One thing is clear—though Jack's career had leveled off, his songwriting did not. If anything, it grew and deepened in the following years. And he continued to reach out to new generations of writers at the songwriters exchange now meeting weekly at his apartment on Houston Street.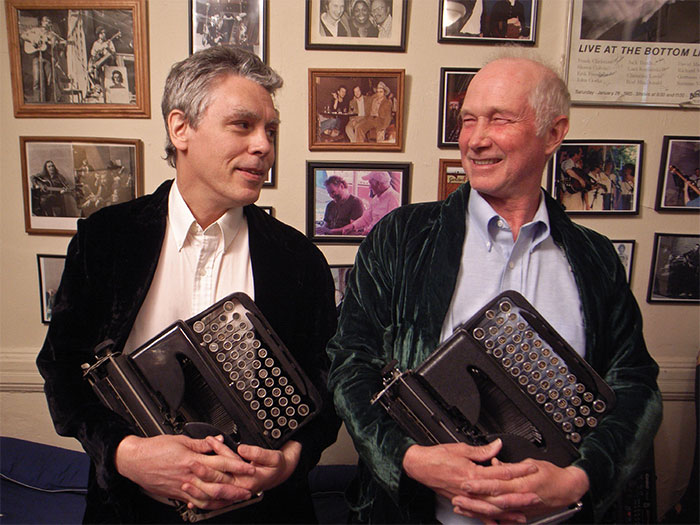 David Massengill and Jack Hardy, 2010 -- © Brian Rose
I remained friends with Jack until he died, though we saw much less of each other than before. I photographed Jack at Houston Street for Rye Grass, and I photographed him with David Massengill together as the Folk Brothers holding antique typewriters, kindred spirits in song after more than 30 years. The last time I saw him play was at the 50th anniversary of Folk City—as much a tribute to Mike Porco as to the music and those who had played there. Jack sang Go Tell the Savior. I photographed the event and eventually got on stage myself to sing Roll with the Wind, a song I had first auditioned at the Cornelia Street Café and later recorded for the Fast Folk. Jack had driven all the way up from the Kerrville Folk Festival in Texas to be there, and at the end of the night drove all the way back.
Jack Hardy could be a difficult character, stubborn in his ideas, one who did not suffer fools gladly, as the saying goes. But he was respected, if not liked by most. As generous as Jack was to me and so many of us, there was pain and even anger that flickered and smoldered beneath his usually cheery exhortations to write and sing and live life to its fullest. And he certainly did all of that. As close as I was to Jack I cannot say I knew where all the dark places were—the mysterious and tragic death of his older brother deeply affected him, but I could not go there. And he never recovered from the death of his younger brother Jeff on 9/11. He struggled to find a rationale and meaning for something ultimately irrational and random. I had no answers. He went to the west coast of Ireland every year—I knew little of that Jack Hardy. And he held court every year at a campfire in Kerrville—and I knew little of that Jack Hardy.
One evening many years ago, Jack and I were sitting at the bar in the Ear Inn on Spring Street in lower Manhattan engrossed in one of a million conversations we had back then about songs, about the scene, about how what we wrote would be our legacy, not how many albums we sold, not how much money we made, or how famous we became. I agreed with Jack, drinking down my Guinness, thinking as always, that it might be easier for him than for me with nothing but my still raw talents as a photographer and songwriter to fall back upon.
As I drained my glass, I saw that there was something glinting in the foam at the bottom. I fished out a large Irish penny, obviously hidden there by Jack. He said in his characteristic gravel voice, "to a traveler passing through." I was more amused than honored as I accepted his "tinker's coin." But I have it still, a treasure of our time together, a token of Jack's surpassing legacy.
And we passed the night most forcefully
I sang my songs and his to me
And we talked of life's brief song to sing
Of visions we'd forsaken
As travelers passing through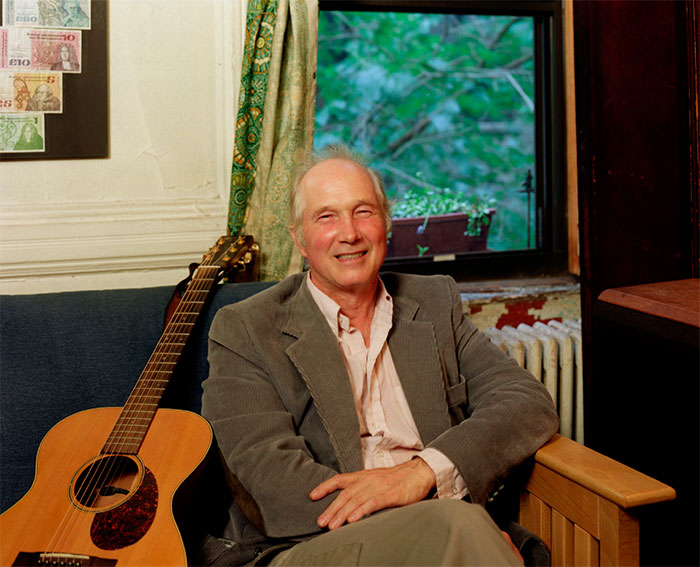 Jack Hardy at his apartment on Houston Street, 2010 -- © Brian Rose

Brian Rose
2013