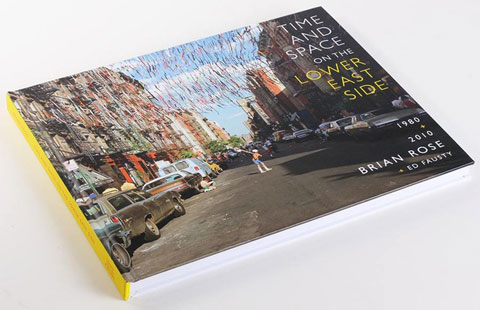 Since the release of Time and Space at the end of last May, more than 700 have been sold of an edition of 1,000. The remaining books from this initial printing are available online on my site or at Photo-Eye. Time and Space can also be found at independent book sellers in Manhattan as well as selected shops outside New York.


I Fear Brooklyn:

It was more than 30 years ago when now-accomplished photogs Brian Rose and Edward Fausty began to document the Lower East. This was a time when New York City still retained its sense of grit; when Greenwich Village was still struggling to move ahead without forgetting. To experience that East Side today is to feel your Village heart laid low. It is the story of a disappearance, if not a slow migration. In that spirit, Time & Space presents the New York that we talk about when we talk about New York.

The beauty of this exhibition being Brian Rose set out again a few short years ago, this time to document the same East Side a full three decades now removed. If anything, these photos serve as a reminder that the more things change, the more they stay the same. But they also leave a sense of setting out again at twilight, if not the very awkward feeling it's much later than you know.
-- Bob Hill

New York Times:

As the photographs show, much on the Lower East Side has changed over 30 years. But Mr. Rose sees an element of permanence in the physical grid of the area that has endured for a century or more. "I think this way we tend to look at things, as before and after, is really simplistic," he said. "People should think more about the continuum."



Photo-Eye:

...these clear, sharp, detailed images present more visual information than the eye can take in. They are a view across time and space, beyond the merely human perspective. This complex and handsomely-presented project is a portrait, or map, of a place, which challenges our assumptions about urban street photography.
-- Faye Robson



The Wall Street Journal:

But don't expect his new book to be a traditional then-and-now collection forlorn about the march of time.



B: Rumblings from the Photographic Hinterlands:

It's pretty rare for a photo book to feature the full package: Great photos and eloquent writing, and of historical/documentary interest. "What is interesting about photographers is the nature of the balance they create: the place where they draw that line between their own presence and the mindless memory of their cameras." On that continuum, Rose is somewhere between Shore and Friedlander. Three of a perfect pair.
--Blake Andrews



DART: Design Arts Daily

Seen together, and sequenced in a seemingly random way, the images avoid the quaint and the dramatic. Instead they reveal the embodiment of a particular urban experience recalled as a sense of place.
-- Peggy Roalf