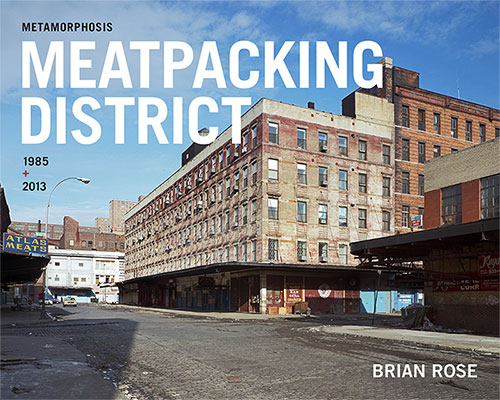 In the winter of 1985 I spent several days wandering the streets of the Meatpacking District with my 4x5 view camera. It was different city then. Edgier, less peopled. While the Meatpacking District bustled in the early morning hours as the city's primary meatmarket, it slumbered, almost abandoned, during the day.

I never printed my photographs of the Meatpacking District, and went on to other projects. But last year I retrieved the box of negatives from my archive and began scanning.
I was stunned to rediscover these images, made with little artifice, unforced in their clarity. It was like looking at New York as a stage set while the actors were away taking a break.

In the summer and fall of last year I re-photographed the Meatpacking District repeating many of the earlier images and making a number of new ones. The result is a book that shows the profound transformation of the neighborhood from abottoir to the epicenter of fashion and art.


New York Times:
As the photographs show, much on the Lower East Side has changed over 30 years. But Mr. Rose sees an element of permanence in the physical grid of the area that has endured for a century or more. "I think this way we tend to look at things, as before and after, is really simplistic," he said. "People should think more about the continuum."


Photo-Eye
:


...these clear, sharp, detailed images present more visual information than the eye can take in. They are a view across time and space, beyond the merely human perspective. This complex and handsomely-presented project is a portrait, or map, of a place, which challenges our assumptions about urban street photography.
-- Faye Robson


The Wall Street Journal:



But don't expect his new book to be a traditional then-and-now collection forlorn about the march of time.