New York/Dutch Seen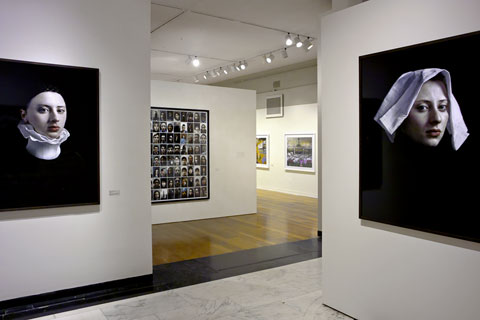 Dutch Seen, the Museum of the City of New York -- © Brian Rose
The more I've thought about the Dutch Seen exhibition at the Museum of the City of New York, the more I've come to the conclusion that the city--the ostensible subject of the exhibit--is largely invisible. Yes, sure, there's some street photography, some interiors of restaurants, and lots of multi-ethnic faces. But these are not the images that make the strongest impression.
Walking into the exhibition one is confronted first by Hendrik Kerstens' stunning portraits of his daughter Paula, each a 3/4 view, mimicking 17th century portraits by Vermeer and Rembrandt and others of the Dutch Golden Age. Paula, is presented as a New Yorker, wearing various bits of costume--a plastic bag, a napkin, a Yankee cap, beaver fur. The various headgear are at once immediately recognizable for what they are, but unmistakably evocative of the hats seen in period paintings.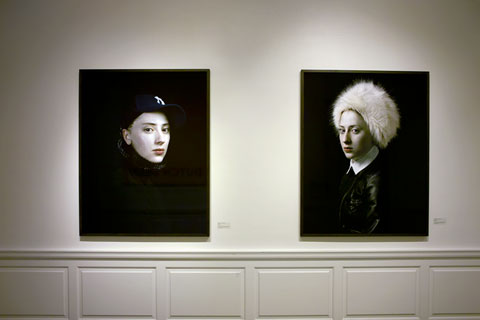 Portraits by Hendrik Kerstens -- © Brian Rose
Like the original women of Golden Age paintings, Paula is depicted as both idealized and specific, self-assured and intelligent--lost in thought, a mysterious cipher. In these photographs we are taken back to the early days of Dutch settlement in New Amsterdam, when to a significant extent, the character of the city was formed. That's the premise of Russell Shorto's book
Island at the Center of the World
. Shorto also contributes a short elegantly written introduction to the exhibition catalogue.
Paula is a grand conceit, richly ironic and humorous. She is a Dutch cosmopolitan in a savage landscape, glimpsed obliquely just beyond in the next gallery in the photographs of Misha de Ridder. De Ridder searched for vestiges of the world Henry Hudson found when he sailed into New York harbor. He photographed thick tangles of forest undergrowth, a fallen tree trunk, a sweep of beach at Sandy Hook.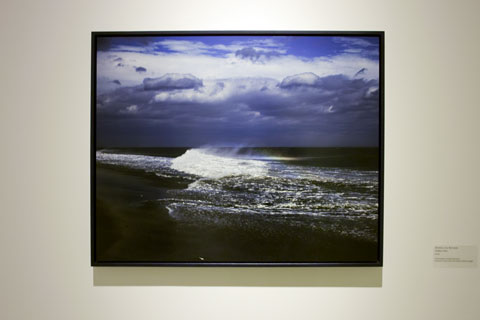 Photography by Misha de Ridder -- © Brian Rose
In his beach scene, a wave crashes on shore as a shaft of sunlight breaks through a dark sky, caught momentarily in the salt spray, shimmering, iridescent. It is an expression of the chaotic wildness that confronted the Dutch when they arrived, which they sought to tame and exploit, as the Dutch tend to do even today. It is also the one moment of pure serendipity in the show--a miraculous discovery, if you will--the kind of thing photography has always been about.
There is much more substantial photography to take in beyond Kerstens and de Ridder, but in a way, it all seems beside the point. I loved Charlotte Dumas' anthropomorphic portraits of New York shelter dogs, and I enjoyed the cutting glance of Danielle van Ark's photos of art gallery openings. And I was mystified--in a sort of positive way--by Erwin Olaf's black on black interiors of a fictional African American upper middle class home.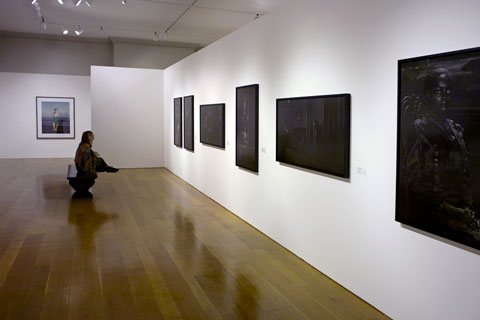 Photos by Erwin Olaf -- © Brian Rose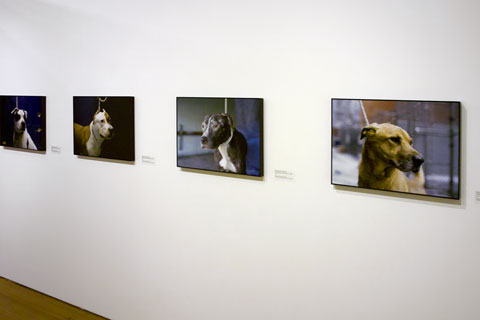 Photos by Charlotte Dumas --
The brilliant beach portraits of Rineke Dijkstra seem stranded here--they were, after all, made 10 or 15 years ago, and I can't help but think they were included because of some obligatory nod to her reputation as an icon of recent photographic history. Likewise, Inez van Lamsweerde and Vinoodh Matadin's transparently stylish celebrity portraits seem gratuitous.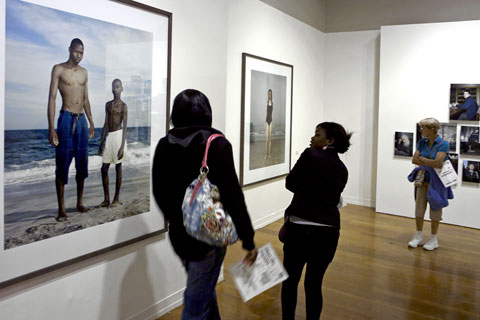 Photos by Rineke Dijkstra -- © Brian Rose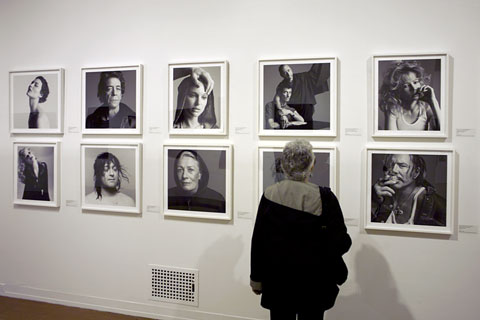 Photos by Inez Lamsweerde and Vinoodh Matadin -- © Brian Rose
Despite all the visual skill and conceptual high mindedness on display, there is a puzzling shortage of fresh discovery here--in an exhibition presumably about the Dutch rediscovering New York--at least nothing that approaches the epiphany of Misha de Ridders crashing wave, or the piercing eyes of Hendrik Kerstens' ridiculously sublime Paula.
Neither Kerstens nor de Ridder, of course, show even a glimpse of New York City.


Additional comments:

The layout and simple design of the exhibition is beautiful overall, and the newly refurbished galleries look great. I especially liked the orange title scrim hanging in front of one of Kerstens' prints. Different framing or mounting throughout the show helps give each photographer his/her own identity. And unlike so many museum shows I've been to recently, the photographs are well lit. The museum has never looked better.