New York/The Bowery
The weather was beautiful today in New York. Cool, but crisp and comfortable. I worked on an assignment in the early morning light, and in the late afternoon walked up the Bowery north of Houston Street doing several photographs with the view camera around 3rd and 4th Streets.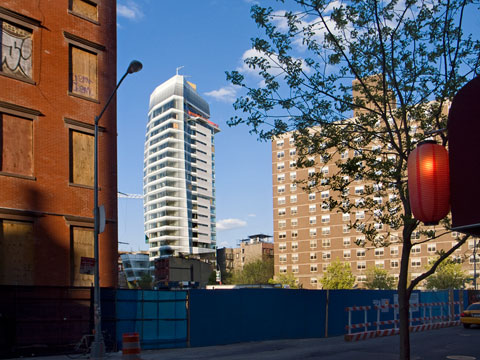 East 4th Street and the Bowery (digital)
There's a lot of construction in this area–Cooper Union's new building, a hotel, and an apartment tower rising above a row of mostly 19th century buildings on the Bowery. The hotel is by Carlos Zapata, best known for Soldier Field in Chicago, a controversial architectural insertion into a historic stadium structure. Here the white accented glass reminds people of the Frank Gehry IAC building on the west side. Over there, the billowy Gehry building sails confidently along among older warehouses and factories. Here, the first impression is of an overly shrill, snooty, tower giving the cold shoulder to the humble tenement surrounding. But I am cautious about rushing to judgment on unfinished buildings. Only when it and the adjacent Thom Mayne (Cooper Union) building are complete will it be possible to assess the effect on the neighborhood–and on each other.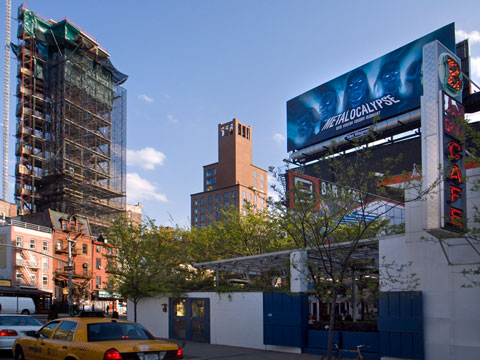 East 4th Street and the Bowery (digital)
This is where my life in New York began–Cooper Square and the block of East 4th Street between the Bowery and Second Avenue. Looking at these pictures, it seems an unfamiliar world, despite the fact that most of the older buildings remain.