New York/Franklin, Virginia
UPDATED HERE

Last weekend I attended the funeral of an aunt in Franklin, Virginia. With the passing of most of my close relatives in the area I don't expect to be making too many trips down there in the future. My father's side of the family comes from the area with its peanuts, cotton, and other agricultural products. One of my uncles had a hog trucking business in Courtland (previously known as Jerusalem), a few miles from Franklin, the site of Nat Turner's 1831 slave uprising. It's still a predominantly agricultural area, just outside the urban/suburban orbit of Hampton Roads, the metro area centered on Norfolk, Virginia.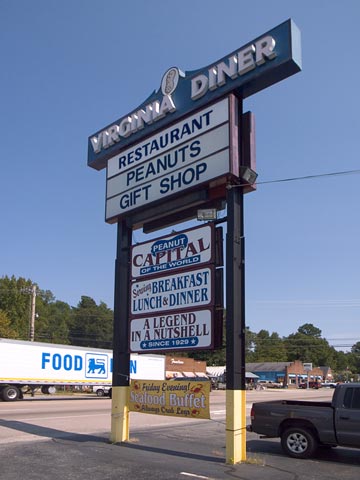 The Virginia Diner, Wakefield, Virginia


The southside of the James River is still a conundrum to me, and I have searched there, largely in vain, for the roots of my own self-identity. After crossing the river at Jamestown, we had lunch at the Virginia Diner, a popular restaurant featuring local Smithfield ham, collards, hush puppies, and lots of fried things. Like much of this part of Virginia, Black and White life is still pretty segregated. There were no black faces in the Virginia Diner--other than in the kitchen.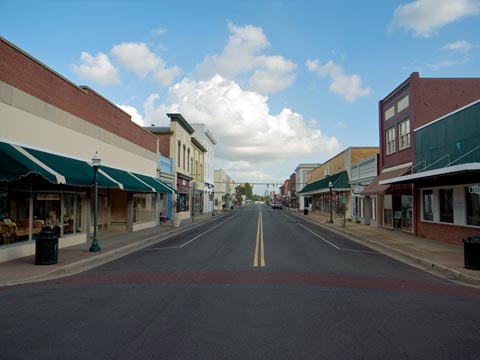 Main Street, Franklin, Virginia

Quiet, but well-preserved.


Franklin exists because of its location on the Blackwater River, which flows south into North Carolina and out to the Albemarle Sound. The river and key rail lines made it a transportation hub for the area. Main Street and a small grid of blocks lies along the river as does a huge paper mill owned by International Paper, formerly Union Camp, which grew from a sawmill on the Blackwater. My aunt Louise worked a good chunk of her 91 years at the mill inspecting paper.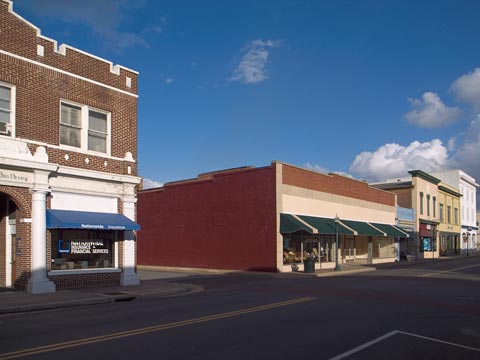 Main Street, Franklin, Virginia



Big Tunes, Home of Da Hits, Franklin, Virginia
Franklin's downtown is well-preserved despite a devastating flood in 1999, and most of its storefronts are cleaned up and freshly painted. Unfortunately, many still await an occupant. After the funeral we met at Fred's on Main Street where the waitresses wore t-shirts emblazoned with

whereinthehellisfranklin?

To the north was a music store called

Big Tunes, Home of Da' Hits

. To the south was a possibly still used movie theater. The marquee said: County Line Cloggers and Jesus is Lord.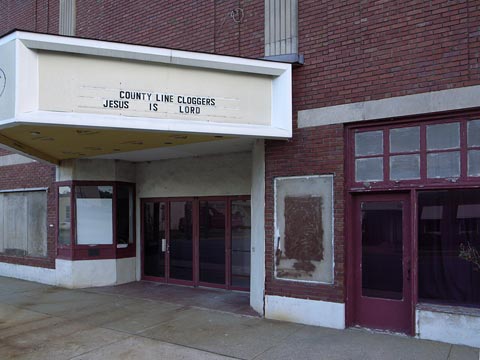 Franklin, Virginia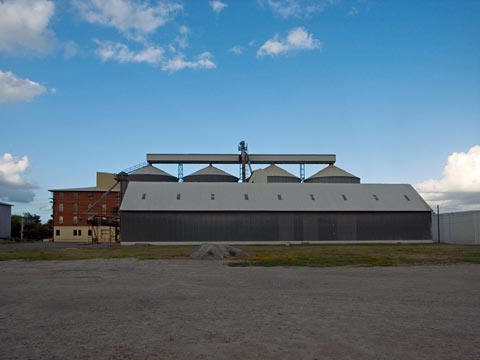 Peanut silos, Franklin, Virginia
Freight trains still go right through downtown, and a large complex of peanut silos stood near the tracks. The funeral home was a few blocks away, one of the many grand houses built in the heyday of the town when the Camp family (of the paper mill) was royalty, and money, in general, was more likely to stay in town. Reading up on Franklin, I see that it's a pretty poor community, slightly more African American than White, and significantly less educated than most of the state. Not much bad happens in Franklin with it's 8,000 inhabitants, but overall, crime is slightly higher than in the burg from which I am now writing, New York City.