New York/LES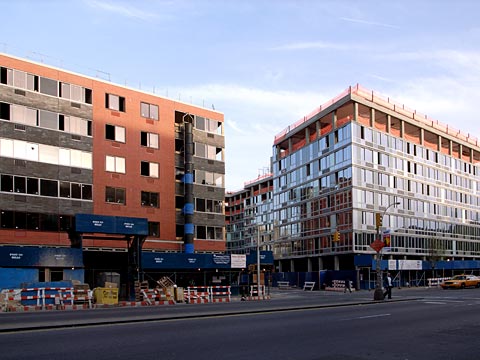 New construction on Houston and Bowery

Today, Easter Sunday, I returned to the streets of the Lower East Side. I began walking uptown past Houston and East 1st Street where massive construction is transforming the area. I stopped on East 2nd Street where I photographed a community garden and a new tower rising behind on the Bowery. From there I headed up the Bowery to E7th Street and began walking east. A large crowd of people dressed in their Easter finery each holding willow branches stood in front of the Ukrainian church directly across the street from McSorley's Ale House. I made two images and moved further along E7th Street.

Back in 1980 when I first began photographing the Lower East Side I made a number of pictures along E7th Street. Some of the things I photographed then have vanished, but much remains relatively unchanged. At Avenue A I entered Tompkins Square Park and took a number of pictures, one of a gnarled tree trunk standing in front of St. Brigid's Church on Avenue B on the East side of the park. Spring had finally arrived in New York, the weather was relatively warm, and flowers were in bloom. The park was filled with people. Back in 1980, Tompkins Square Park was a somewhat forbidding place.
Things continued to deteriorate in the park and the surrounding area throughout the '80s with homeless encampments and open drug use. In 1988, a serious riot, and a number of skirmishes with the police, led to the closing of the park. A major renovation followed, which allowed the park to be returned to the people of the neighborhood.
During the '80s and '90s I played a lot of basketball in the park with a bunch of pretty serious guys: high school stars, ex-college players, a few who played professionally in Europe. One day I even had a former New York Knick on my team.

Walking further along E7th Street I reached the block between Avenues C and D where my wife Renée was staying when we first met. The block was one of the few in Alphabet City that was not a scene of abandonment and devastation. But even here, a few new buildings were under construction on previously vacant lots. At Avenue C and Houston I photographed a gas station, one of a dwindling number in Manhattan, with a new apartment building with sales banner looming up in the background. Over on Second Avenue I passed by an Exxon station, American flags flapping, jammed with yellow cabs waiting to fill up before going off shift.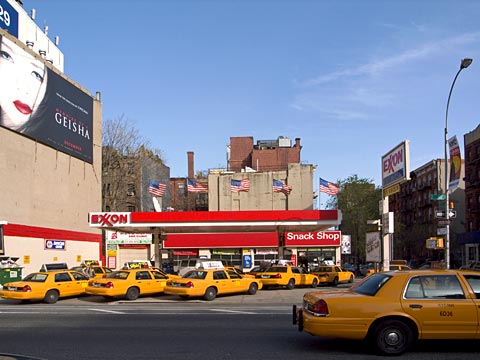 Second Avenue and East 1st Street

Eventually, I walked over to East 4th Street between Second and Third Avenues, the block I lived on for many years beginning in 1977 when I first arrived in New York. I dropped in on Alex Harsley, a photographer and proprietor of a small photo gallery where I showed some of my Lost Border project a couple of years ago. Alex often hangs his own work on the walls of the gallery, usually unframed, black and white prints that chronicle the street life and history of New York over the past 40 years. As an African American, Alex has documented Black cultural life in New York, and his photographs are important historically as well as aesthetically. Visiting Alex is always enjoyable as he is rarely lost for words. And though his sometimes rambling dissertations on life and art can be hard to pin down, they are, nevertheless, always compelling.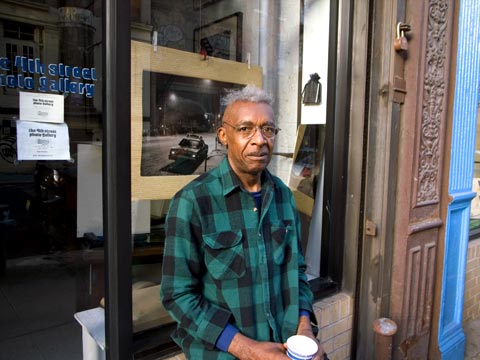 Alex Harsley in front of the 4th Street Photo Gallery