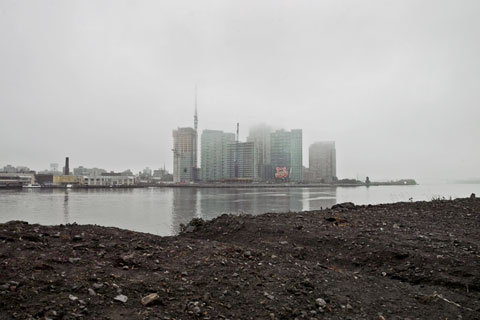 Long Island City from Roosevelt Island — © Brian Rose
On Sunday I took a tour of Four Freedoms Park, a memorial to Franklin Delano Roosevelt, currently under construction on Roosevelt Island. The island is located in the East River opposite Midtown and the Upper East Side. It is accessible by aerial tram and subway, and by a bridge from Queens. In the past, the island was primarily used for prisons and hospitals, a convenient location to keep separate from society certain people–notably the mentally ill, small pox patients, and victims of polio. In the 1970s a planned community of high rises was built for middle income residents, and more recently, market rate housing.
It was damp, foggy morning, and I joined about 25 other Cooper Union alumni for the hour-long tour at the far southern end of the island. The memorial was originally designed by Louis Kahn in 1973, but it was not built because of the city's fiscal problems. The project was resurrected a few years ago and is now going forward using the Kahn design. I snapped pictures of the construction site as well as views across the East River and historic structures on the island.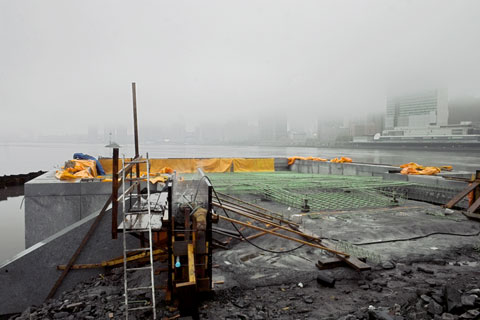 FDR Four Freedoms Park under construction — © Brian Rose
The memorial culminates in a granite enclosed "room" at the southern tip of Roosevelt Island opening onto a vista of the river and the adjacent United Nations complex in Manhattan–enveloped in fog above.
The complete series of ten photographs can be seen here.
The park website is here.