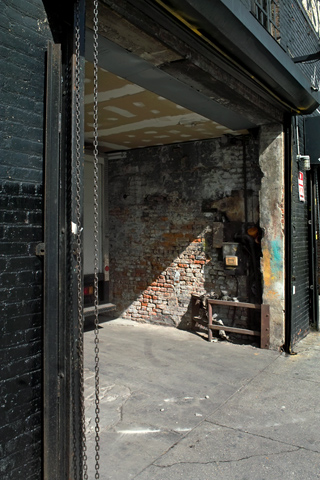 Chrystie Street — © Brian Rose
My slide talk went well last night at the Mid-Manhattan library. I heard there were 58 people in the audience. Ed Fausty who did the 1980 Lower East Side photographs with me was there and participated in the Q&A. I sold a few books, and talked with lots of people afterward.
I stepped through Time and Space on the Lower East Side reading most of the text pieces and adding a few additional comments here and there. Since I was showing the images one at a time, some of the connections between images–on facing pages in the book–were not so easily made. I don't mean actual before/after pairs, which are obvious enough, but other less direct relationships. But it was my choice to fill the screen with large single images rather than show pairs at a smaller size.
Here is a review of the slide talk.
***
Today I am recording one of Jack Hardy's songs for a special project dedicated to the late songwriter. Jack died a couple of weeks ago–a great shock to all of us in the folk songwriting community in New York and elsewhere. Jack and I founded the Fast Folk back in 1981 with the intention of getting new songs on the street quickly while still fresh. I will write more about the Fast Folk in the future. Tomorrow there will be a memorial event:
Jack Hardy Memorial Gathering in New York City: There will be an evening of song in memory of Jack, hosted by David Massengill, on March 31st, 2011. It will be at the Christopher Street Coffee House, in St. John's Lutheran Church, at 81 Christopher Street. There is more information on the Christopher Street Coffee House web site
A number of YouTube videos of Jack Hardy performances have been added recently including this one from the 50th anniversary of the former Village folk club Folk City. It was the last time I saw Jack perform on stage. I was doing still photographs for the event and that's the back of my head interfering with some of the video–sorry. This is Jack at his best surrounded by terrific musicians including Kirk Siee on bass, Mark Dann on guitar, and Lisa Gutkin on violin. Jack's daughters Morgan and Miranda sing harmonies, and midway through, Terre Roche joins them.
And here's a video of Suzanne Vega visiting the songwriters' exchange at Jack Hardy's apartment on Houston Street. I wasn't there that day, but I see several familiar faces–Tim Robinson, Frank Tedesso, and Erik Frandsen–three of the best songwriters around.