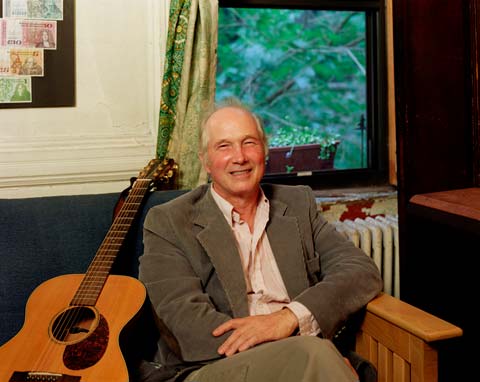 Jack Hardy in his apartment on Houston Street (4×5 film) — © Brian Rose
Jack Hardy, the extraordinary song craftsman, and one of my most cherished friends died last night of cancer. New York Times obituary here.
From The Boulevardiers by Suzanne Vega:
(I am the tall lover of the city, Jack the quick and fair.)
He loves the city with the bricks and broken bottles
and the pretty little flowers as they grow against the wall.
He is dark, he is tall, he is the tallest one of all of us.
You are bright and quick and fair
and seems that you have lost some hair
but this is all right.
This is OK. We do not mind.
We write and fight and sing
and this is fine.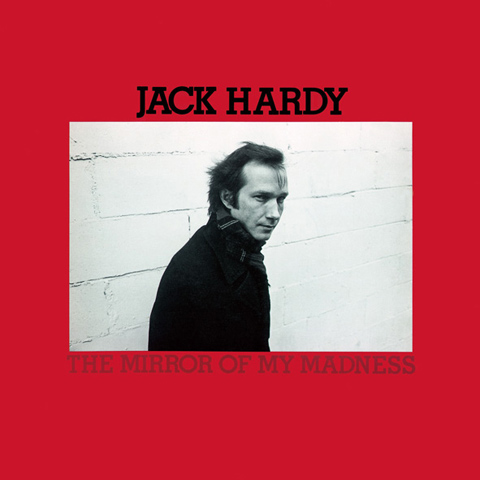 This is the cover of one of Jack's earliest albums. I did the photograph. It was originally a blank LP  sleeve, and we called it the White Album. At some point a record company picked it up and a proper cover was made. I don't remember the location of the photograph, but it was undoubtedly somewhere in Greenwich Village, or very possibly near my apartment in the East Village.
When I met Jack in 1977 he was a charismatic figure full of a sense of personal destiny. The picture above expresses some of that ambitious confidence–and an image carefully cultivated. Later, the trajectory of his career leveled off, but his songwriting skills did not. If anything, they grew and deepened over the years.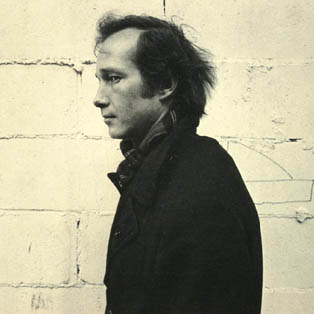 Jack Hardy — © Brian Rose
This photo found on the internet is from the same session as the one above. I do not seem to have the negatives, although I haven't finished looking. I may have some prints. I am guessing that I gave the negatives to Jack shortly after they were made, and they may be in his archive. Nothing was digital in those days, of course.
UPDATE:
Arrived somewhat late to an impromptu memorial concert at Banjo Jim's, a small club in the East Village. I sang The Skyline, my song about 9/11, which was partly a response to Jack Hardy losing his brother in one of the Twin Towers. I did it  a capella, less than perfectly, but I give myself some credit for bravery. Several people did wonderful versions of Jack's songs, and we ended with Go Tell the Savior led by David Massengill with one of the verses sung beautifully by Jim Allen. I hear that a bigger, more formal memorial is being planned.
MORE PHOTOS: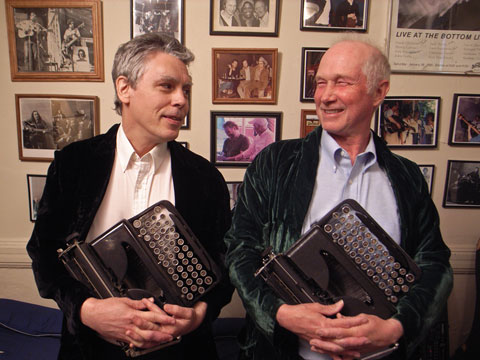 The Folk Brothers, David Massengill and Jack Hardy, 2010 — © Brian Rose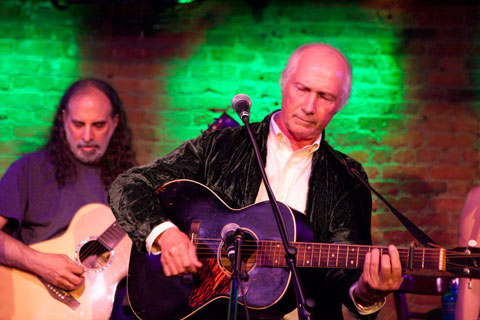 Folk City 50th anniversary, Mark Dann and Jack Hardy, 2010 — © Brian Rose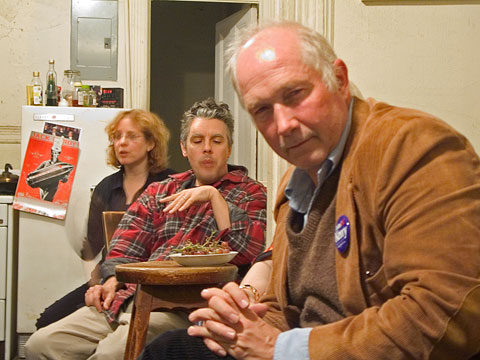 Jack Hardy and David Massengill, Houston Street apartment — © Brian Rose