WALL


Photographs © Brian Rose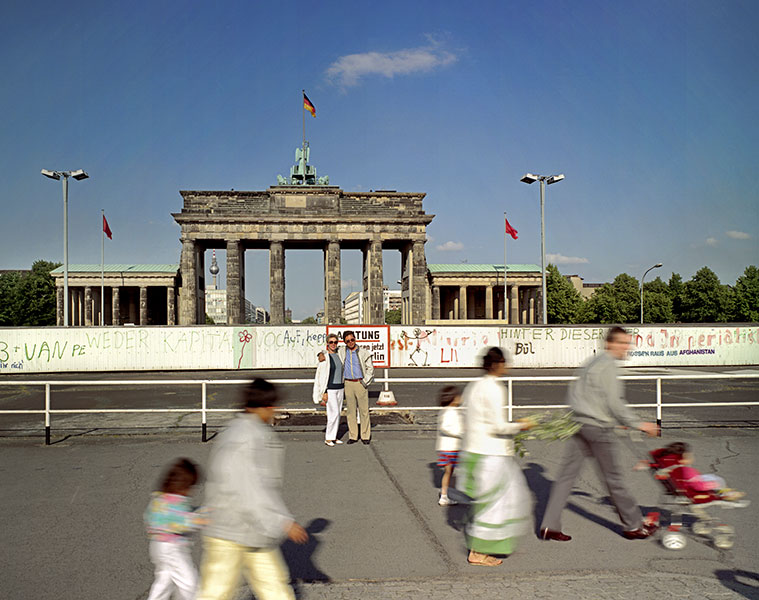 The Brandenburg Gate, Berlin, 1985
At the Brandenburg Gate I took a series of photographs of tourists posing before this symbol of Berlin. It could be a tourist sight in any city. Many sightseers are transported around on large windowed buses with guides pointing and speaking into a microphone. At Potsdamer Platz they all get out, take pictures, buy souvenirs, and get back on the bus.

Many Berliners use the path alongside The Wall to get from place to place—often on bicycles—to avoid the streets. The Wall, while standing within East German territory, is easily walked up to, and graffiti—from the trite to the wonderful—is found everywhere, but most abundantly in Kreuzberg, a scruffy neighborhood of artists and immigrants.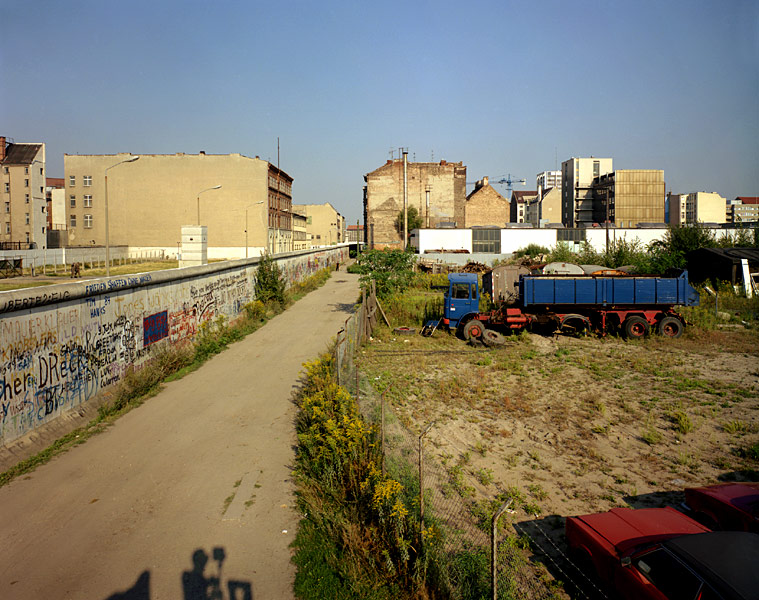 Niederkirchnerstrasse, Berlin, 1985
Berlin exerts a pull on me, as I'm sure it does on many people. It is a hard thing to articulate. The city is not in any normal sense attractive, but it has presence visually. The remaining pre-war buildings—often battered and scarred--the vacant lots, the blocks of new apartments and office buildings, all can be read visually as history and urban archaeology. You can't forget the war and subsequent events here.

There used to be several great train terminals around Berlin Mitte, and though the buildings were mostly destroyed (bombed or later torn down), the S-Bahn trains often follow the old tracks through the locations of the abandoned stations—and on the S-Bahn one can almost imagine Berlin before the war.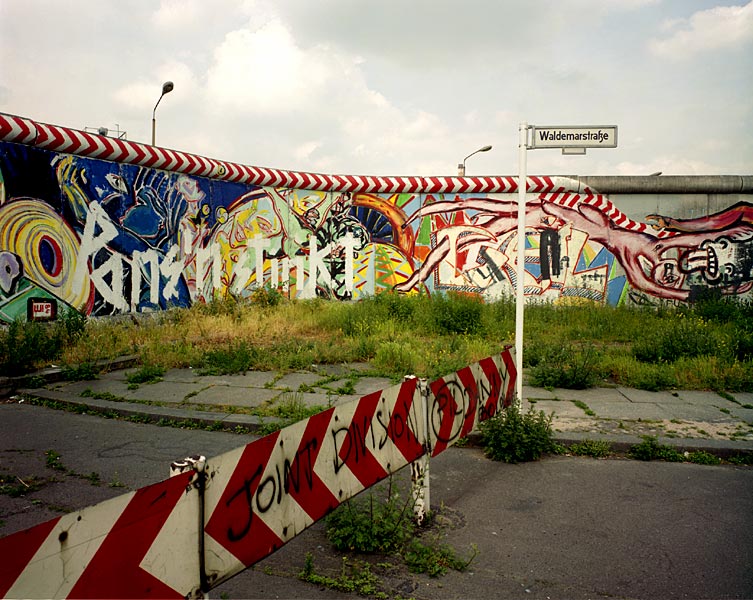 Waldemastrasse, Berlin, 1985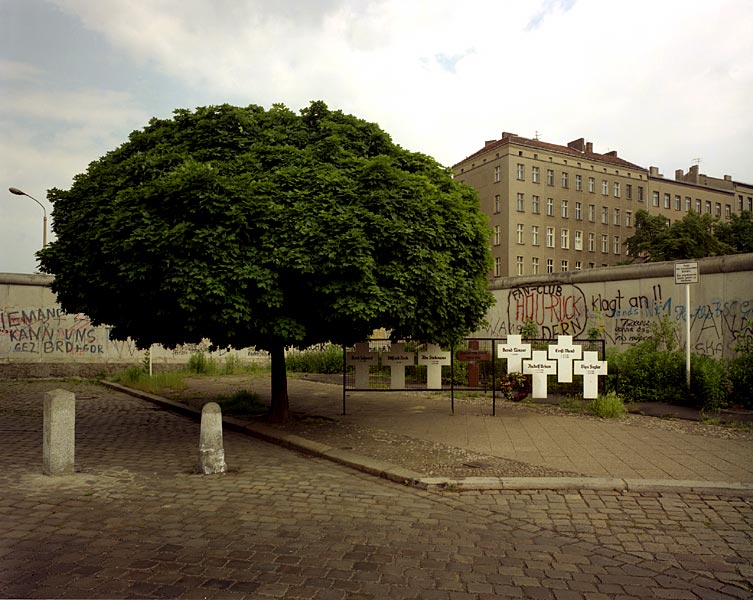 Bernauer Strasse , Berlin, 1985
I walked on further to a cul-de-sac formed by a turn in the wall. Here was a large steel tower on the west side for viewing. A tourist bus pulled up and disgorged itself. A group of white crosses under a low but very full tree stood next to the viewing platform. I climbed up, the binoculars swiveled my way, and below was a particularly narrow corridor between the walls. From the tower one sees easily the street life of East Berlin, the passersby looking ahead, or occasionally glancing our way, and the street cars negotiating a turn-around dictated by the wall, which interrupts the former through traffic of Bernauer Strasse.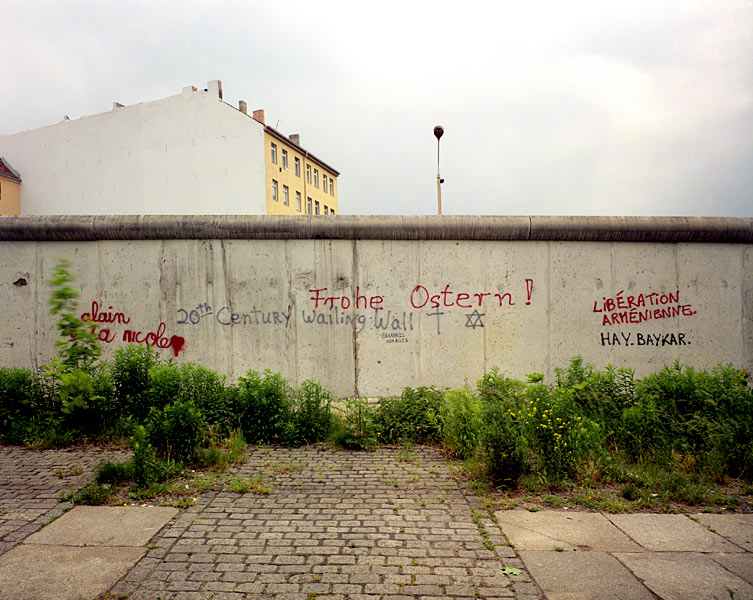 Bernauer Strasse, Berlin, 1985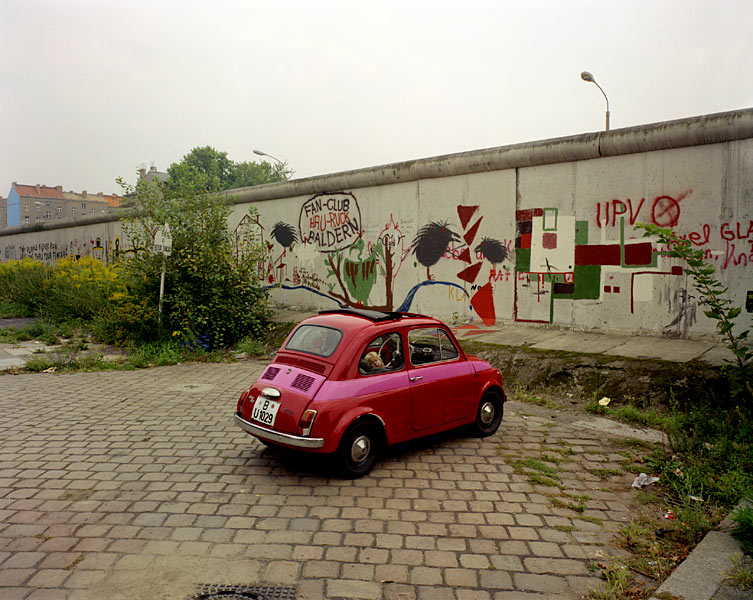 Bernauer Strasse , Berlin, 1985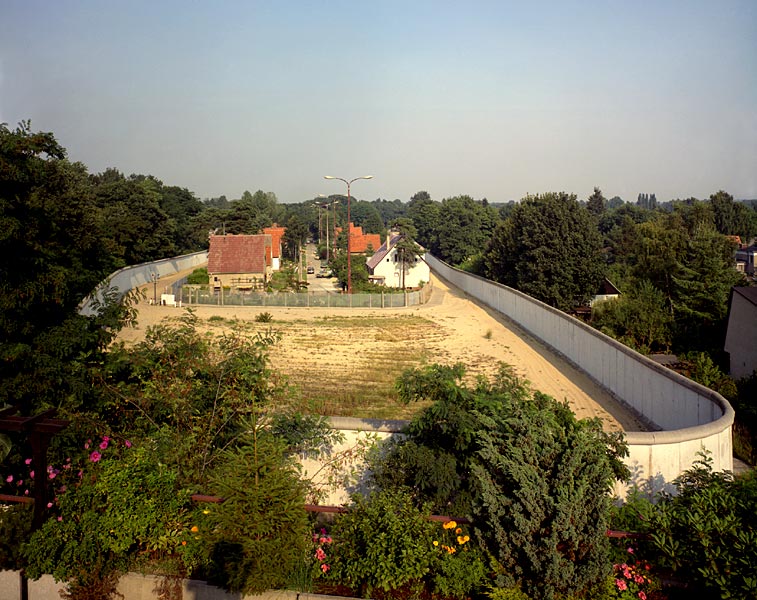 Am Zandkrug , Berlin, 1985
Stubenrauchstrasse, Berlin, 1987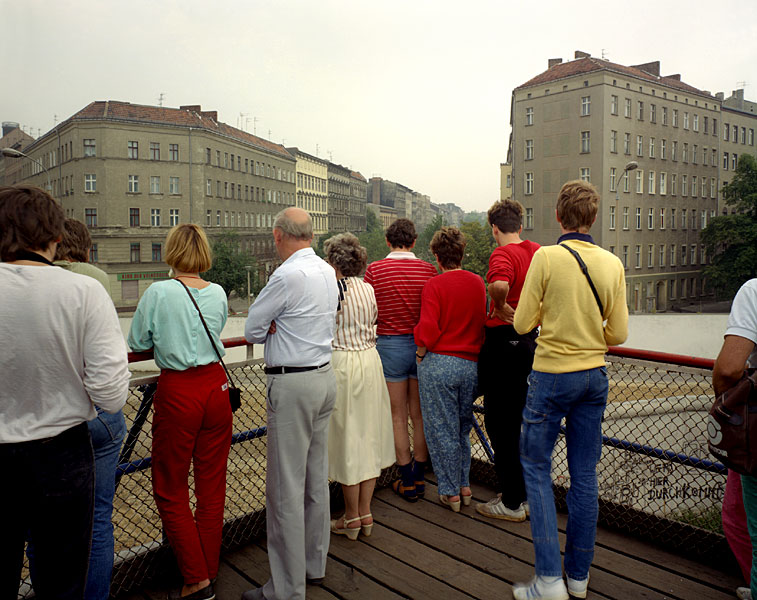 Bernauer Strasse , Berlin, 1985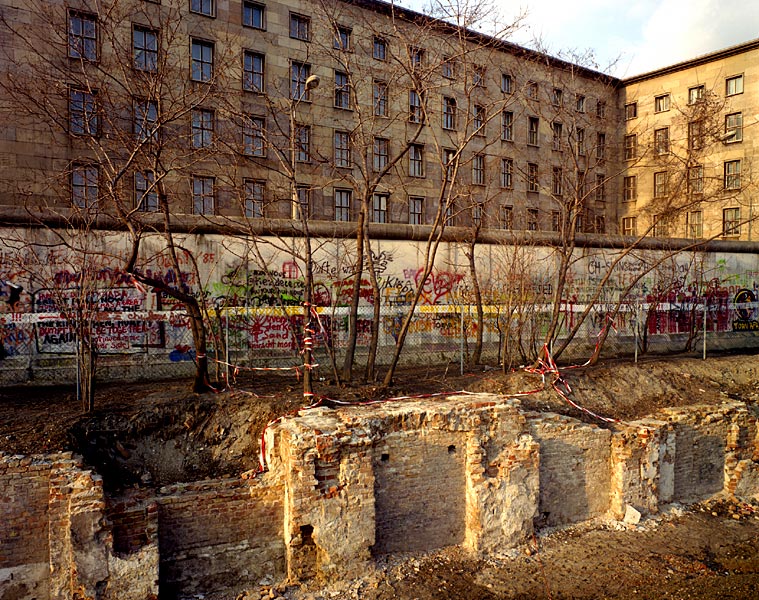 Niederkirchnerstrasse, Berlin, 1987
Former Luftwaffe heaquarters (background)
SS/Gestapo foundations (foreground)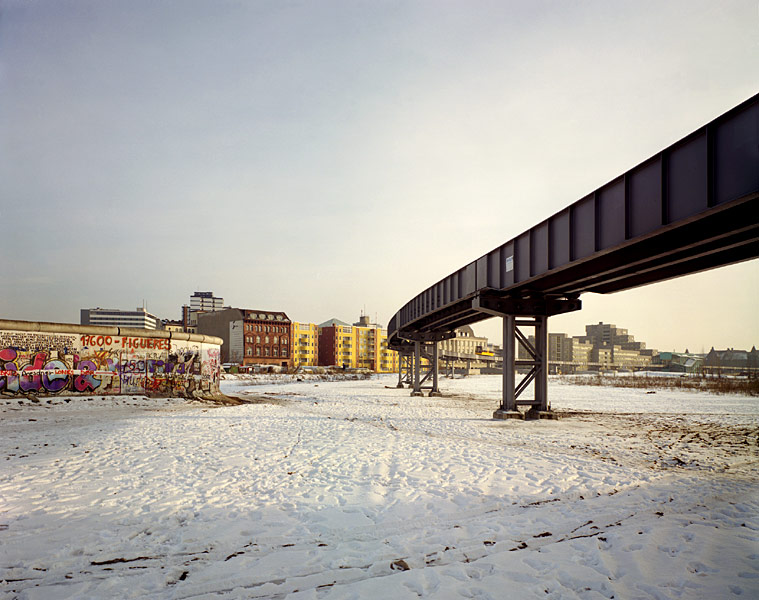 Potsdamer Platz, Berlin, 1987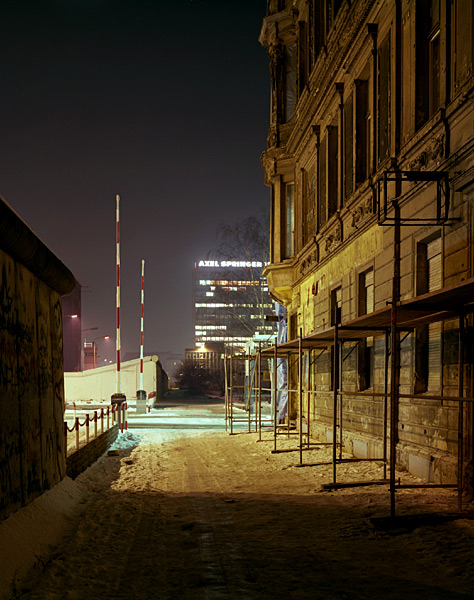 Checkpoint Charlie, Berlin, 1987
On Monday I took a break from walking The Wall and crossed over to East Berlin with my friend Anamarie. Indulging a passion for early modernist architecture we went looking for a couple of late 20s buildings listed in our architectural guide book The area of the city we went to is called Lichtenberg. It's a gritty and depressing place. One building we went to see was partially burnt out and partially used, but no one seemed to be around.

We then went looking for another project, but were stymied by a huge compound of buildings with guards and video cameras in the area where the housing project was supposed to be. I was unnerved by the situation and told Anamarie I wanted to get out of there. Guards in the distance started pointing at us, and we quickly retreated down the stairs of an U-Bahn station and stepped onto an arriving train. We later found out that the compound was the headquarters of the GDR secret police—the Stasi—or Staatssicherheitsdienst. The CIA, FBI and secret service rolled into one. Not a place to be walking around, particularly carrying a camera.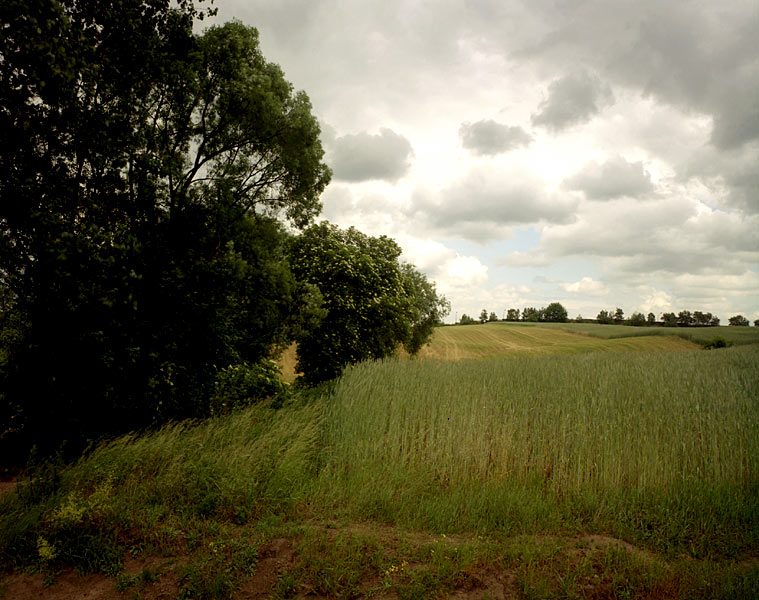 L
übars, Berlin, 1985

The wall runs along the horizon.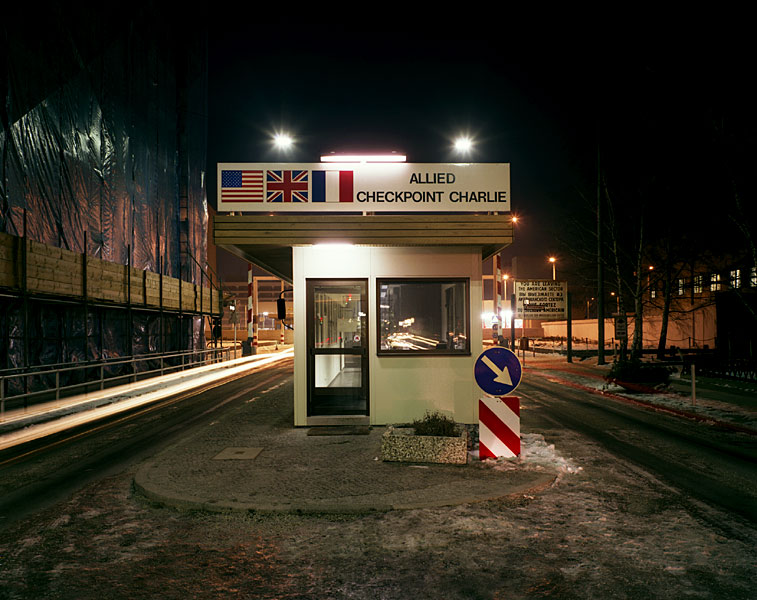 Checkpoint Charlie , Berlin, 1987 .