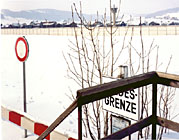 Heindersdorf, East/West Germany, 1987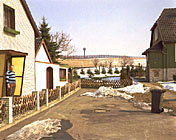 Offleben, East/West Germany, 1987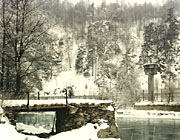 Blankenberg, East/West Germany, 1987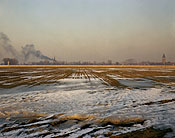 East/West Germany, 1985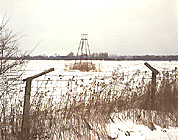 Austria/Hungary, 1987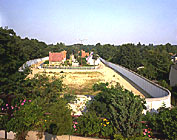 Berlin, 1985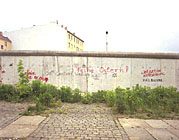 Berlin, 1985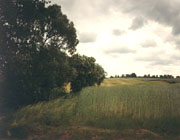 Berlin, 1985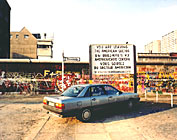 Berlin, 1987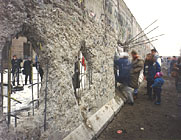 Berlin, 1989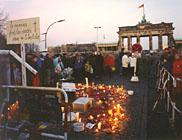 Brandenburg Gate, Berlin, 1989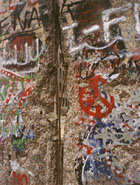 Berlin, 1989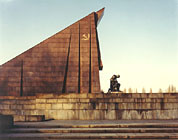 Soviet Memorial, Berlin, 1990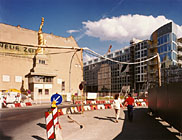 Checkpoint Charlie, Berlin, 1996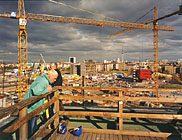 Potdamer Platz, Berlin, 1996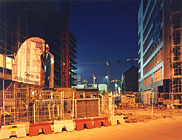 Checkpoint Charlie, Berlin, 1996

Requiem for the Iron Curtain
Text by Anthony Bailey accompanying a selection of photographs by Brian Rose, which appeared in MHQ (The Quarterly Journal of Military History) in the Spring of 1993. Bailey is a novelist, essayist, and historian. His book Along the Edge of the Forest--an Iron Curtain Journey was published by Random House in 1983.


How quickly it disappeared! The Iron Curtain--die Grenze, "the border"--as West Germans straightforwardly called the German section of the menacing barrier that snaked across Europe; or the anti-faschistische Schutzwall, the wall providing protection against fascism, as the East German regime tendentiously dubbed their wire-and-concrete creation. For at least half a lifetime we thought it was going to be there forever.
In the early 1980s, a mere decade ago, I talked with young and middle-aged people in central and eastern Europe who believed that the system that enclosed them--including the lethal fence on the west and the wall that ran between the Berlins and surrounded West Berlin--could never change. Yet not everyone--at least on this side--had lost hope. Traveling along the West German border, I came on numerous little lanes that had once joined village to village, farm to farm, and had been turned into cul-de-sacs that ended with border markers, fences, mined strips, watchtowers, and armed guards. On several occasions I encountered old men who would stroll daily down these lanes as far as they could, to look at the obscene border. It always there. But, as one who had experienced Hitler and World War II told me, he had a weird, superstitious feeling that one day he would walk to the end of the lane and fine that, by some magic, die Grenze was gone.
In the light of history, this static parenthesis was short. The dividing line first took shape in wartime conferences between the Western powers and their then ally, the Soviet Union, as a possible way of separating occupation zones and spheres of influence in the Third Reich, once it had been defeated. The border was slowly hardened in the immediate postwar years as more and more Easterners tried to move west. By 1952 the 870 miles of German-German Grenze were no longer porous. In 1961 the last loophole, the boundary between East and West Berlin, was plugged. While the East German regime explained to its people that the wall was necessary to keep out Western militarists and fascist adventurers, we, in the West, were in no doubt the wall was to keep the Easterners in.
Those decades saw several hundred people killed trying to cross fence and wall--hit by bullets, blown up by mines, or struck by shrapnel released by automatic firing devices. Cleverer or luckier escapers got across hiding in secret compartments of trucks and trains, crawling through tunnels, swimming rivers, flying hang gliders or hot-air balloons, or riding in diplomats' cars. Those best situated to get away were German Democratic republic border guards, who could spot a momentary weakness in the system and take advantage of it. Toward the end, under pressure from Polish Solidarity and Russian glasnost as well as Western opinion and Federal German Ostpolitik, some of the more lethal border armaments were taken away; but the fences and walls lasted until the end of 1989, our annus mirabilis. And finally the border was outflanked by East Germans taking advantage of expanding freedom in Hungary and Czechoslovakia: They went "on holiday" to those once-fraternal members of the Cominform and Warsaw Pact and didn't come back.
Brian Rose's photographs alert us to one of the strangest aspects of the Iron Curtain, and consequently to why we got so used to it: how unexceptional it appeared. In an age of space rockets, it looked old-fashioned. Of course, it had ancient roots. It followed the historical boundaries of provinces as Mecklenburg, Hanover, Saxony, and Thuringia. It was close to the line where Romans had attempted to delimit the edge of their empire with the barbarians, where Christian missionaries had once faced pagans, and Catholics and Lutherans had divided the spoils. Farther south, it grew ragged, almost mellowed, in Austro-Hungarian disinterest and Istrian warmth. But for thirty-some years it remained the border between "us" and "them," an emblem of institutionalized antipathy, a piece of cold-war furniture that kept apart two sides that saw themselves as threatened by each other. Indeed, it helped preserve a situation the authorities on both sides seemed happy to live with. The fence marked the place where a balance had been found. Getting rid of it would surely disturb that delicate balance.
The border therefore was an apparatus in which various organizations had much invested. To the west, U.S. and British forces practiced defensive maneuvers behind it. West German frontier police and customs officers constantly patrolled it. In American military parlance it was the IBG (the Intra-German Border), and those who attempted to cross it from the East were IBCs (Illegal Border-Crossers). From PVPs (Primary Vantage Points), American soldiers watched for unusual behavior by BTs (Bravo-Tangos--the Soviet or GDR border troops) that might indicate the enemy was planning a sneak attack. GDR working parties toiled to maintain the watchtowers and death strips. By Western officers the fence system was regarded as a wonderful "motivator"--their troops, shown this evidence of a malignant power to the east, knew why they were there.
The fence put a limit to (and made us more aware of) our Western good fortune. At Übergangs (crossing points) eastbound visitors waited nervously for dictatorial searches, lengthy passport examinations, and--possibly--permissions to cross. On the west, the border also became a minor tourist attraction, where gawping groups could be paraded through divided villages and led to platforms looking over into grubby East Berlin streets: schoolchildren were brought for close-at-hand educational visits. The Coke umbrellas on caf' terraces just west of the fence, at some Grenzblick (border view), flourished like banners of Western consumerism in what seemed to be the obdurately closed face of GDR puritanism.
Rose's photographs testify marvelously as well to how nature persisted alongside this unnatural imposition. The border, creating a great swath of no-man's-land, was good for wildflowers and wildlife, for hares, pheasants, and deer. Mushroom hungers happily prowled the edges of these woods. In the little dead-end roads, lovers parked for uninterrupted trysts. Yet the border's peace was not perfect. Sometimes the watchtowers thrusting up from the ripe fields made me think of the gibbets that can be seen in some of Brueghel's landscapes, almost as natural as trees but with bodies swinging from them. The border severed families and friends, and it severed some people, fleeing the East, from life itself.
Well, it is lost--verloren--now, and verlaufen--passed away. It seems a "Titanic conceit," to adopt the words of Friedrich Georg Jünger's poem Ultima Ratio, about the end of the Nazi empire; and similarly, everything it forged grows rusty." But even before the last lumps of graffiti-covered concrete have been sold as souvenirs and the last piece of steel-mesh fencing has been dismantled, before the signs reminding us that "Deutschland is Unteilbar"--Germany is indivisible--have been removed, some have begun to miss it. Professional soldiers hunger for firm lines on the ground. Chauvinists in the western part of Germany wish there was a way of keeping out economic migrants, thirsty for Coke and better cars than Trabis, and keeping down the taxes that are needed to pay for unification; in the East, not unexpectedly, the border is missed by those for whom it helped preserve a jobs-for- the-boys regime, whether in top party posts or in such humble roles as training the 5,000 border guard dogs, equally redundant. And outside of Germany, there are some with memories of a previously undivided Deutschland who will have not the cheeriest of thoughts as they see, with the help of Rose's camera, the foundations of the Gestapo building reappearing under the ruins of the wall.
Nevertheless, for now the self-appointed border observers have hung up their binoculars. The Practice cameras of the GDR Aufklärer (scout) teams no longer snap malevolently. The shut lanes have reopened, the parted villages are reconnected, and small isolated towns like Ratzeburg and Hof have regained their hinterlands. What was for so long, for both sides, the sharp edge of the world has gone back to being the fuzzy, perplexing middle.