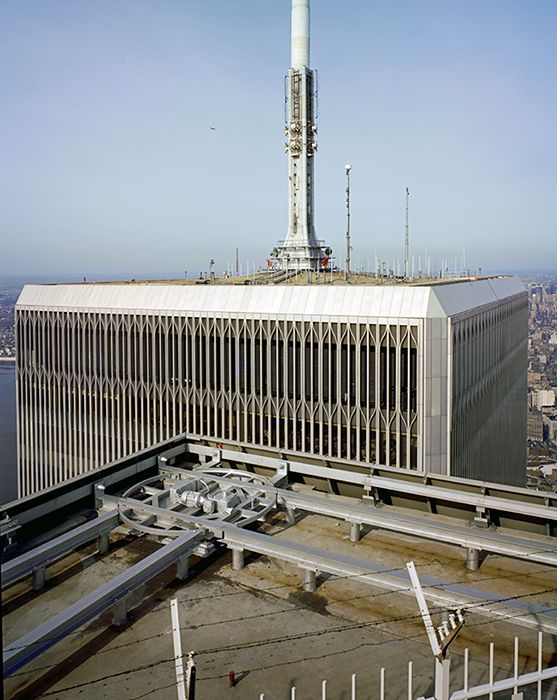 WTC 2 Observation Deck, 1981 — © Brian Rose/Edward Fausty
The Walk, a new movie by filmmaker Robert Zemeckis tells the story of Philippe Petit, the French street performer, who clandestinely strung a cable between the Twin Towers – still under construction in 1974 — and proceeded to tightrope back and forth 110 stories above lower Manhattan. Thousands craned their necks upward in amazement as Petit walked the wire for 45 minutes. I haven't yet seen the movie, a 3D extravaganza, but it is getting good reviews for its vertigo-inducing special effects. It's a Hollywood version of Petit's feat – or performance art – not to be confused with the brilliant documentary "Man on Wire, directed by James Marsh.
Petit was arrested at the end of his escapade, but with public sentiment in his favor, charges against him were dropped in exchange for a performance in Central Park. His breathtaking walk between the Twin Towers has become part of the folklore of New York, made all the more poignant by the horror of 9/11 a decade ago.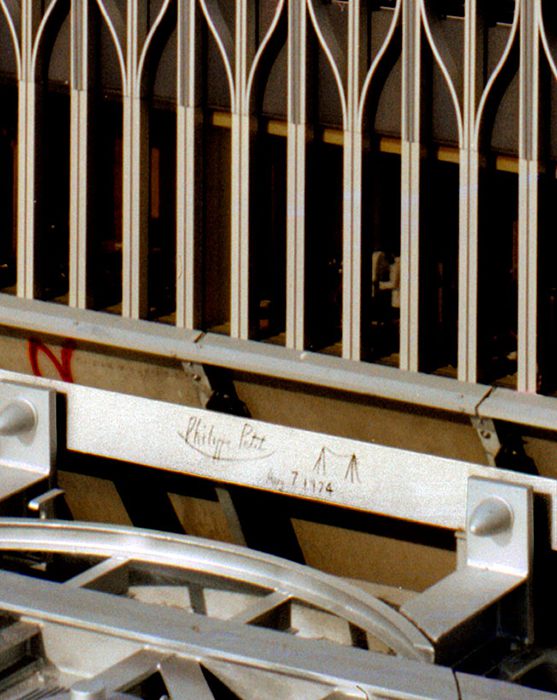 Philippe Petit signature and pictograph — © Brian Rose/Edward Fausty
Shortly after the destruction of the Trade Center, I sifted through my archive looking for photographs of the Twin Towers made over the years. One of the pictures I came across was taken from the observation deck on Tower 2 in the early '80s. I did a high-resolution scan of the 4×5 negative and discovered something unseen in my prints of the image, Philippe Petit's signature and tightrope icon scratched into a steal beam. Petit's performance masterpiece, it turns out, was signed by the artist.
As far as I know, it is the only photograph showing that long-lost signature.
Update:
I just saw the movie — it actually closes with Petit signing his name and drawing the little tightrope image as seen above. I have to admit to being surprised. It had to be based on my photograph. It's true that someone from Zemeckis' production staff contacted me a year ago about using one of my photographs in the film — but not the one with the signature. I expected it to be buried somewhere in the film, and in fact, it wasn't used at all. Not to worry, I was paid decently. In the end, however, my accidental documentation of Petit's signature plays a prominent role in the movie. I didn't expect that.