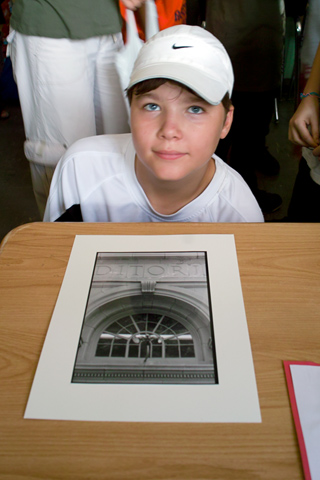 Brendan and photo at PS 3 — © Brian Rose
My son Brendan has just completed elementary school at PS 3 in the West Village, and we're pleased that he will be attending the NYC Lab School in the fall. Our experience at PS 3 has been extraordinary, beginning with second grade when we arrived in New York from the Netherlands. Special thanks to Otis Kriegel, Bendan's 5th grade teacher, one of a string of exceptional teachers we've had at PS 3.
One of the last projects Brendan did in Otis's class was to take a photograph with black and white film, and then make a print in the darkroom. Although it isn't necessary these days to work with film, one's understanding of the nature of photography and its history is deepened by experiencing the whole process of shooting, developing, and printing. The magical moment an image appears in a tray of developer can't quite be duplicated in digital photography, though digital has plenty of other kinds of magic to offer.
A few days ago I went to Brendan's class photo show. Each student displayed a black and white 8×10 and a short description of what went into making his or her picture. Brendan, who has accompanied me on several photo shoots when working with the view camera, brought an architectural photographer's eye to his choice of imagery. He photographed the arch above one of the doors to PS 3, perfectly composed, lines absolutely straight, despite being hand held.