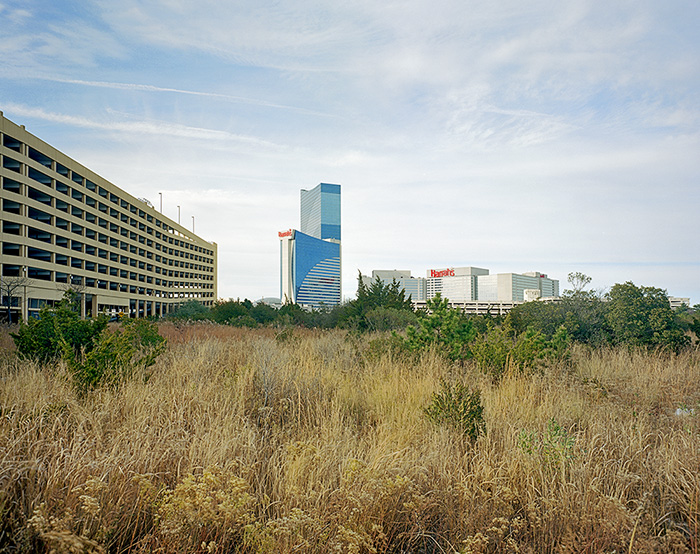 Harrah's casino, Atlantic City, (4×5 film) — © Brian Rose
Atlantic City was built on a barrier island (Absecon Island), and for most of its history, was oriented to the boardwalk along the Atlantic Ocean — a grid of streets with names anyone who has played Monopoly knows well. The backside of the island was mostly low lying wetlands.
The first casinos were built along the boardwalk, though few gamblers were interested in getting their feet wet in the surf, or navigating the crime-ridden streets of the city. And these being self-contained realms, access to highways was more important, and several casinos were built in the Marina district along Absecon Inlet at a safe remove from the city proper.
At one time, Donald Trump owned four casinos including the Trump Marina, which was sold at a fire sale price a few years ago. It's now the Golden Nugget — the parking structure to the left in the photo above.
From NJ.com:
Swatches of colorful new carpeting were laid down in hotel hallways to show what will eventually replace the more drab patterns consisting of tens of thousands of interlocking letter "T"s, beneath the "Trump" name on each room door.

"We have been working on removing everything that says 'Trump,' but it's overwhelming," said Amy Chasey, a Golden Nugget spokeswoman.