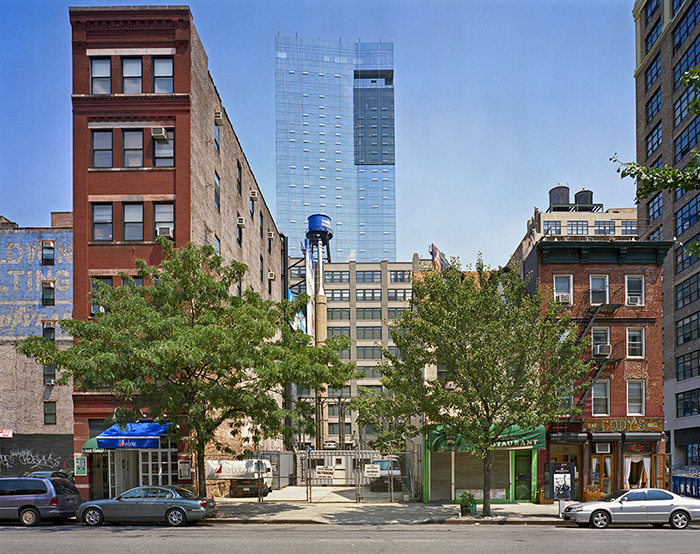 Trump Soho Hotel seen from Hudson Street (4×5 film) — © Brian Rose
From the start the Trump Soho Hotel was an illegal operation, a money laundering scheme for Russian money. The Trump organization skirted zoning regulations, but the city of New York did not enforce the rules. Ivanka and Donald, Jr. lied about sales figures, but the attorney general did not prosecute. They got away with it for almost ten years.
But eventually, the Trump name became a liability — even out of town sports teams refused to stay there. The apartments did not sell. The rich and famous had other less problematic options. Now, the Trumps are cutting their losses and cutting loose the property.
From the New York Times:
Before it broke ground, protesters took to the streets, chanting "Dump the Trump" and complaining that the skyscraper would break zoning rules. Then, in 2008, a worker fell 42 stories to his death during a construction accident.

In November 2011, the Trumps and other defendants paid 90 percent of $3.16 million in deposits to settle claims from buyers of condominium units that Mr. Trump, his children and others had inflated sales figures in what turned out to be a struggling project. The Manhattan district attorney, Cyrus Vance Jr., was pursuing a criminal investigation into the same issue, The New York Times reported last year. Some prosecutors felt they had enough evidence to build a case, but Mr. Vance declined to pursue charges, several news organizations reported last month.

At the same time, a separate lawsuit alleged that the project was backed by felons and financing from Russia. Felix Sater, a Russian deal maker, felon and F.B.I. informant, had helped facilitate the deal, the lawsuit said.