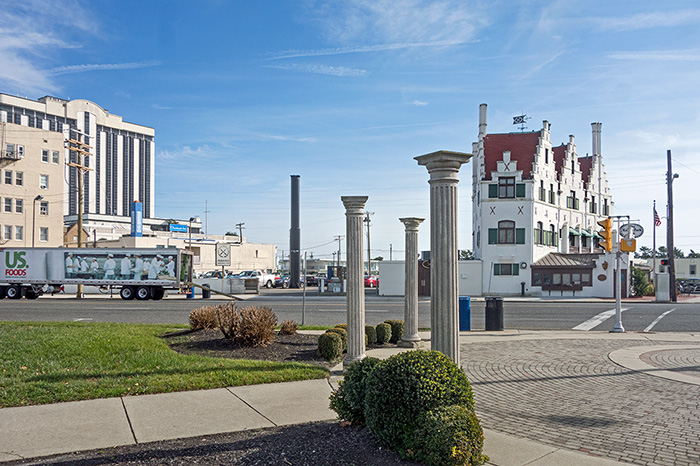 Atlantic Avenue, Atlantic City — © Brian Rose
Back in Atlantic City. A cool windy November day, I found myself among the Roman columns opposite the Dutch styled Knife and Fork restaurant. In the background, the black and white striped Atlantic Club casino, now closed along with the Trump Plaza, The Trump Taj Mahal, and the Revel further up the beach.
Standing where Atlantic, Pacific and Albany Avenues converge, the Knife & Fork was originally established in 1912 by then Atlantic City Mayor William Riddle, the Commodore Louis Kuehnle, and their cronies as an exclusive men's drinking and dining club. The second floor was graced with curtained dining alcoves and a separate "ladies lounge" where women, who were not permitted at the bar, waited to be summoned. Private rooms on the third and fourth floors were used for gambling and, perhaps, other activities.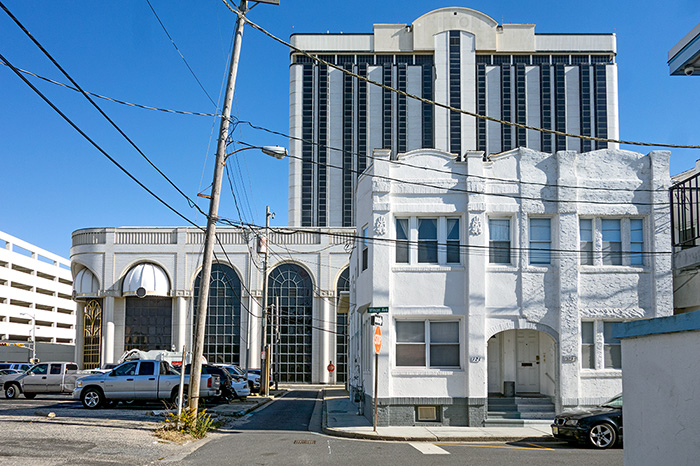 South Wilson Avenue, Atlantic City — © Brian Rose
The Atlantic Club casino with its palatial arched windows and hotel tower hovers over a row of stucco  apartment buildings, vestiges of an earlier time.
Some people say if they buy the Atlantic Club, they might bulldoze it because they don't feel/think it's worth it,"  (Mayor) Guardian said. "Everyone wants to save the garage; some people want to save the tower that was built. While others said it just needs some TLC.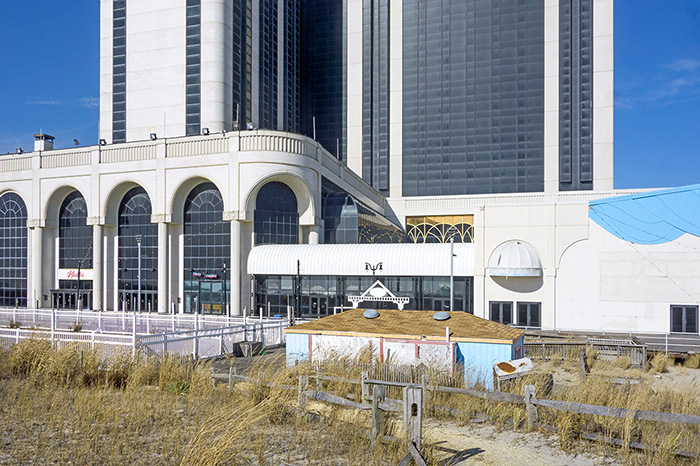 The Atlantic Club casino, Atlantic City — © Brian Rose
Nearby, Stockton University is building a new campus, which will bring young upwardly mobile people to the city, and the Hard Rock Cafe is taking over the Trump Taj Mahal. New market rate apartments are going up nearby. Meanwhile…
A New Jersey redevelopment agency has given preliminary approval to a $5.6 million payment to billionaire investor Carl Icahn to help pay for the demolition of part of Atlantic City's former Trump Plaza casino.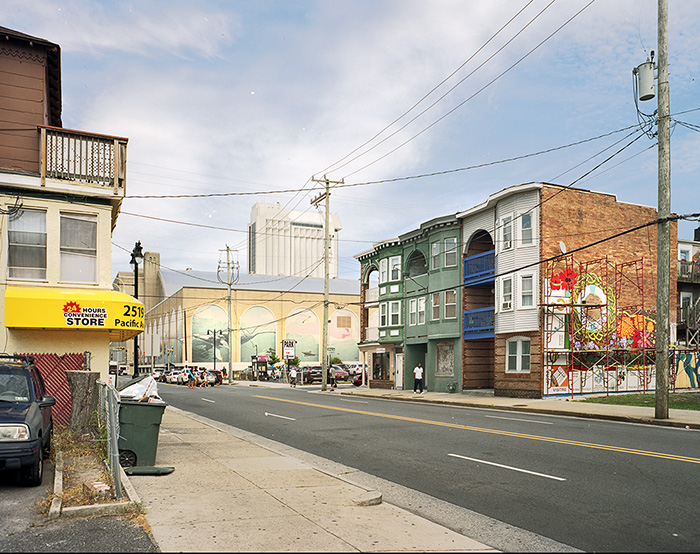 Pacific Avenue, Atlantic City (4×5 film) — © Brian Rose
For the moment, the former Trump Plaza tower commands the skyline above Boardwalk Hall.
I agree this project needs to come down," said the mayor, who leaves office in January. "But why are they asking us for $5.6 million? You're already responsible for the project closing and the loss of jobs and the suffering the city has gone through.