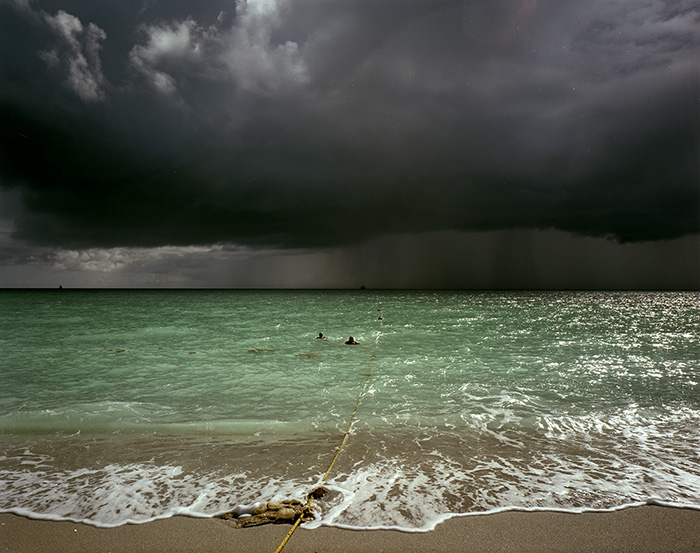 Miami Beach, 1982 (4×5 negative) — © Brian Rose
Back when I took this picture, Miami Beach was not the place it is now. The art deco hotels were shabby and low income elderly slumped on the porches and stoops along Ocean Drive. I wish I had taken pictures of the place back then, but I was only passing through.
Over the years, I made many trips to Florida to visit family. My mother lived in Hallandale Beach, just north of Miami — she is in Virginia now — and I've seen the extraordinary transformation of the whole area, the palisade of skyscrapers that now lines the beach for miles and miles.
My wife, Renee, and I made a wonderful trip to Key West about 20 years ago — we had a memorable romantic dinner sitting on a deck overlooking the sea as the sun went down —  and we returned with our son, Brendan, a few years later. I got seasick on a glass bottomed boat, much to my son's amusement, saw a shark and barricuda below, and survived. We also had a magical late afternoon visit to the Everglades, strolled a wooden walkway above an alligator hole teaming with so much life that it you could hear it as well as see it.
I'm expecting Hurricane Irma to do a lot of damage. Like a lot of beautiful places, no matter how civilized by man, nature remains wild and beyond our control.