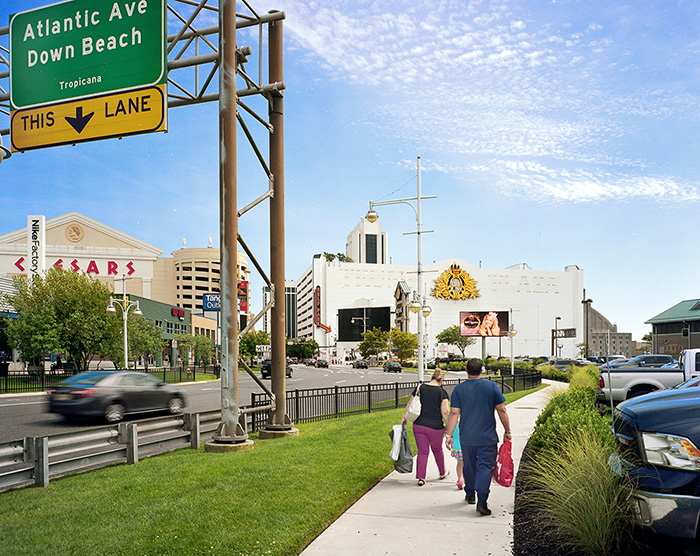 Atlantic City (4×5 film) — © Brian Rose
As I set up the composition above with its various interlocking pieces, I noticed that the LED sign at right center, just under the royal crest of Trumplandia, the former Trump Plaza, changed ads every 30 seconds or so. I made several pictures — one with my digital pocket camera — posted a few weeks ago, and one with my 4×5 view camera. All off a sudden an ad for the Miss America Pageant flashed on the sign, and then was gone, before I could get a film holder into my camera. Perfect! I wanted that.
So I waited for the ads to cycle through again, and I waited and waited, but Miss America did not seem to be getting equal time. Finally, she popped up on the screen, a beaming blond wearing a golden crown, adjacent to a royal crest with the words Miss America 2018, Atlantic City, New Jersey. The Miss America pageant has been associated with Atlantic City for as long as I can remember — much longer than Donald Trump's casino reign — and it remains one of the few vestiges of the past glory of this storied beach resort.
Miraculously, at that moment, a group of people carrying shopping bags acquired from the nearby outlet mall walked into the otherwise vacant pathway leading one's eye to the smiling face of the beauty queen and the royal escutcheons of Miss America and Donald Trump.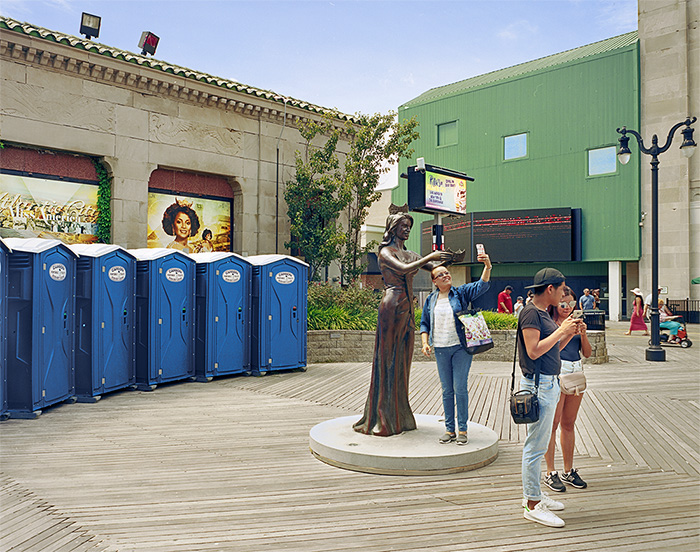 Miss America statue, Atlantic City (4×5 film) — © Brian Rose
On the boardwalk, a statue of Miss America holding a crown to be placed on the head of the next winner stands in front of Boardwalk Hall, the historic venue for the pageant. Miss America absconded to Las Vegas in 2006, but has since returned to her rightful realm. A steady stream of tourists photograph themselves beneath the statue's proffered crown.
The pageant was first televised in 1954, the year I was born, and every Fall my family would gather around the TV set to watch. There were only three major networks in those days, guaranteeing an enormous audience for any event shown in prime time. It's embarrassing to think about it now, but I remember carefully scrutinizing each contestant for beauty, talent, and poise, as the judges whittled it down to to the final group of worthies. Always of great importance was how well contestants answered questions picked at random, and it was great fun to laugh at the word salad that predictably spewed forth.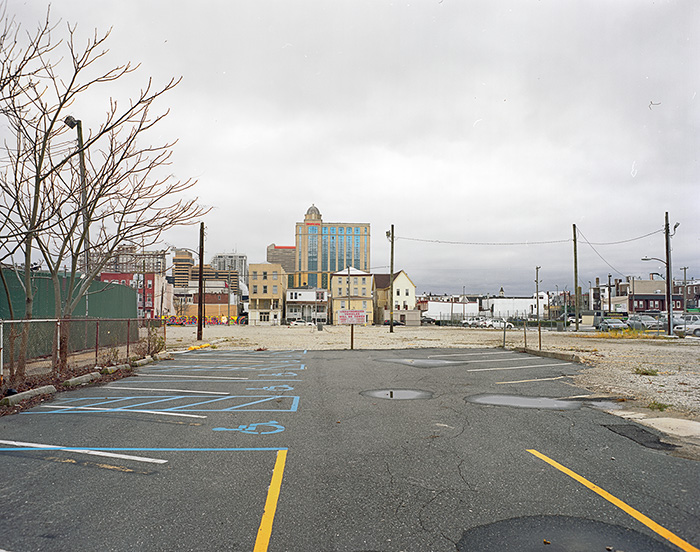 Atlantic City (4×5 film) — © Brian Rose
Donald Trump, despite his dominance in Atlantic City, never got his hands on Miss America, literally or figuratively — he was the owner of the Miss Universe and USA pageants for over a decade. Miss America would have been far too cerebral. When he took over Miss Universe pageant Trump said of one of the pageant executives, "They had a person that was extremely proud that a number of the women had become doctors, and I wasn't interested."
In the Miss America pageant just held in Atlantic City, Miss Texas was asked about Trump's non committal response to the white supremacists who engaged in violence in Charlottesville, Virginia. She said, : "I think that the white supremacist issue — it was very obvious that it was a terrorist attack, and I think that President Donald Trump should have made a statement earlier addressing the fact, and making sure that all Americans feel safe in this country. That is the number one issue right now."