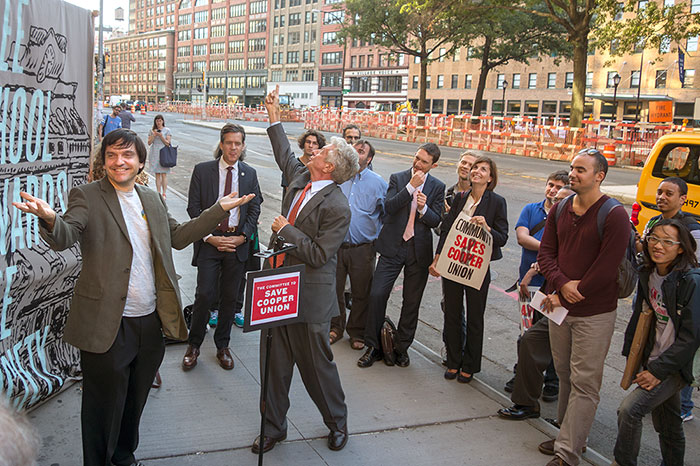 Adrian Jovanovic and NYS Senator Brad Hoylman — © Brian Rose
Adrian Jovanovic was a hero to me. He is, tragically, gone — and the Cooper community is reeling from the loss.
From the Committee to Save Cooper Union's statement:
But it was Adrian's creation of CSCU that channeled that broad community passion into a cogent legal argument and lawsuit that would succeed in validating the core intent of Cooper Union's Trust, driving out managers and trustees who would not (or believed we should not) continue the fight for a free Cooper, and instituting critical board reforms and oversight. Without Adrian's leadership, unstoppable optimism, and conviction, none of that would have been achieved.
During the heat of the battle to save Cooper Union, I frequently posted on Facebook, despairing that important information was not getting out because of ongoing litigation, gag orders, and even self-censorship. Although we were all on the same side, there were disagreements, even rancor within the ranks.
Several times, Adrian called me at night, patiently telling me what he could from his perspective on the inside as one of the petitioners in the lawsuit against the school. He was always optimistic, confident, and believed fervently that we would prevail. We did prevail — although the ultimate goal of returning to free remains elusive.
The photograph above was made during one of the high points of the past few years — we had just returned from the courthouse downtown where the Cooper Union and CSCU lawyers informed the judge of their agreement to the consent decree brokered by State Attorney General Schneiderman. It was a shining moment of triumph, and an ecstatic Adrian led the brief victory ceremony in front of 41 Cooper Square.
That unnamed building, and the onerous mortgage attached to it, has been a symbol of everything that went wrong with Cooper Union. Let's do what my friend M'Liz Keefe suggests, and forever wipe it clean of the taint of bad history. Let's make it the Adrian Burton Jovanovic Building.