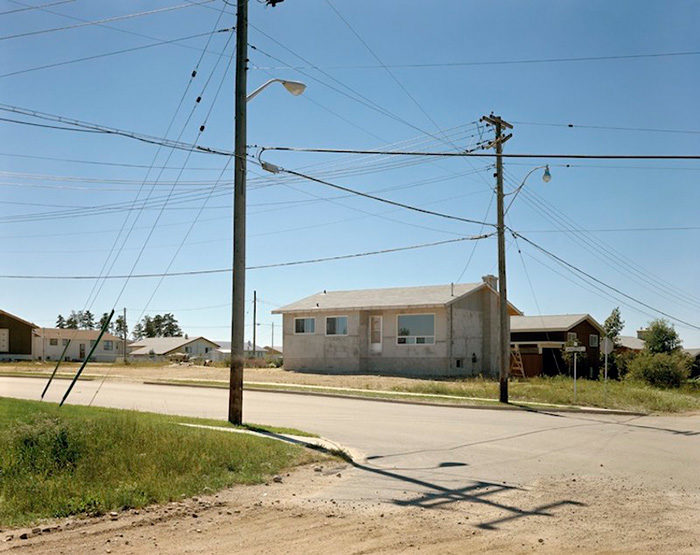 Stephen Shore, Wilde Street and Colonization Avenue, Dryden, Ontario, August 15, 1974
Forty-two years ago, an exhibition called New Topographics: Photographs of a Man-altered Landscape caused a stir in the photography world, and the controversy around it, surprisingly, has continued to ripple down through the decades. I was 21 in 1975 when William Jenkins mounted his now famous exhibition of landscape photography. I was in art school in Baltimore, and just beginning to shoot in color. No one at the Maryland Institute – teachers or students – was doing anything like what Jenkins highlighted in his exhibition, and certainly not color landscape photography.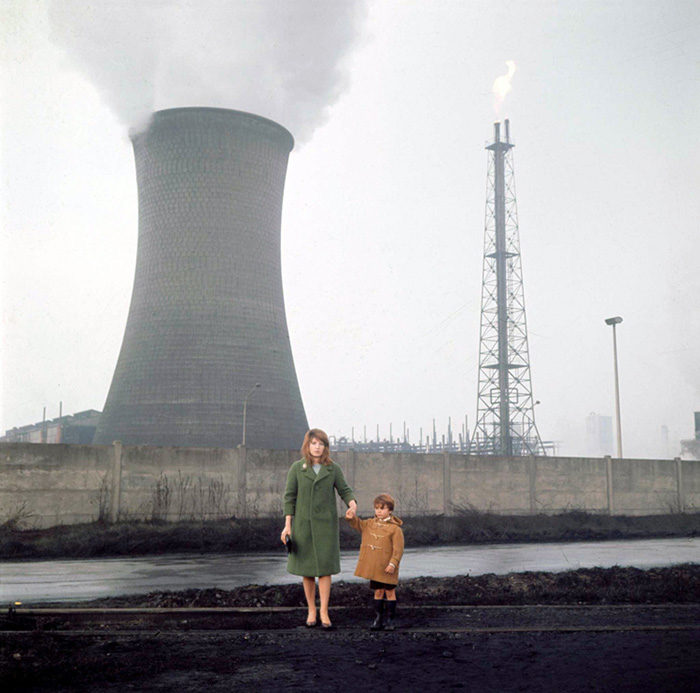 Scene from Red Desert, Michelangelo Antonioni, 1965
It took longer in those days for new ideas to percolate through the image making community, especially if you were not in New York City, or Rochester, the home of the George Eastman House where the exhibit took place. My strongest influences at that time were masters of the 35mm camera like Robert Frank and Lee Friedlander, but perhaps to a greater extent, I was fascinated by the color imagery of Michaelangelo Antonioni's films from the 1960s and 70s, especially Red Desert and The Passenger. Consciously or unconsciously, I set out to bridge those worlds – socially aware street photography and the more studied color landscapes of Antonioni's movies.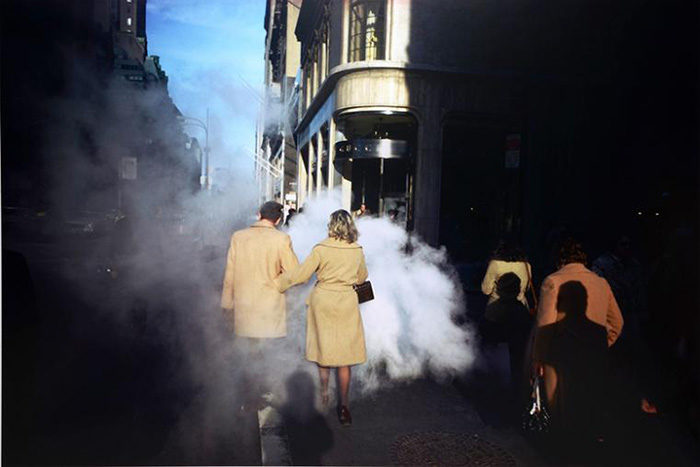 Joel Meyerowitz, 'Camel Coats, New York City', 1975
In 1975 I was basically following my instincts, not exactly in a vacuum, but at a remove from the groundbreaking shows that were coming out of the Museum of Modern Art under the leadership of the enormously important curator John Szarkowski. At some point, I came across several images by Stephen Shore, William Eggleston, and Joel Meyerowitz, pioneers of color photography. Seeing those pictures printed in a magazine, it was as if the future flashed before my eyes. I knew what I needed to do.
By 1977 I was in New York where I studied with Meyerowitz at Cooper Union. It was the heyday of Light Gallery, which was one of the few galleries in the world dedicated to serious art photography. I remember seeing Frank Gohlke's pictures of grain elevators at the Museum of Modern Art, and became familiar with Joe Deal and Robert Adams, particularly their images of the expanding suburbs of the American West. The way in which many of these photographers stayed back a bit, and allowed the detail afforded by the large format to do the work, appealed to me. When I photographed the Lower East Side in 1980 I turned to the 4×5 view camera as the best way to describe the neighborhood and its architecture.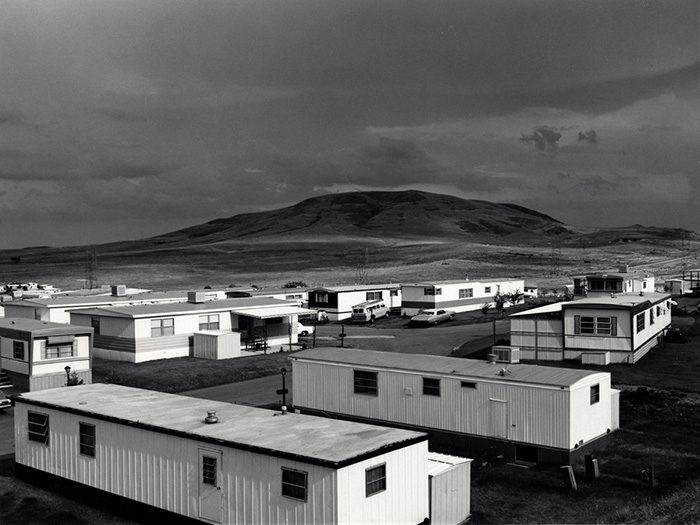 Robert Adams, Mobile Homes, Jefferson County, Colorado, 1973
I don't remember when I became aware of the term New Topographics, but for me it was a curator's thing – I was interested in individual photographers whose work I found compelling. To me, Robert Adams' images possessed an almost spiritual power that transcended labels and art theory speak. At the same time, his pictures expressed  the uneasy symbiosis of our relationship with the natural world. That is true to some extent of all of the photographers that Jenkins grouped together in his show.
That's where Jenkins was most persuasive, I think, to point out that landscape photography had moved away from the romantic idealization of the world epitomized by Ansel Adams and Edward Weston. I'm afraid, however, that Jenkins unintentionally diminished the individuality of the photographers he chose for New Topographics. Placed in the same cubbyhole, the singular richness and complexity of their images was diluted by proximity, and this diverse group of photographers were seen to be part of some kind of group think. At the same time, many viewers were put off by the cool temperature of the images, the way in which visual content was diffused over the entire frame, rather than organized hierarchically.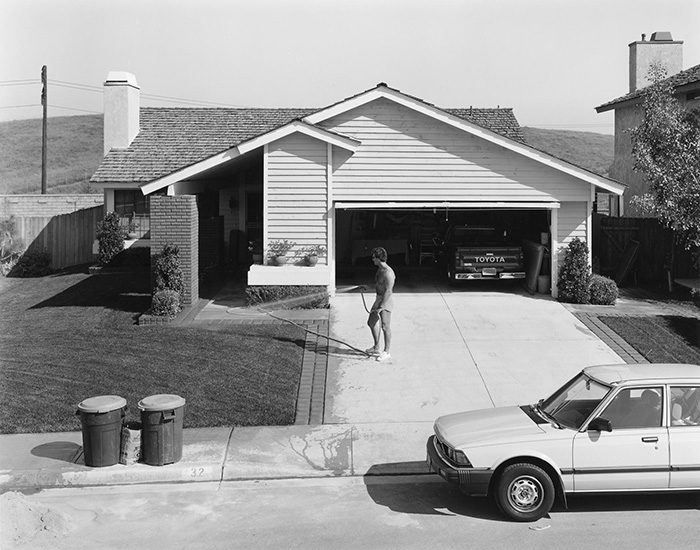 Watering, Phillips Ranch, California, 1983
Recently, in a Facebook group about contemporary landscape photography, a contributor suggested that too much of the work posted there looked derivative of New Topographics. I don't actually know what that means. I suspect it refers to the wide angle, evenhanded, approach that many of Jenkins' selected photographers employed. But that seems to me a narrow criterion for work by markedly different photographers. Are we talking about Lewis Baltz? Stephen Shore? Henry Wessel? New Topographics was a cuator's thesis supported by the work of a number of talented photographers who eschewed conventional approaches to landscape. But it was never a movement, nor a particular style.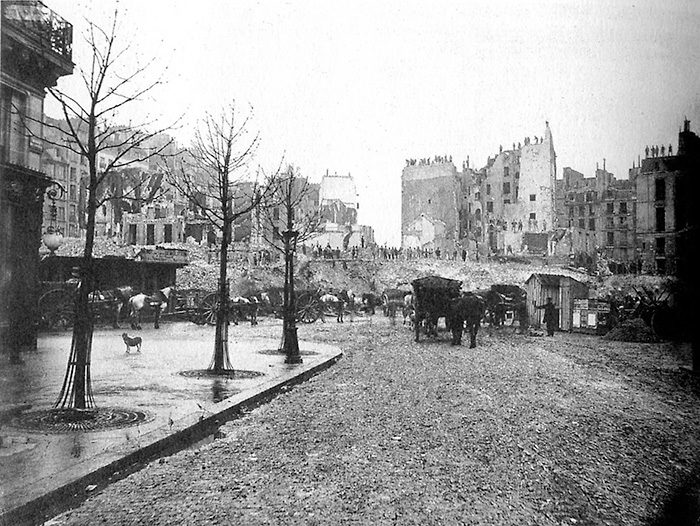 Charles Marville, Demolition of Butte des Moulins for Avenue de l'opera, 1870
The reality is that photographers have been documenting human presence on the landscape since the medium was invented. It could be argued that the photographs of Ansel Adams and others depicting a pristine picturesque world were the true aberrations, and that the New Topographics photographers were actually extending  — in various different ways — an unbroken line running through Marville, Atget, O'Sullivan, Evans, and others. The Düsseldorf School photographers who are often connected to New Topographics were undoubtedly influenced by this continuum inspired as well by German photographers like August Sander and Albert Renger-Patsch. Even the more conceptual work of Bernd and Hilla Becher echoes that history.

Albert Renger-Patzsch, Winter landscape with colliery Pluto in Wanne-Eickel (1929)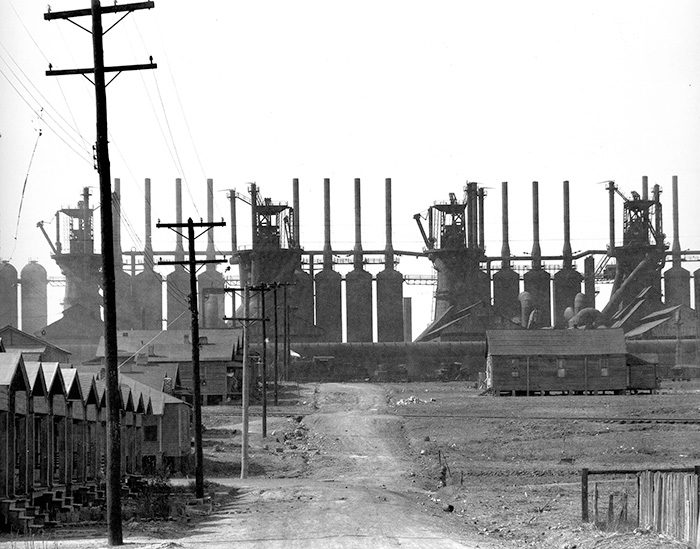 Walker Evans, Birmingham Steel Mill and Workers' Houses, 1936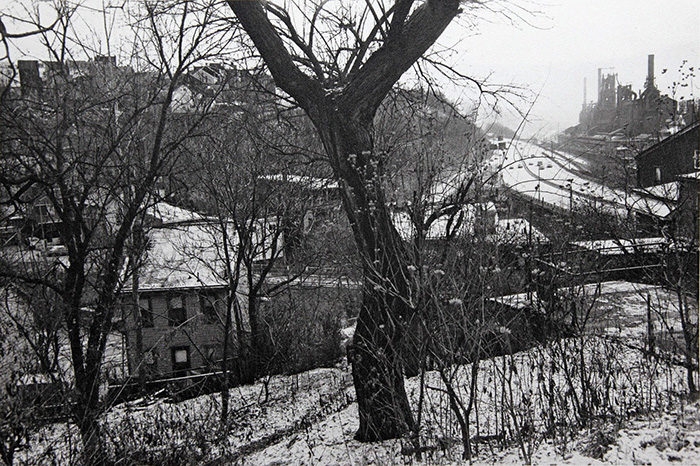 Lee Friedlander, Pittsburgh, Pennsylvania, 1980
As photographers we need not feel enslaved to curatorial constructs like New Topographics. What Williams Jenkins came up with was a timely recognition of the way in which photographers were becoming attentive to the accelerating encroachment of urban development in the late 20th century. That attention and the formal rigor of the images ran counter to the prevailing aesthetics of fine art photography, which had already been challenged by Winogrand, Frank, and other small camera practitioners. In my view, the whole uproar around New Topographics had less to do with an aesthetic or conceptual break than it had to do with a reconfiguration of the photography world including the growing importance of museums, curators, art schools, and galleries.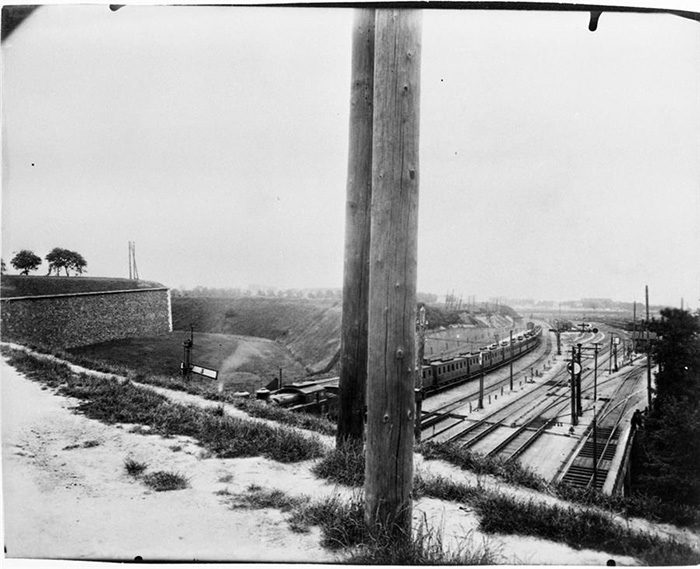 Eugène Atget, Porte de Bercy, 1910
Let's not get distracted by all this. In my view, the critical observation of the landscape by photographers remains an important if not essential practice. With the explosion of new technologies, the increasingly inward gaze of virtual reality, and the lure of alternate notions of truth, the counter weight of objective observation keeps us attentive to the physical world we continue to inhabit with its ongoing environmental depredations, spasms of war and destruction – and beauty — wherever we may find it.