Borgata and Harrah's casinos, Atlantic City — © Brian Rose
Atlantic City has seen five of its 12 casinos close since 2014 (two were Trump casinos) amid ever-increasing competition from gambling halls in neighboring states. That has caused the city's tax base to crumble. It also led the city's remaining casinos to file hefty tax appeals, claiming their property assessments were too high thanks to the downturn. In turn, that blew large holes into the city's budget over the last few years, helping bring the city to the brink of bankruptcy.
–NJ.com
So, in a nutshell, the Borgata, the most successful of all the casinos, bankrupted Atlantic City. It should be obvious at this point that the casinos were never really about the revitalization of the city. Atlantic City's unemployment rate remains extremely high, and city services have declined. The casinos were, and are, about the transfer of billions of dollars into the pockets of people like Donald Trump, aided by politicians like New Jersey Governor Chris Christie. And there is ample evidence that much of Trump's money came from nefarious Russian sources to whom he remains indebted and obligated in unknown and potentially dangerous ways.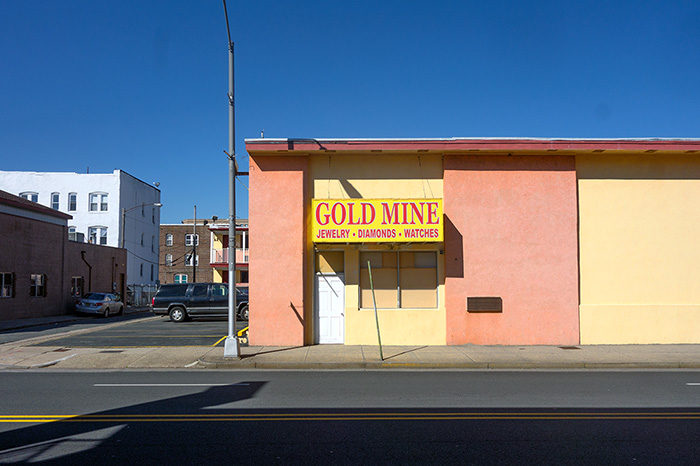 Pacific Avenue, Atlantic City — © Brian Rose
Donald Trump came to Atlantic City promising glamor and untold riches. He left it in ruins — though there is still plenty of gold all over the city — like in the Gold Mine directly behind the empty and now de-Trumped Taj Mahal.