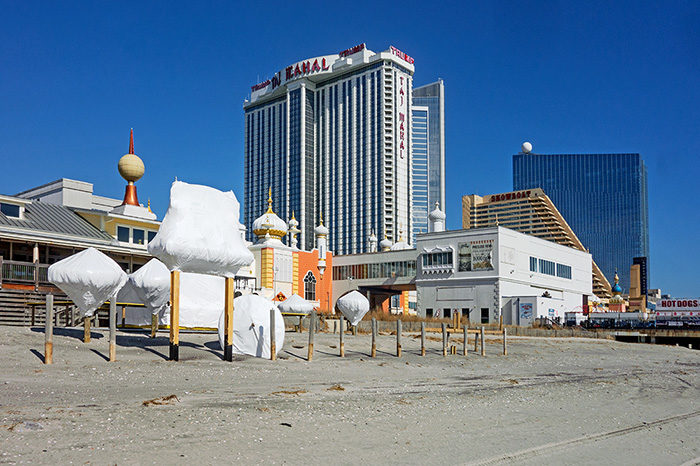 Atlantic City — © Brian Rose
Back in Atlantic City on a bright, somewhat cold, February day. Earlier in the week, I read that the Trump name was being removed from the Trump Taj Mahal.I decided that I better go back and get some more photographs of the Taj before it was completely de-Trumpified. All traces of the name had already vanished from the Boardwalk. On the back side of the tower, however, workmen high on a crane were busy detaching the red letters from the facade. It was not something I could do much with using the view camera, so I moved on.
I walked out on the beach for an overview, stopping behind a restaurant, closed for the season, with some of its furniture shrink-wrapped in plastic, the bulbous shapes oddly echoing the onion domes of the Trump Taj Mahal. The casino, as i'd noted before, looks less like the Taj Mahal of India than it does a Russian Orthodox church. Despite all the Trump/Russian connections, that was probably not the original intention. But it's one more thing that makes you go hmm.