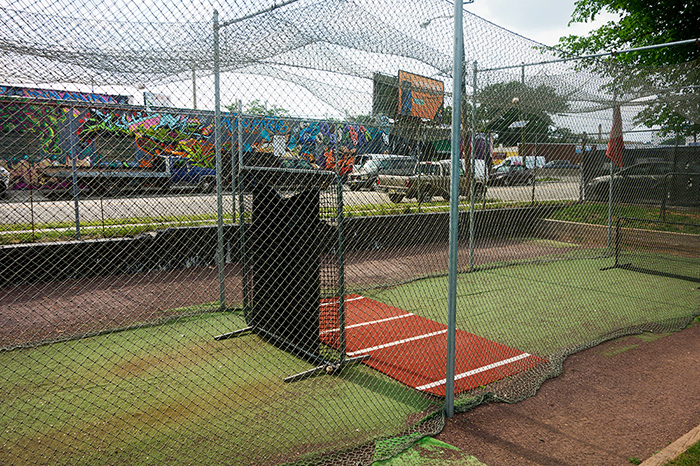 Hitting tunnel, Elizabeth, New Jersey — © Brian Rose
My son is a 17-year-old baseball player just finishing up his junior year of high school. If you have survived the move from the little league diamond to the full-sized diamond, you're already in an elite group. The fact is, most human beings cannot throw the ball the 127 feet distance from home to second base, or third to first base. Try it sometime. And if you have survived middle school baseball and ended up on your high school varsity team, you are in the approximately 8 percent of little leaguers still playing the game.
Many people can dabble in other sports a good while — just about everyone can shoot a little basketball and play pick-up in the park. And softball is a great amateur sport played by millions. But baseball — hardball — is an activity performed by a vanishingly small group of athletes who can run and throw, and most importantly, hit a fastball arriving a few inches in front of you at upwards of 90 miles per hour. If you think you might be able to do that, try it sometime.
The reality is, however, that most of the high school players are not superior athletes, and only some of them make it on a so-called travel team. Travel teams are clubs that play the summer and fall circuit of tournaments, and individual players often attend showcases and college camps in hopes of being seen by a scout or coach who will offer them a scholarship or help them get drafted into Major League Baseball. Not all travel team players make it to the next level, but there are many opportunities to continue playing baseball in college — some that come with scholarships — though many offers are from academically prestigious schools competing with one another to get the best of the rest. Those schools may not provide athletic scholarships, but they can greatly smooth the admissions process if they want you.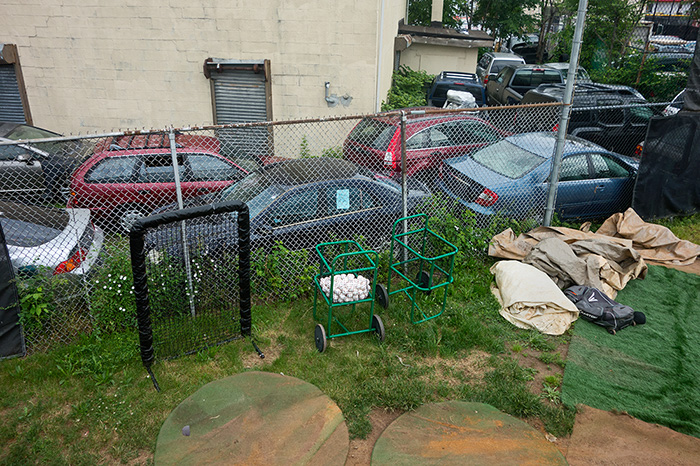 Basket of balls, Elizabeth, New Jersey — © Brian Rose

My son is on a travel team, the New York Gothams (really cool name), based in Manhattan, though a number of players come from the other boroughs. When you play the travel team circuit you quickly realize, to some consternation, that the system is rigged. Many of the teams are essentially all star teams with players recruited from all over the country. They only come together to play the tournaments, and many of the players have already committed to big time college programs.
The tournaments are run by various different organizations, many of them non-profit, but the biggest is Perfect Game, which sponsors tournaments and showcases. They are at the center of a money-driven baseball industry that starts with increasingly younger players that feeds into college ball and the MLB. They are not evil, certainly — their events are well-run and enjoyable — but they have upped the ante, in  general, creating a highly pressurized and competitive environment around youth baseball. Some have blamed them for the increase in injuries to young pitchers who push the limits of their bodies in hopes of hitting the magic number of 90mph, which will virtually guarantee a college scholarship. I would look more to the coaches and parents myself for the source of the problem, and I think that Perfect Game understands they are in a unique position to help mitigate the situation.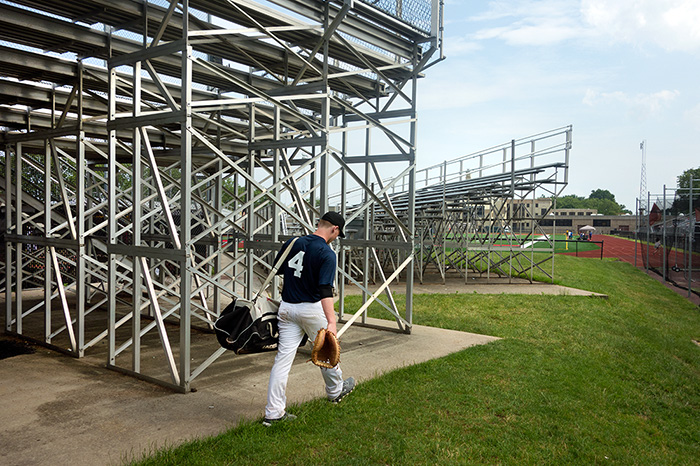 Behind the bleachers, Elizabeth, New Jersey — © Brian Rose
These photographs were taken at two different Perfect Game events, a showcase in Elizabeth, New Jersey, and a tournament just a few miles away on Staten Island. The venues, particularly in the Northeast, are not always glamorous. The field in Elizabeth, set in the heart of an industrial landscape of oil refineries and container docklands, had a funky charm. The multi-field complex on Staten Island was scruffy, looked like they ran out of money, and said that's good enough. Play ball!

Richmond County Baseball complex, Staten Island, New York — © Brian Rose