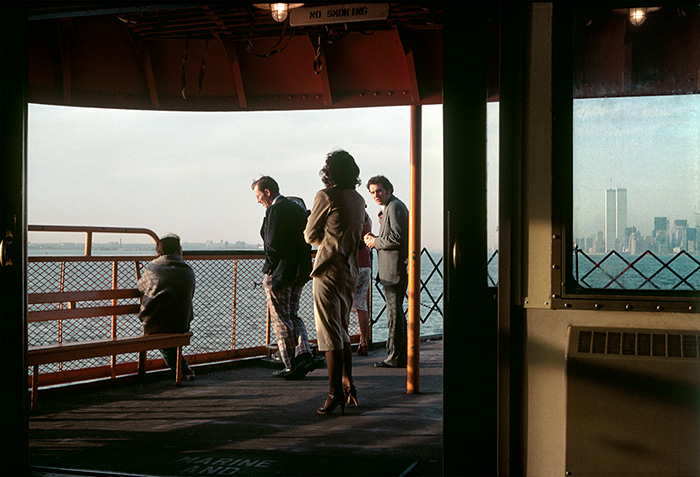 Staten Island Ferry, 1977 — © Brian Rose
I was a student in 1977, a newcomer to the city I had long dreamed of making my own. I walked all around lower Manhattan with a Nikkormat 35mm camera, a brilliantly stripped down camera made by Nikon, shooting color slide film. I was discovering New York, and at the same time, exploring the potential of color photography, which was still in its infancy.
On a trip across the Staten Island Ferry I caught the scene above — a brief interaction — a high-heeled woman and a man in a suit — like a film still. I shot two frames quickly, similar to each other, this one with the Twin Towers framed in a window echoed by the vertical elements of the ferry, the gap of sky, the yellow pole,
This photograph, and a number of others from the '70s, introduce my book, WTC, a 40 year visual history of New York in which the Twin Towers — their destruction — and the rebuilding — play a central role. It is a personal narrative set against a historical backdrop of epic scale. It is a commemoration, a reflection, and a tribute to New Yorkers and all who carry a piece of this great city with them.
Please help make this book a reality by supporting my Kickstarter campaign.