I can remember back in the 90s when it seemed that New York had become an architectural backwater. I was living in Amsterdam, and a Dutch planner friend, about to leave for a trip to New York, asked what interesting new buildings to look for. I was momentarily silent — nothing immediately came to mind. I ended up recommending a few contextually sensitive projects that were admirable if not exactly innovative.
Innovation is not everything, in architecture or in other fields, but the lack of it in the 90s suggested a city treading water creatively. That sense of stasis is long gone for a variety of complex reasons — the post 9/11 vitality of the city is an area rich for exploration by journalists and social scientists. I am neither of those. But I am a photographer of the urban landscape, and there is much to observe in the swift rapids of the present.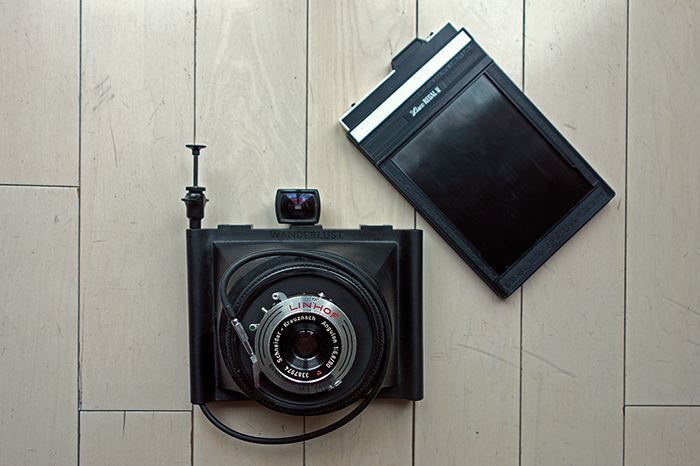 Travel wide 4×5 camera with film holder — © Brian Rose
Architecture can be dramatic or prosaic, showy or utilitarian, but usually not both simultaneously. Let me tell you about a salt shed in lower Manhattan on Canal Street. I had just gotten a new camera to play with — a hand holdable 4×5 camera designed by a couple of guys in Chicago funded by a Kickstarter campaign. As small as a DSLR and half as light. I decided to take it out for a spin to see how it would work for me photographing a building. My wife works in the Hudson Square area, the old printing district west of Soho, and she suggested I take a look at the new Spring Street salt shed designed by Dattner Architects, a New York based architectural firm.
It is just that. A shed meant for storing the stuff used to melt ice and snow on the streets of the city. But instead of the usual metallic tent-like structure, there is, here, a multi-facetted shard of concrete looking very much like a salt crystal, or at least that's what two different sanitation workers passing by told me while I was taking pictures. And it has walls three feet thick. They loved it.
Here it is: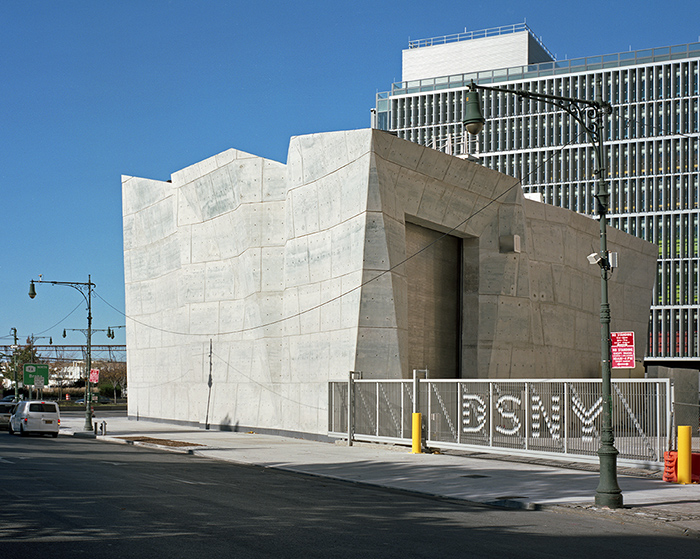 © Brian Rose