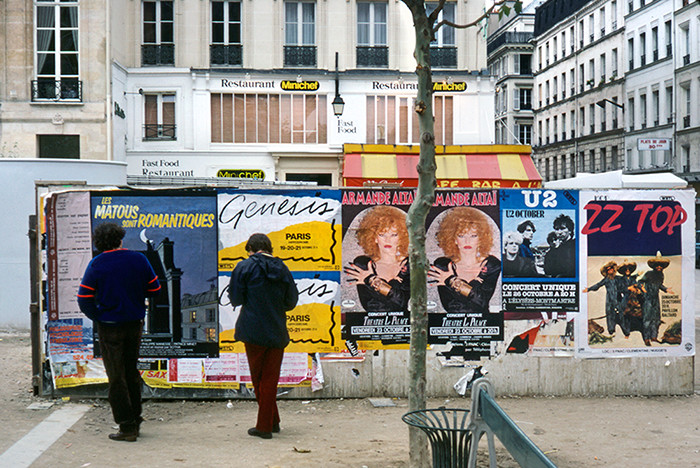 Paris 1981 `– © Brian Rose
My first trip to Europe was in 1981 to France where I was exhibiting my photographs of the Lower East Side in the city of Nancy as part of a theater festival. The focus of the festival that year was the Downtown New York scene, and my photographs provided a visual context for the performances being presented at various venues in the city. Each day the festival participants lunched outdoors in a city park sitting at long tables laid out with cold cuts, bread, and carafes of red wine. I was there for a week, hanging out with the students who helped me install my exhibition — they were only a couple of years younger than I was — and one day my friend, Jack Hardy, the folk songwriter, showed up in my hotel lobby, fresh from a tour of clubs in Germany.
After a friendly dinner together in a cous cous restaurant, he suddenly lashed out at me accusing me of standing in his way with regards to a certain woman who shall go unnamed, and I did my best to defend my rights and my honor against his torrent of righteous indignation. It was an impressive display of romantic nonsense, and hardly justified given that I was actually quite conflicted about my feelings, and was at that very moment rather smitten with one of the aforementioned French students. Jack left town after a couple of days, and I followed a few days later, ending up sitting on the floor in a packed train stalled for hours somewhere between Nancy and Paris.
I stumbled off the train in the morning in a stupor and found a most wretched buggy hotel near the Gare de l'Est. After a brief walk around the city, I returned to my hotel for a fitful night, the halls echoing with shouted French epithets and slamming doors. I believe I went to the Louvre on that trip, though my memory is clouded, and has blurred together with subsequent visits. I had no idea where I was going most of the time, and somehow, managed to find only horrible food. But I was in Paris, broke, alone, and never happier in my life.
Jack wrote a song after he — and I — got back from Paris.
take the night train to paris
hoping to escape all the rules
take the night train to paris
you hopelessly romantic fool
I regretted leaving France without getting the address of my French student, but such was life, pre-internet, and I moved on. Weeks went by, when one day while having breakfast in my favorite spot on Second Avenue in the East Village, I looked across the restaurant, and to my astonishment, like an apparition, she was there — the French student — alone, her leg in a cast propped up on a chair. I got up, walked over, and said, "Do you need some help?" She did. And so began a short romantic episode that turned into an unsustainable trans Atlantic relationship. Alas.
I only took a few pictures while aimlessly wandering around Paris. 35mm Kodachromes. One of them is above. As foggy headed, and unsteady on my feet as I was, I was still capable of finding moments of visual equipoise. It was 1981 and U2 was playing Paris according to the poster. They just cancelled their most recent Paris engagement, 34 years gone by. The most tragic circumstances imaginable. I won't even try to comment…