A recent comment on my blog led me to do some research on the time when I first put down roots in New York. It was the summer of 1977, and I had just come by train to the city arriving before dawn, and parked myself in an all night coffee shop in the West Village waiting for the Village Voice to be thrown off the truck. It was 60 cents back then, which was kind of expensive when you think about it, but it was the indispensable weekly at that time, and if you were looking for a place to live downtown, you had to get the Voice for the classified ads.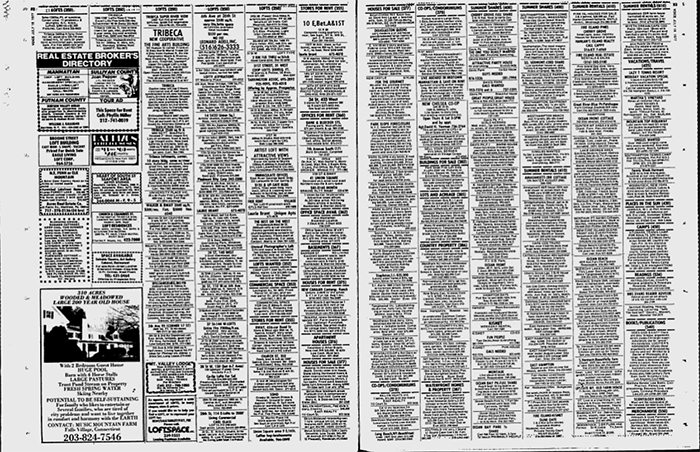 Village Voice real estate classifieds in 1977
Since I was going to be studying at Cooper Union in the East Village, I was looking for a place on that side of town. And it needed to be a sublet because I was only at Cooper as a one-semester exchange student. I skimmed dozens of ads, most of which were advertising apartments for $200 or $250. You could easily get an apartment on the high end of that range in the West Village. Or you could get a 2,500 square foot loft for $350 a month in Soho or Tribeca. Maybe even get a 5 to 7 year lease. If you played your cards right, you ended up buying one of those lofts for $50,000, which would now be worth millions of dollars. The sticking point for me was that those lofts often came with a "fixture fee" of several thousand dollars to cover the cost of the things – heater, lights, appliances — inside what was basically a raw loft. There was no way I could come up with that kind of money.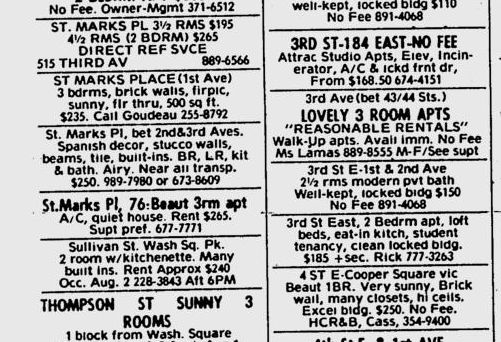 East Village apartment listings 1977
But there were lots of more modest apartments in the East Village, and really, all things considered, I had a lot of choice. In fact, there were dozens of choices, and all in the $200 range. Never mind that many of the buildings were crumbling, and anything east of First Avenue looked like Berlin in 1945. I realized very quickly, however, that I would be making a lot of phone calls and looking at a lot of apartments.
So, there I was, planning on a long day of house hunting, when I saw this: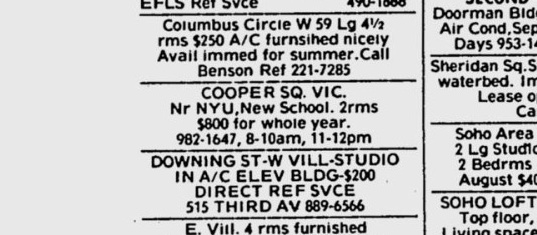 Cooper Square Vicinity, near NYU, New School, 2 rooms, $800 for whole year. That couldn't be right I thought. $800 for a year! Well, it turned out to be legit. A philosophy professor at NYU was taking a temporary job teaching at Tulane down south, and decided to sublet his apartment for a year. It was in a city-owned building, pretty rundown, but on a largely intact block, East 4th Street between the Bowery and Second Avenue.
I took it, and by noon I had an apartment in Manhattan, and spent the rest of the day hanging out in the city. In the evening I headed for Penn Station to return to Washington, D.C. (where I was living) with the idea of bringing my stuff up in a week or two. As I got onto my train, the whole station was plunged into absolute darkness. Fortunately, my train had auxiliary power, and we sat in relative comfort — it was still bloody hot — and the police kept coming on board urging us to stay put. The entire city was blacked out. The following morning when power was restored we pulled into Washington and I saw the dramatic headlines about the rioting and looting that had convulsed large parts of the city overnight.
A few weeks later I moved into my tenement on East 4th Street. My professor never came back and the apartment was mine. And after a semester as an exchange student, I applied to Cooper Union and was accepted. I didn't fully appreciate it at the time, but I was one very fortunate guy.