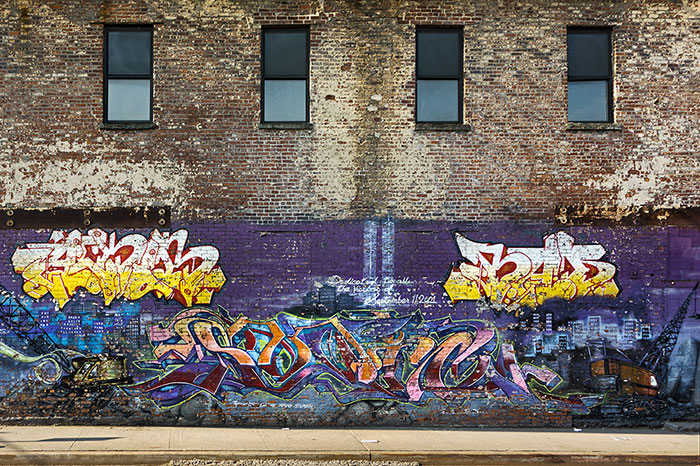 Borden Avenue, Queens — © Brian Rose (digital camera)
Several months ago I spotted a 9/11 mural in an obscure location underneath the Long Island Expressway in Queens. I was driving back from one of my son's baseball tournaments on Long Island. It took me a while to get back there — in fact, re-finding it was a difficult. But thanks to Google maps I was able to track down the spot.
Using an app on my phone called Helios, I was able to determine exactly what time the light would be best on the mural. So, I went out early in the morning with my view camera, and walked about 15 minutes from the closest station on the #7 line in Long Island City. I couldn't quite make out the signature at the base of the mural, painted on the side of an auto body shop in this gritty industrial part of Queens. Trucks thundered by as I set up my 4×5 camera under the elevated LIE. (The image above was taken with my digital camera.)
Although I have been calling my World Trade Center book project complete for some time, this seemed like a worthwhile addition to the series. A ghostlike rendering of the Twin Towers surrounded by calligraphic tags. The inscription says: "Dedicated to all the victims of September 11, 2001." There are, or were, many such murals around the city, but they are gradually fading away.
It's time to get this book published.