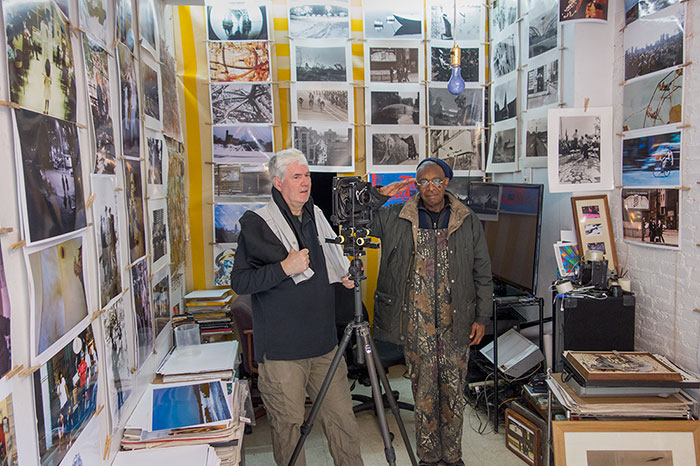 Brian Rose and Alex Harsley — © Brendan Rose
A few days ago I went to Alex Harsley's East 4th Street Photo Gallery to document his amazing space, a couple hundred square feet chock-a-block with prints running up and down the walls, even on the ceiling, attached to cords with clothespins. I brought along my son Brendan, who is 16 and needed to do a school photography assignment that involved making photos containing other photos.
Yes, that's a 4×5 view camera, and yes, I'm wearing my dark cloth superhero cape as Alex salutes. I was there for 3 or 4 hours taking pictures — very slow going in such a tight space. I used my monorail camera so that I could use a wider lens. Most of the view camera images I'm doing these days are made with a field camera, a boxier, more compact camera with fewer movements, and a stiffer bellows, making it difficult to put a 65mm lens on it. But lightweight and portable. The camera above was previously my workhorse architectural camera. Few architectural photographers use view cameras any more, settling for the ease of digital SLRs, despite their limitations. Clients don't know or care at this point. If you care, however, it's an Arca Swiss camera with a Schneider 65mm lens on a Gitzo tripod and a Manfrotto ball head.
However, when I want highly detailed images to possibly print large, the view camera is still the way to go. I scan the negative at high resolution and make prints — like my last two exhibitions — up to 4×5 feet. The MIT mural shown in my earlier post was made from one of those 500 Mb scans. Anyway, I hope to have some images of Alex's gallery to show in the near future.
I'll be on vacation for a week to a place with limited internet and cell phone service, so don't expect any posts till I return. Outta here.