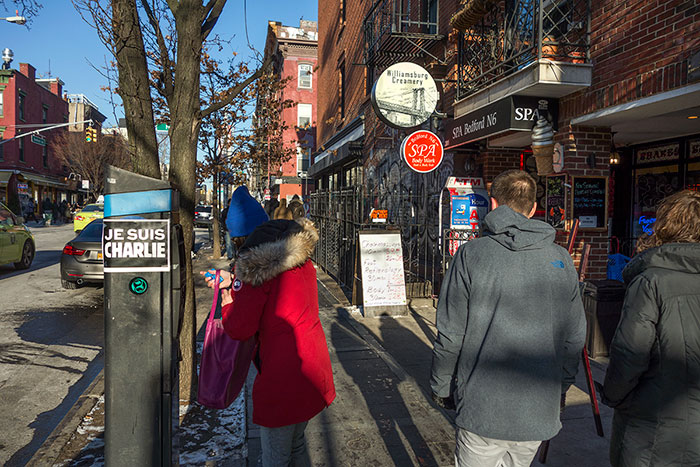 Bedford Avenue, Williamsburg, Brooklyn — © Brian Rose
JE SUIS CHARLIE.
Well, actually a more nuanced perspective. This is something I posted today on the blog Daily Kos as a reply to a diary writer who does not support the kind of provocative satire practiced by Charlie Hebdo. The full discussion is here.
Theo van Gogh
I am coming to the discussion rather late, but want to add some thoughts about another similar incident in the Netherlands, where I lived for 15 years. Some years ago, the columnist/TV personality Theo van Gogh was murdered by an Islamic extremist. Van Gogh was well known for his provocative statements about Islam and just about everything, and he collaborated with Ayan Hirsi Ali on a film that attacked Muslim persecution of women. But it was, in my view, a recklessly inflammatory film.
I considered Van Gogh an odious person, even though there was truth to some of what he had to say. He poured gasoline onto the fire, and didn't seem to care about the consequences.
However, when he was attacked and stabbed to death in the street in Amsterdam, I was left with no choice in the end, but to side with those who defended Van Gogh's right to live and to speak out. The attack on him was an attack on all of us. As is the case with the attacks in Paris.
So, while I sympathize with the points made in this diary — and I do not endorse many of the cartoons in question — I have to say, in the end, "Je suis Charlie."
Sat Jan 10, 2015 at 09:56:43 AM PST