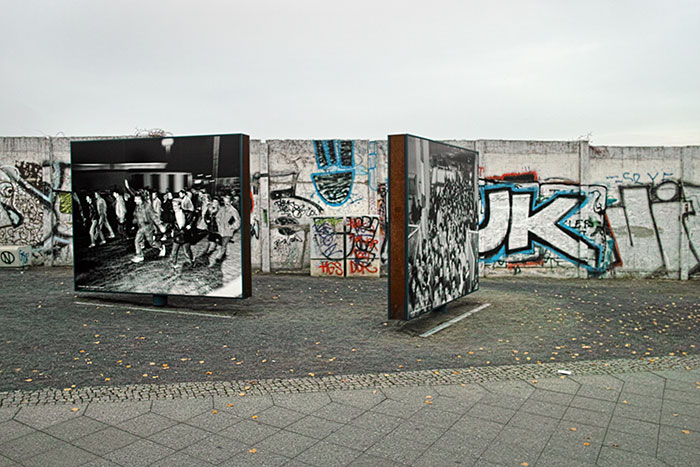 Bornholmer Strasse, Berlin — © Brian Rose
My first day in Berlin in five years. I am here for the 25th anniversary of the opening of the Berlin wall. I am adding to a project that began in 1985 when I traveled across Europe photographing the Iron Curtain including Berlin.
Much building has occurred in the open areas that comprised the no man's land between the double walls that ran through the city dividing it and surrounding what was once known as West Berlin. But even now, over 60 years since World War II, and 25 years since the wall came down, Berlin still exhibits scars and wasteland. It is, however, a greatly transformed place.
The Berlin wall, physically, is mostly gone. There are strips of it here and there, now landmarked, after years of a greater desire to see it gone. But the wall exists more vividly than ever in the imagination and in history, which is always present in this city haunted by the past like no other.
I made my first photographic venture yesterday going to Bornholmer Strasse, a place I had never photographed before, the location of the first border checkpoint to open in the evening of November 9th 1989 when thousands flooded across, there and shortly after, at other crossing points.
There is a monument to that event just across the bridge that crosses the railroad tracks where the border checkpoint used to stand. Large black and white photographs show the crowds of East Germans rushing across into West Berlin. Some of the wall still stands here. Not the outer wall that faced West Berlin, but part of the inner wall on the east side next to the border checkpoint.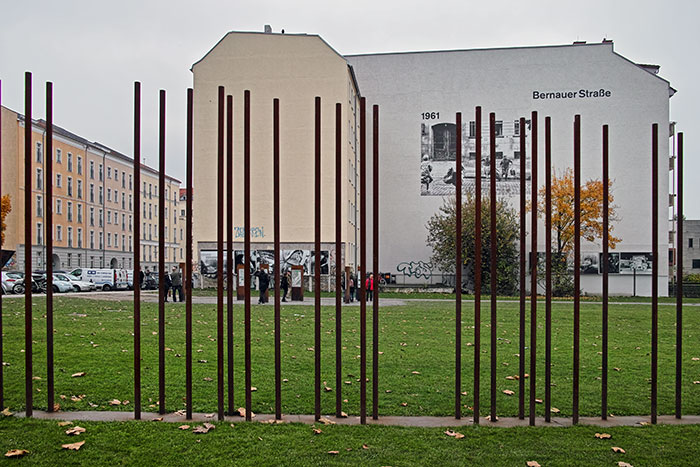 Bernauer Strasse — © Brian Rose
From there I went two S-Bahn stops away to Bernauer Strasse, the location of the main Berlin wall monument. It extends for several blocks and includes sections of the original wall as well as visual interpretations such as the row of steel rods seen above. There are large images fixed to the plaster walls of apartment buildings — blank walls created when residents were evicted and buildings torn down to create a wider and more enforceable no man's land. In the early days of the wall, Bernauer Strasse was the scene of many dramatic escapes as people leapt from windows that overlooked the west, and many were killed or injured.
There were many visitors to the memorial when I was there, and a motorcade of unidentified men in suits toured the grounds with police and bodyguards hovering around. Today, the S-Bahn drivers are going on strike for part of the day, and will operate fewer trains than normal throughout the week. This will potentially disrupt the festivities planned around the 25th anniversary of the wall coming down — a moment commemorating national unity and the ongoing fight for human rights — and I'm guessing their action will not be much appreciated by anyone.