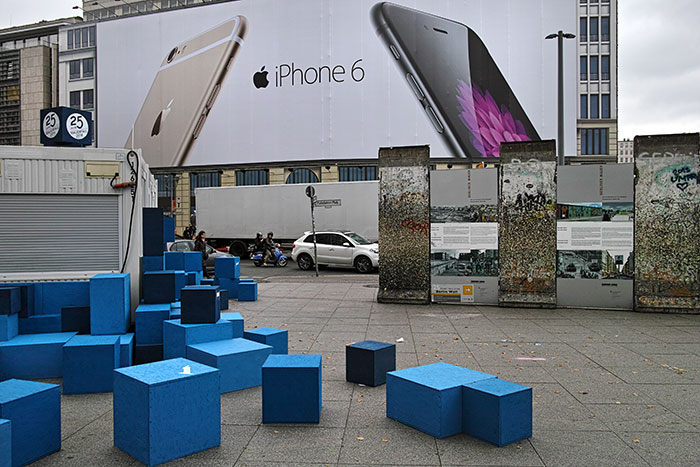 Potsdamer Platz — © Brian Rose
The wall once ran directly through Potsdamer Platz, and now a double row of cobblestones marks the trace of the outer wall through the mostly paved square. A series of wall slabs with exhibition photos and text in between are placed directly on the former borderline.
The blue boxes have something to do with the 25th anniversary of the wall coming down. I've seen them in various locations. I suspect they'll be stacked up and toppled.
After the wall came down Potsdamer Platz was recreated almost from scratch. Very few buildings had survived the war or the post war demolition in the border zone. Important planners and architects were brought in to make it, once again, a focal point of commercial and cultural life of the city. Commercial tawdriness has taken over to a great extent.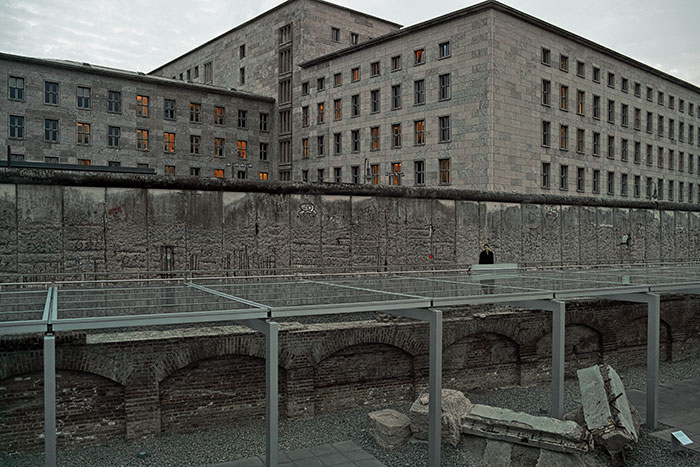 Topography of Terror — © Brian Rose
A short distance from Potsdamer Platz is the Topography of Terror, the former site of the Nazi SS and Gestapo headquarters. A long stretch of the Berlin wall still stands just above the excavated cellar walls of the Gestapo building. In the rear is the former Luftwaffe (air force) building.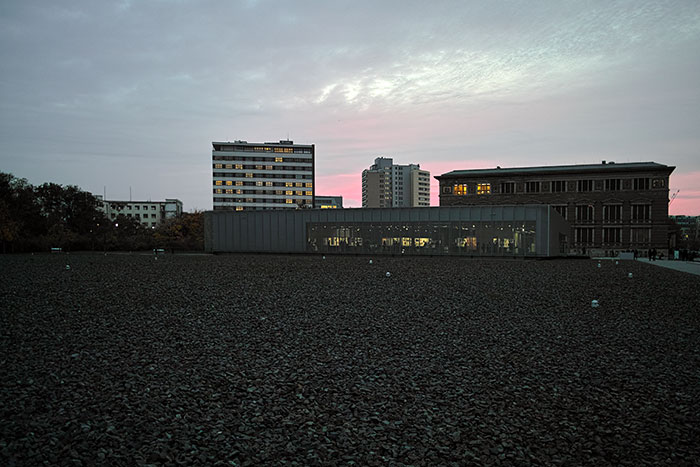 Topography of Terror — © Brian Rose
The exhibition building, designed by Ursula Wilms, is a simple modern box with a steel mesh skin. At dusk, the lights inside can be seen through the mesh. Much of the site is covered in a grey gravel. To the left is the former Europahaus, one of the few buildings near Potsdamer Platz that survived Allied bombing, and one of the first modern high rise buildings in Berlin. To the right is Martin Gropius-Bau, a museum, that is currently exhibiting the photographs of Walker Evans.