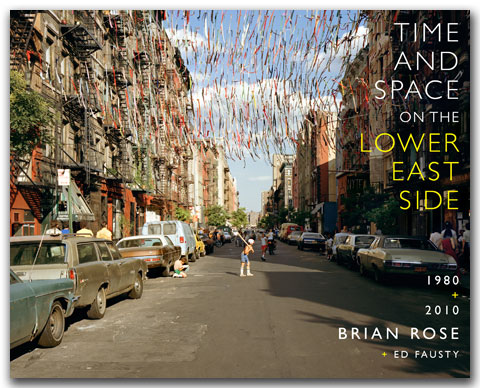 It has been two years and one month since I released Time and Space on the Lower East Side. The trade edition of the book is now "sold out." Approximately 1,000 copies sold. There are still a few books floating around in stores, and I know that my gallery still has some. Anyone who wants a copy should contact me directly, and I will see what I can do to find one for you.
The limited edition is still available. It comes in a slipcover with an 8×10 print inside. $250. The limited edition can be ordered here.
After a couple of years of promoting Time and Space, it's sad to see it go. At the same time, however, my new book Metamorphosis: Meatpacking District 1985 + 2013 is now available. The books arrived last week, and I am now busy sending them out to Kickstarter backers and those who pre-ordered. Metamorphosis can be order here.
The two books together make a great set, and in another couple of years, I hope to come out with a third — WTC — photographs of the World Trade Center from 1978 to the present.
Last week's opening at Dillon Gallery was a success despite rainy weather. The exhibit of my Meatpacking District photographs will be up through August 15. Don't miss the chance to see these stunning 4×5 foot prints.