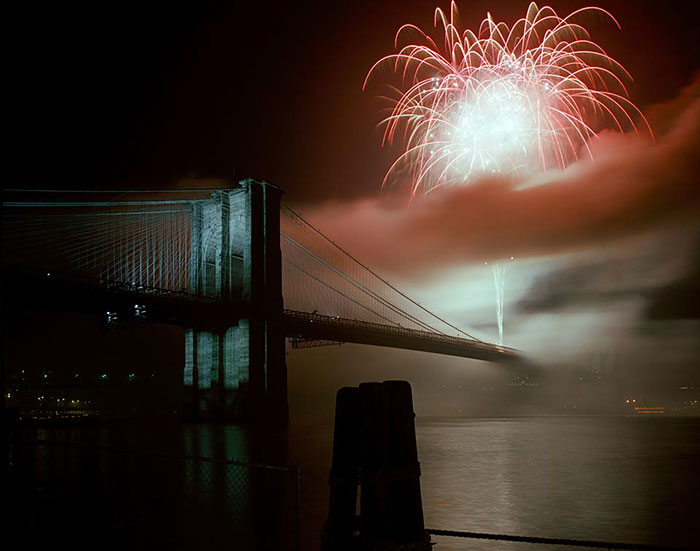 The Brooklyn Bridge, 100th anniversary, 1983 (4×5 film) — © Brian Rose
Happy Independence Day!
After a number of years, the fireworks return to the East River. The above photo is a reprise of one of my "best hits." A picture taken in 1983 on the occasion of the 100th anniversary of the Brooklyn Bridge. Thanks to a connection to the developer of the South Street Seaport, I had a spot among the rocks and sand at the edge of the river. There were a few other photographers around, but I was the only one crazy enough to shoot with a 4×5 view camera. And unlike the others, I used a wide angle lens to take in the entire scene.
Fortunately, it was not too windy, and I tried about a dozen wildly varied exposures. Because of the calm, smoke hung low in the air, and the second tower of the bridge is barely visible in my photograph. Remarkably, the negative is razor sharp without the slightest camera shake. It makes a great large print.
In photographing New York, one is frequently confronted with world famous icons — the bridges, skyscrapers, monuments. It's all been done. But rather than worry about it, I just treat everything equally, seen as any pedestrian might see it. The trick sometimes is not about framing the extraordinary thing, but rather treating the extraordinary as a normal and unprivileged part of the landscape.
And then add fireworks!