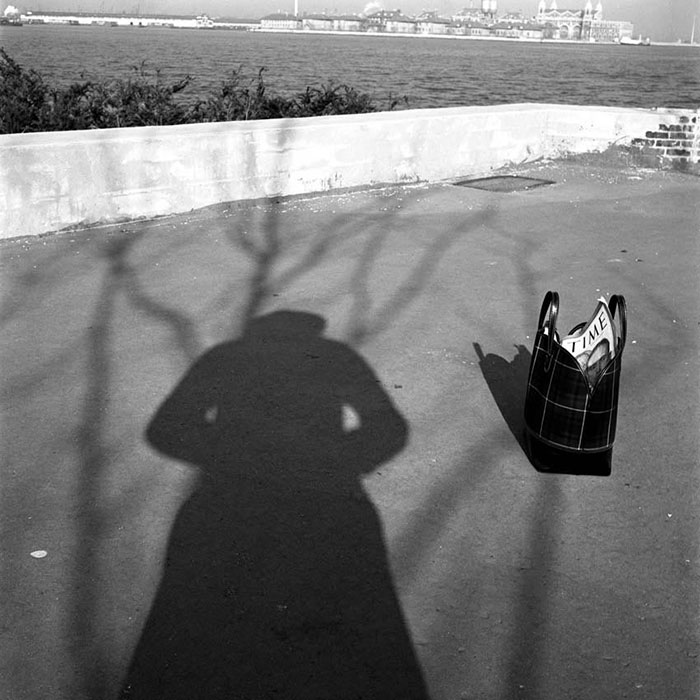 Photograph by Vivian Maier — From Liberty Island looking toward Ellis Island
I saw the documentary "Finding Vivian Maier" the other day at the IFC theater on Sixth Avenue. It's reminiscent of "Searching for Sugarman," the film about the singer-songwriter Rodriguez, who made a couple of commercially unsuccessful albums in the 1960s and then essentially vanished — vanished at least everywhere except South Africa where his music was circulated like samizdat during the struggle against apartheid. In both films, the central artist is a mystery, known only through the discovery, or rediscovery, of his or her work.
Finding Vivian Maier tells the story of how John Maloof became the custodian of her negatives, and how he assiduously sought to find out who she was and what her motives were as a photographer. As is well known at this point, Maier made her photographs in isolation, never showed them to anyone, and died completely unknown aside from the various families she worked for as a nanny over many decades. Although the film does show a number of her images, and photographers Mary Ellen Mark and Joel Meyerowitz speak eloquently about the quality of her work, most of the movie focuses on interviews with her "families." Even Phil Donohue, the Chicago based talk show host, was a Maier client early in his career. All were aware of her photographic obsession — her dangling Rolleiflex — which is not a snap shooter's camera, but none ever saw her pictures, or for that matter, showed an interest in seeing them.
Various questions are posed in the film. Why didn't she make any attempt at getting her work seen? Was she satisfied simply making pictures for herself? Would she have approved of the attention her work is now getting? To most of us, it is all hard to fathom, and the mysterious nature of Vivian Maier only adds to the almost cultish attraction to her and her work.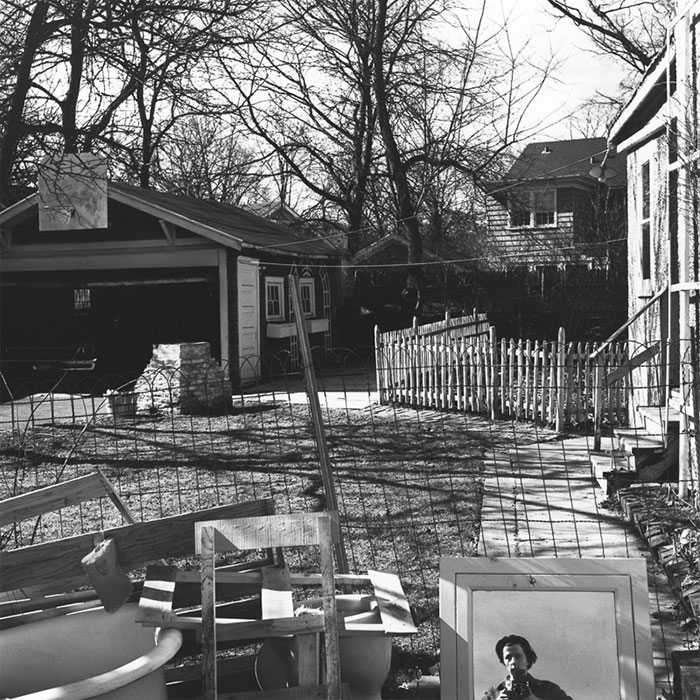 Untitled by Vivian Maier
Looking at her photographs, it is striking how many self-portraits she did, and how carefully staged they were. There is even now a book of them. She was clearly a self-aware individual on a serious mission. She collected newspapers and magazines and photographed the headlines. She visited museums. She referred to herself as a spy. But despite this engagement with the world around her, she remained essentially separate, an observer. There was a solipsistic nature to her photographic endeavor, not unlike Diane Arbus, whose images were as much about her interior psyche as the outside world.
As a photographer, I am familiar with the territory — the sense of solitude that comes with being the observer. The internal dialogue that sometimes acts as surrogate for social interraction. I've taken thousands and thousands of pictures, and relatively few have been seen or exhibited. There have been long dry spells with little attention, but I've continued to work doggedly. It is easy for me to understand Maier's commitment to her work.
But of course, that's where the comparison ends. I have a family. I work for clients. I teach. I publish books. The point I'm trying to make, however, is that her strangeness as a person — and she was an extreme eccentric — and became more so late in her life, should not be allowed to distort our appreciation of her visual intelligence, nor should it  be used to explain away her apparent lack of ambition. To my eye, she was as ambitious as they come as a photographer. And I have no doubt had someone discovered her work before her death, that she would have been fine with museum and gallery exhibitions of it. She just didn't seek it.
The truth is that once the pictures have been made — the electricity of those split second moments passed — the prints on the wall feel oddly distant, almost like the work of someone else. You're grateful for the kudos, and the money, if you're so fortunate. For Vivian Maier, living in her relatively self-contained world, talking to herself, repeatedly documenting her presence in the street — saying I was there — that was enough. Like Fred Herzog, the Vancouver based photographer, who I wrote about recently, you do the work regardless of the outcome. Vivian Maier knew she was good. It was her secret, her validation. That's all we need to know.