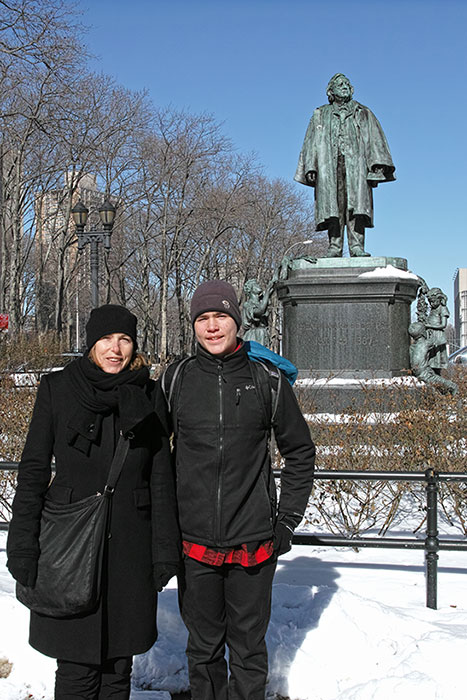 Renee, Brendan and statue of Henry Ward Beecher — © Brian Rose
A family snapshot — frozen grins — it was about 15 degrees Fahrenheit. But a momentous occasion. My wife Renee had just taken the oath for her U.S. citizenship in the Federal Courthouse nearby. Cameras were not allowed inside for the ceremony, so we looked for an appropriate spot outside.
The statue in the rear is of Henry Ward Beecher, one of the most important abolitionists of the 19th Century. He was the pastor of Plymouth Church located a few blocks way in Brooklyn Heights. His sister was Harriet Beecher Stowe, the author of Uncle Tom's Cabin, the novel about the cruelties of slavery, which was instrumental in galvanizing the abolitionist movement.
From Wikipedia:
In 1863, during the Civil War, President Abraham Lincoln sent Beecher on a speaking tour of Europe to build support for the Union cause. Beecher's speeches helped turn European popular sentiment against the rebel Confederate States of America and prevent its recognition by foreign powers. At the close of the war in April 1865, Beecher was invited to speak at Fort Sumter, South Carolina, where the first shots of the war had been fired; Lincoln had again personally selected him, stating, "We had better send Beecher down to deliver the address on the occasion of raising the flag because if it had not been for Beecher there would have been no flag to raise."