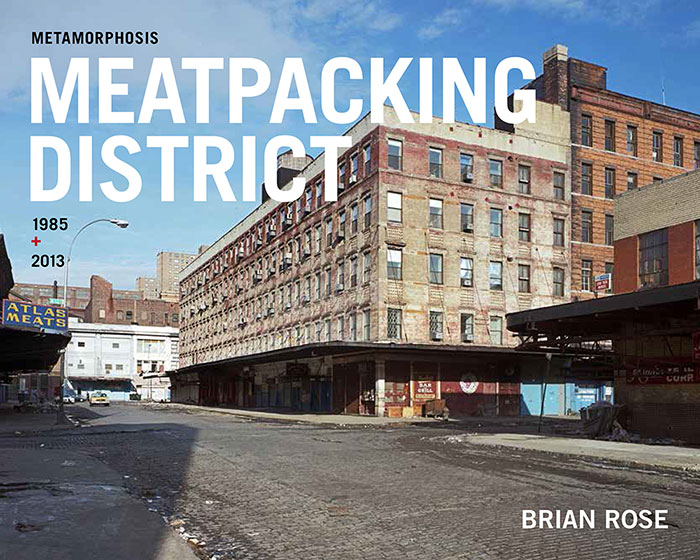 Metamorphosis, Meatpacking District 1985+2013 — © Brian Rose
As I wrote earlier, my book about the Meatpacking District is well underway. Above is the cover featuring a photograph of Washington Street from 1985. It is, in many ways, a companion to Time and Space on the Lower East Side. Metamorphosis will be the same size with similar binding and layout, though we have pushed the graphic design a little bit more on this one.
Time and Space was a complex look at a large neighborhood with many interwoven visual and thematic threads. Metamorphosis is a tighter concept — 18 before/after views and 14 new images of this relatively compact neighborhood, all made with a 4×5 view camera. As before, I shot color film, and have scanned and color corrected the images in Photoshop.
The whole project (aside from the pictures made in 1985) was done in a very short time frame — less than six months — giving the book an immediacy that I think is rare. There is no way something like this could be done with most established publishers, who normally need long lead times and require much collaborative deliberation. Publishers often promote this aspect of book making, and I think overvalue their role in what often should be an artist/photographer's unmediated statement. It depends, of course, on the circumstances, and many fine photo books have been made with only modest input from the photographer.
That's not to say that this book was done without collaboration. I worked with Bill Diodato, photographer and publisher, and a small team of technical/design mavens. It has been a fruitful partnership.
As with Time and Space on the Lower East Side I will need to do a Kickstarter campaign to help cover the cost of printing. The economics of doing photo books like this are difficult. The barriers to success, from production to distribution, are high. But this will be my fifth book, and I have a good deal of experience at this point, and know how to make it all work.
Stay tuned for the next step.