There's been lots of discussion about whether Inside Llewyn Davis by the Coen brothers is an Oscar-worthy masterpiece or a dismal failure. Whatever the case, I'd like to briefly touch on the look of the film. The story takes place in 1961 Greenwich Village and the main character wanders the streets and cafes of the area, familiar terrain to those of us who were a part of the folk scene in New York. My participation came much later, the late '70s and early '80s, but even today, the look and feel of the place has changed very little.
A scene from Inside Llewyn Davis, East 2nd Street
To my eye, the neighborhood is a richly colorful landscape, in parts beautiful, in other parts tawdry. McDougal and Bleecker Streets where the folk scene was centered remains a tourist district with mediocre restaurants and cheap gift shops. But there's also Porto Rico coffee, Caffe Dante, and Mamoun's falafel, places that have survived decades. Even Ben's Pizza is still there in all its fluorescent and formica glory. Caffe Dante was where I used to hang out with Suzanne Vega and Jack Hardy plotting to shake up the world with our songs. It's still great for atmosphere, but the coffee at Third Rail a couple of blocks away is on a different level. But I digress.
People have criticized Inside Llewyn Davis for portraying the folk scene as a ghostly shadow of its true self. Suzanne Vega called the movie "brown and sad." The movie, indeed, is visually muted and dark. The Coen's obviously filtered the color giving it that old color look–like an Instagram filter.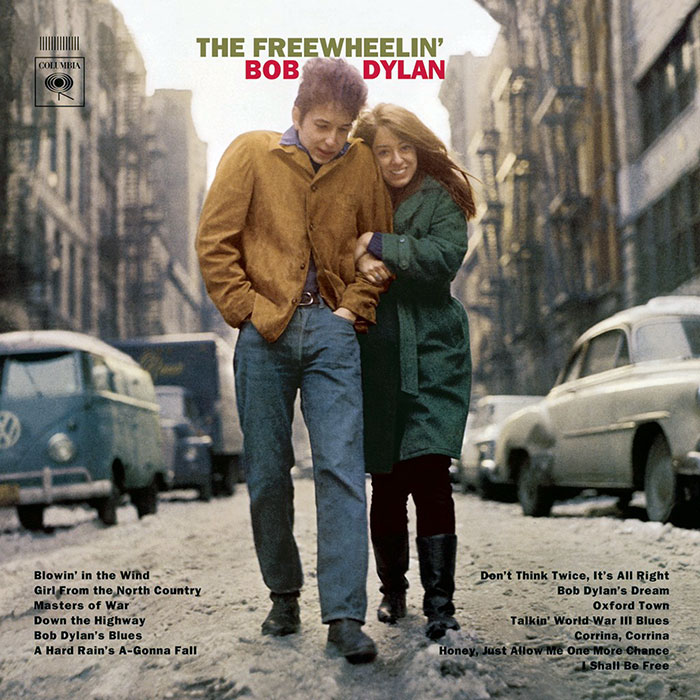 But the past is only Instagrammed in our minds Or in prints and slides that have faded and color shifted over the years. When Dave Van Ronk–who the movie is sort of, but not really about–and Bob Dylan inhabited the neighborhood in the early '60s the look of the place was undoubtedly as brightly hued as it is today.  My guess is that the Coens and their art director were inspired in part by the iconic photograph on the cover of The Freewheelin' Bob Dylan where he and Suzy Rotolo walked down the center of Jones Street on a snowy thinly lit day.
One can argue that the Coens wanted to remove their movie from the present and give it a dreamy long ago quality. But at this point, color filters are an overused device. Moody, slanting light streaming through windows, has also become a cliche supposedly evoking the past. Think of Spielberg's Lincoln.
In my book Time and Space on the Lower East I tried to make the point that the past and present are  not mutually exclusive realities. They are part of a continuum of experience. They are both here now in vivid color. And the sky on a sunny day is blue.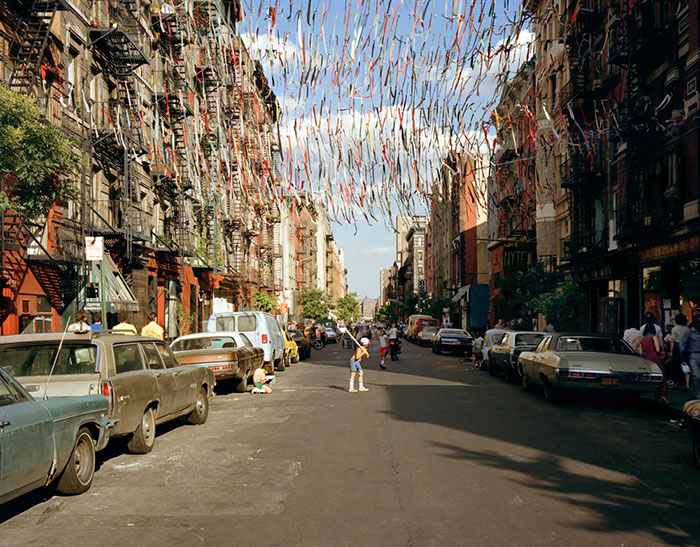 East 4th Street 1980 — © Brian Rose/Ed Fausty