I've been hard at work on my Meatpacking before/after series. Most of the direct then and now pictures are done, and I am continuing to do new views of the area as they present themselves. Many of the 1985 pictures were taken on bleak winter days with minimal sunlight. Lately, I've been stuck with crisp and pristine fall days, which sometimes work in my favor, sometimes not.
One shot I've been trying to replicate was taken on 10th Avenue where the High Line runs along the street and takes a jog to the west where it then runs mid-block. The original photo shows a rundown tenement with an impressively decrepit "liquors" sign. It was taken in open shade with weak sunlight coming up 10th Avenue from the south.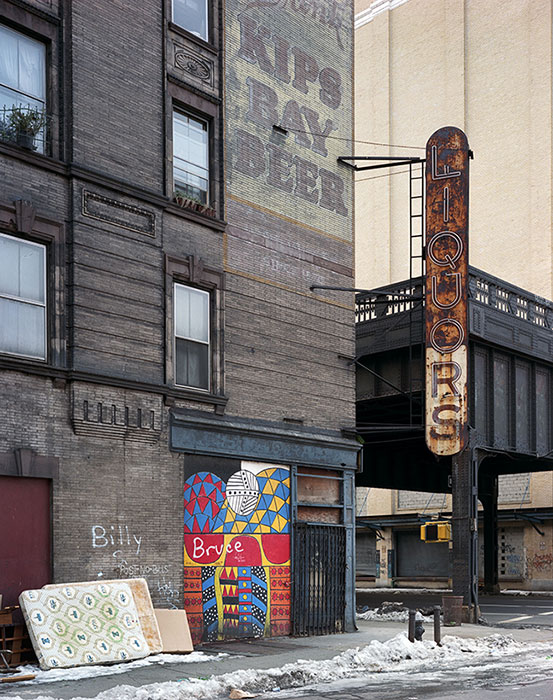 10th Avenue and 17th Street, 1985 (4×5 film) — © Brian Rose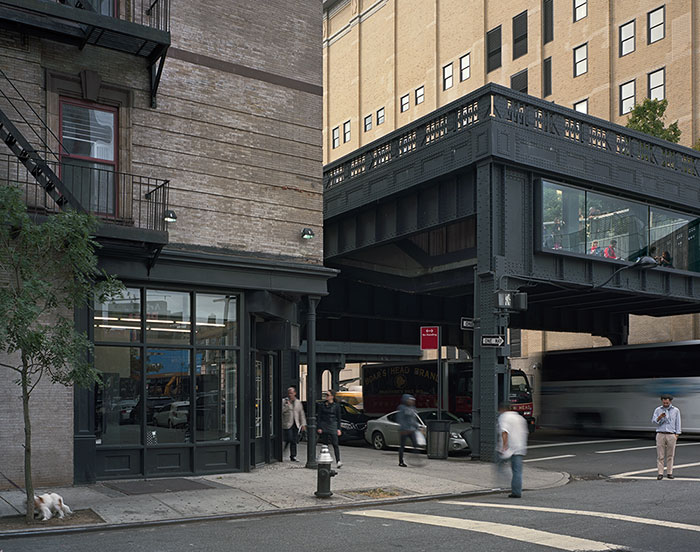 10th Avenue and 17th Street, 2013 (4×5 film) — © Brian Rose
Today, the basic infrastructure of the scene remains unchanged. The tenement remains, the High Line still hovers above the street, and the immense warehouse building looms behind. But everything else about the former situation has been altered. The unbroken brick facade of the warehouse has been punched with windows to accommodate offices, the tenement is no longer decorated with signage, and a boutique occupies the ground floor storefront. The High Line is, of course, no longer an abandoned rail viaduct, and at this spot, where it crosses 10th Avenue, a window cut into the steel overlooks the street. People are everywhere where few once ventured.
The weather finally worked for me at this location with the sun straining through light clouds. The liquor sign no longer dictated a vertical composition, so I took a wider view showing people peering through the window on 10th Avenue.