Two sets of before/after images taken in Chelsea on 23rd Street. Both feature two of New York's most imposing buildings. The Starrett-Lehigh Building on Eleventh Avenue, which was built in the early '30s as a distribution and warehouse facility near the docks on the Hudson River. Trains could load and unload inside the building, and trucks could be lifted to any floor. Today, it is the home to businesses in the creative fields, and virtually everyone has at one time or another seen ads shot in the photography studios in the building. London Terrace was also built in the early 1930s as the largest apartment building in the world. It still houses thousands of residents, though it is now divided into separate co-op and rental complexes.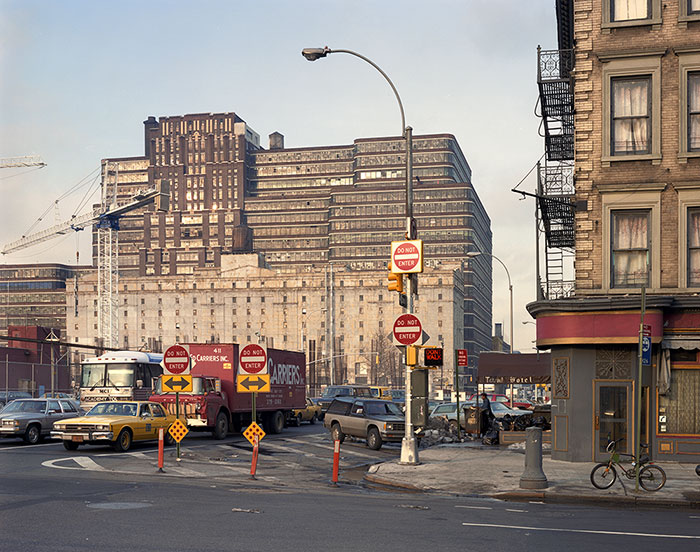 Eleventh Avenue and 23rd Street, 1985 (4×5 film) — © Brian Rose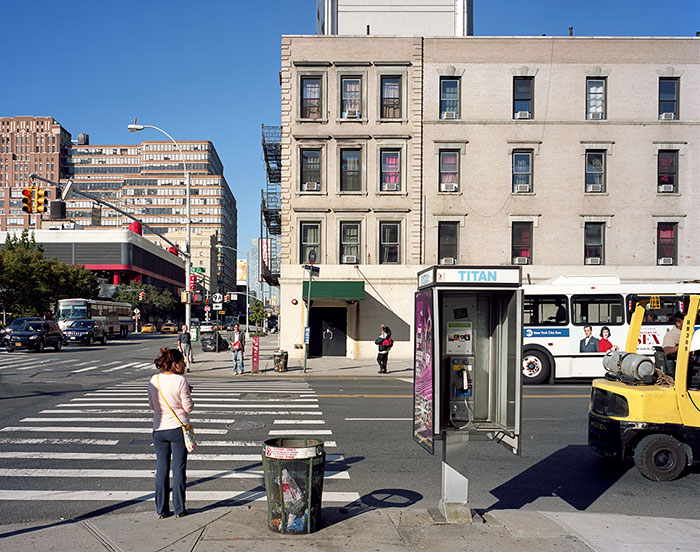 Eleventh Avenue and 23rd Street, 2013 (4×5 film) — © Brian Rose
Throughout most the 20th century, the west side of Manhattan was dominated by the docks along the Hudson River. It was a bustling area employing thousands of longshoremen back when cargo was handled piece by piece. As shipping moved to containers, which could be lifted by crane and transported by train or truck, the vast Hudson River industry was transplanted to New Jersey with plentiful horizontal space, and easy access to mainland highways and rail lines. The west side went into steep decline.
The edginess I encountered in 1985 has mostly disappeared. In the top photograph the Terminal Hotel was a seedy place fed by the prostitution and drugs that haunted the area. It's now a more cleaned up budget hotel that, needless to say, does not cater to the wealthy patrons of the nearby art galleries.
23rd Street between Eleventh and Tenth Avenues, 1985 (4×5 film) — © Brian Rose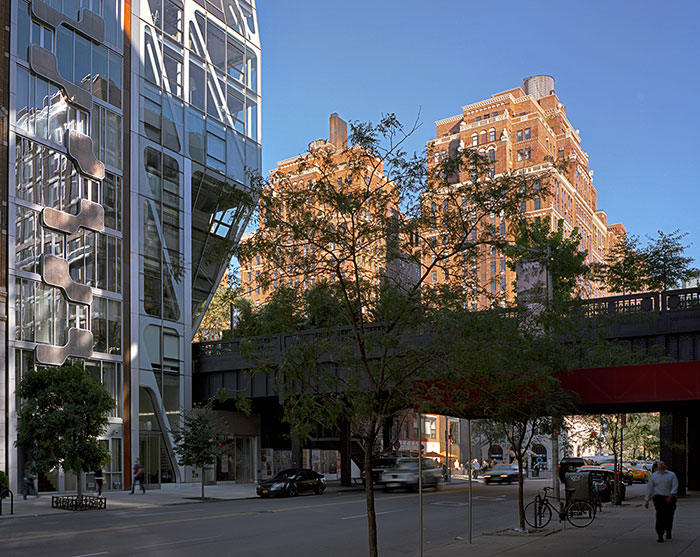 23rd Street between Eleventh and Tenth Avenues, 2013 (4×5 film) — © Brian Rose
When London Terrace was first built, the residents on the west end of the building would have looked down on trains moving along the High Line rail viaduct that serviced the adjacent piers. It was an outpost of relative gentility bordering on the rough and tumble world of the harbor district. Later, they would have looked upon an abandoned High Line, and largely desolate streets.
Now, London Terrace stands at the center of the Chelsea gallery scene occupying the former warehouses. Initially, the developers and property owners wanted the HIgh Line torn down, and they generally opposed the creation of the High Line park, which has become an international tourist destination. They were shortsighted, as so often comes with the territory, and the High Line has become a profoundly valuable urban amenity. One wonders how long the Chelsea galleries will survive the upward arc of real estate values. One wonders, as well, when the gravy train runs out.