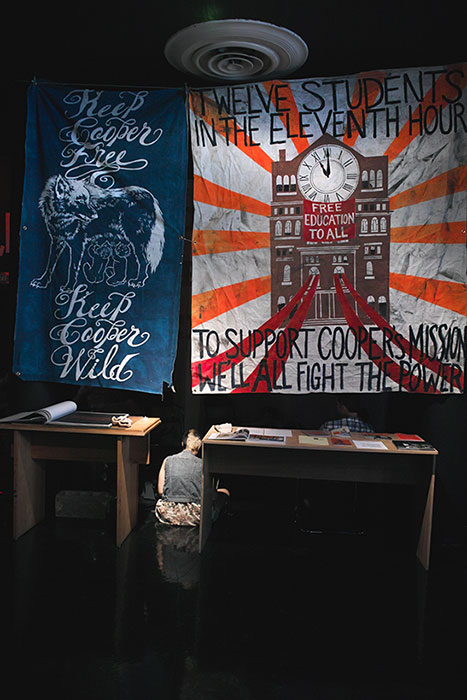 Step Down, Cooper Union, with student leader Victoria Sobel seated on floor
© Brian Rose
Art school, protest, and how I got to Cooper Union
Before transferring to Cooper Union in 1977 I was attending MICA (Maryland Institute College of Art). It was an expensive private art school — tuition is now just over $39,000 per year. I remember the college president telling the incoming class in a welcoming speech what percentage of students would complete their degrees and go on to find careers in art. It was a discouragingly low number.
Previously, I had studied urban planning and architecture at the University of Virginia, and art school was difficult step for me. But my interest in photography had blossomed, and I saw myself becoming a fine art photographer down the road. At first, the diverse course offerings for obtaining a BFA were daunting — I hadn't done any drawing or painting before — but I became increasingly appreciative of the interconnectedness of the different media, and as I became more confident in my abilities, I began to evaluate the students around me as well as the quality of the professors I was studying with.
It was a mixed bag. Many of the students seemed more enamored of the art lifestyle than the actual practice of art. And many of the professors, especially the entrenched tenured ones, seemed to be coasting as artists. There seemed a lack of ambitiousness all round. A large faculty art show in the college gallery confirmed my suspicions. The work was weak and directionless, and to me, it was insulting to those of us paying a ton of money to attend the school. So, a friend of mine and I engaged in a little guerrilla action, creating a flyer printed in black courier type that panned the faculty show and suggested that our tuition money was going to waste. We taped these flyers up everywhere on the campus — on walls, doors, in classrooms, restrooms, inside drawers and underneath desks. It caused quite a sensation.
I should say here, however, that some of my motivation was simply unearned hubris, and that some of my professors were excellent. Furthermore, not knowing what things are like at MICA in these days, this should not be construed as criticism of the present school. However, I was right about needing a more challenging environment, and as a result, began looking into exchange programs with other art schools. Above all, I wanted to explore color photography. It was 1976, and color was just becoming a viable medium outside of advertising and magazines, and seeing that Joel Meyerowitz, one of the pioneers of color photography was teaching at Cooper Union, I knew where I should go. I did my one semester exchange, hung around unofficially for another semester auditing classes, using my student ID good for a year, and eventually got in as a transfer student. The dean of the art school later told me they accepted four out of 450 applicants for transfer that year.
It had to be Cooper. My parents had pretty much given up on me and my educational wanderings, and had cut off my funding. Cooper, of course, was tuition free, making it possible for me to continue my dream even without parental support. A full telling of the story would describe in detail how life-changing the experience of attending Cooper was. How terrific the teachers were. How brilliant the students were. How it was understood without questioning that we were artists, and would go on to be artists in the real world, in New York City just outside the door, our campus and hometown. And that's what happened for me. I was able to immediately begin an extended photography project upon graduation, and have been pursuing my dream for 30 years since.
Art School, protest, and (the end?) of Cooper Union
On Saturday I attended both Show Up, the annual end-of-year student show at Cooper Union, and Step Down, the renegade art show on the 7th floor of the Foundation Building just outside the office of Jamshed Bharucha, the college president. As those of you following the news already know, the president's office has been occupied by students demanding that he and the chairman of the board of trustees resign. The sit-in was precipitated by the decision to begin charging tuition to close a budget gap brought on by financial mismanagement and the lack of imagination and leadership required to fix the problem. This alteration of Cooper's central mission of providing free education to all, regardless of economic status, threatens to destroy the egalitarian meritocracy that has made this place a unique treasure.
Step Down is an openly polemical show full of anger and biting humor. The work was provided by students, alumni, and friends. I donated my book Time and Space on the Lower East Side with a letter to the students who are leading the effort to save Cooper Union. The letter explains that Time and Space would not have happened without Cooper, and that it reconnects, for me, the gap between the present and that time when I first arrived in New York City. The student protest at Cooper goes far beyond my modest flyer of 1976, but both actions, on different levels, are about the quality and the value of education.
The book is displayed on a table, and you can read my letter below. (Click on the letter for an easier to read view)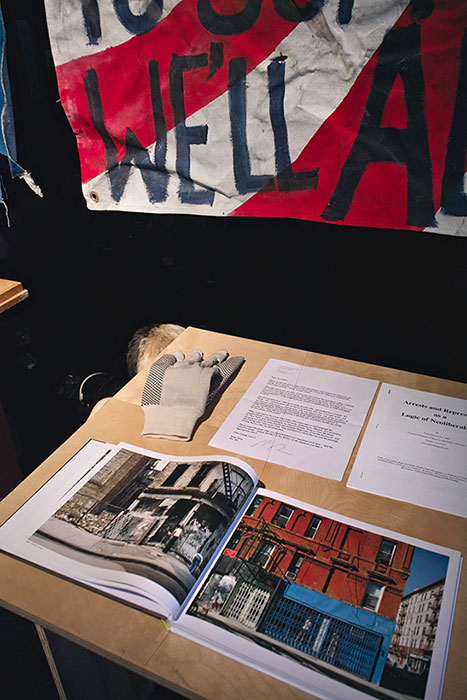 Time and Space on the Lower East Side at Step Down — © Brian Rose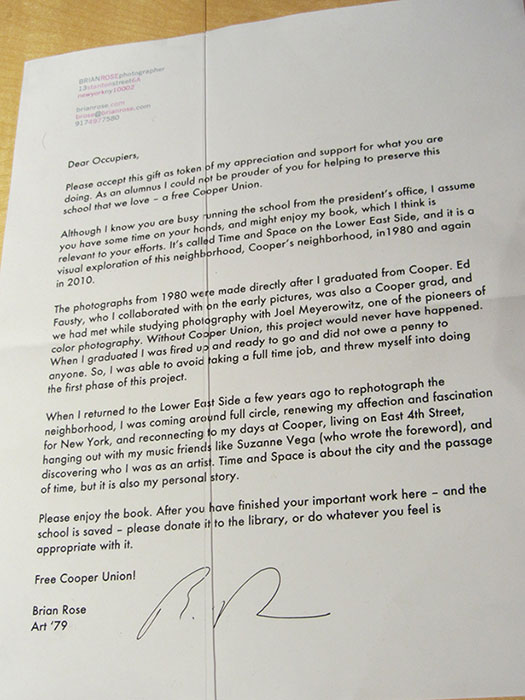 Letter accompanying my book at Step Down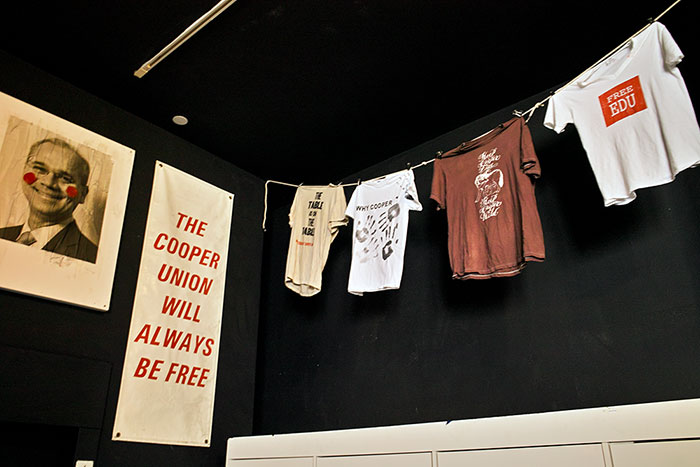 Step Down, Cooper Union — © Brian Rose
The art blog Hyperallergic wrote about Step Down:
…the exhibition Free Cooper Union put together, in only a week's time, is probably one of the most significant and symbolic shows of the year. …this is an important exhibition, singular in capturing a raw provocation to authority. It's an endeavor as worthwhile as it is rare.
And another article from ArtInfo.
More photos of Step Down here.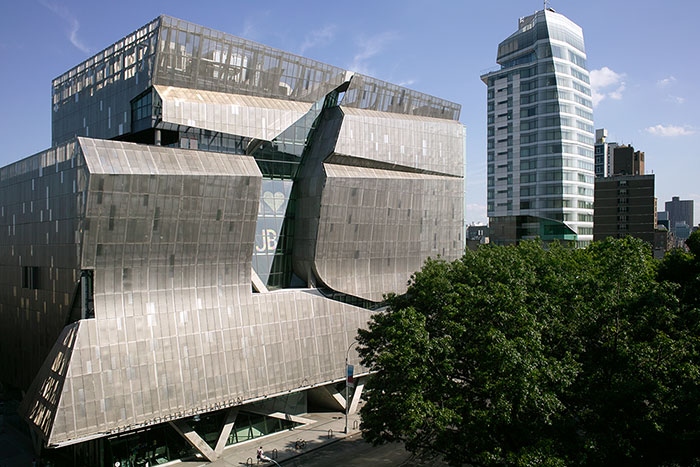 The New Academic Building, Cooper Union — © Brian Rose
As I was leaving the 7th floor, I pointed my camera out the window and made the photograph above across Cooper Square. Normally, when a university constructs a major new building it gets named for a prominent donor who helped make it possible. At Cooper the NAB, or New Academic Building, is a grand architectural statement bereft of a benefactor's name. A large part of Cooper Union's financial woes are connected to that fact. It was a complex real estate deal so they say, but, in a nutshell, the trustees chose to borrow the entire cost of construction, and now find they are unable to make the mortgage payments. As a result, they have shifted the debt to the students and abandoned the mission as expressed by Peter Cooper that education should be as "free as water and air."