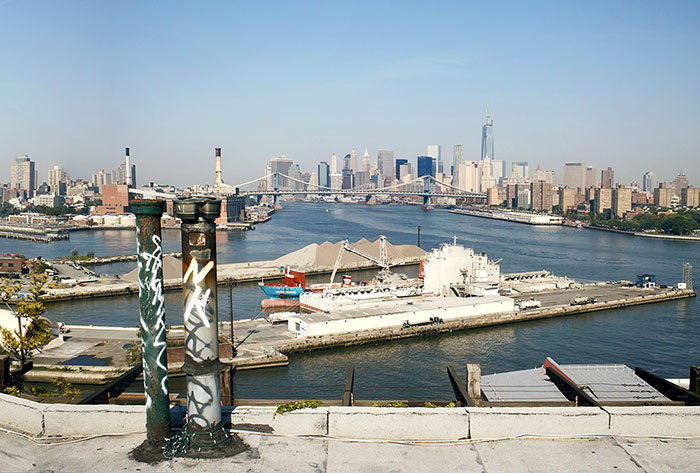 East River and Brooklyn Navy Yard — © Brian Rose
Now that I am no longer using the 4×5 for architectural shoots — it's hard to believe that era is over — I have switched completely to a field view camera for my personal projects. I'm using an inexpensive Toyo made largely of plastic (blech) but it's super lightweight. Way lighter than the Arca Swiss monorail camera I was using for architecture.
I went out with the view camera yesterday morning. At 8:30am it was already getting hot, and the sky, while clear, was a bit hazy. I walked along the Brooklyn waterfront looking for distant views of One World Trade Center for my upcoming book, WTC. A few days ago, driving by, I saw some prefab housing units standing near Kent Avenue with the skyline looming behind. It didn't seem quite so looming when I got there, but I did several photographs. For one picture I stepped a couple of feet beyond the open gate into the Brooklyn Navy Yard. A guard stationed about 200 feet away checking cars entering the yard immediately began yelling and blowing a whistle as if I had done something horribly wrong. For those of you outside of New York, this is no longer the Navy. It's an industrial compound that hosts numerous businesses large and small. There are all kinds of innovative things going on in there.
Anyway, I ignored the guard who was stuck in his little booth, took my picture, and walked away. From there I walked by 475 Kent, a controversial loft building full of artists that has been on the legal razor's edge for work/live spaces for some time. I don't know anything about its current status. But a resident coming out suggested I go up to the roof. So, up I went. I did two side by side views that may be combined for a panorama later. The right hand frame can be seen above, although that's from my digital point and shoot, not the 4×5.