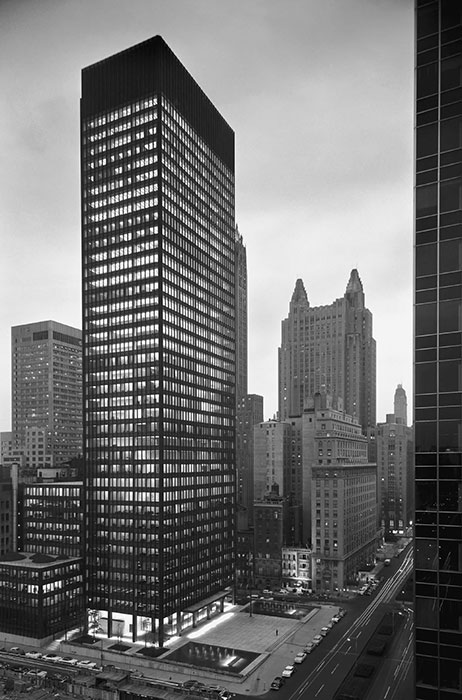 The Seagram Building (375 Park Avenue) — photo by Ezra Stoller
A few days ago the Times ran a story about Phyllis Lambert's book Building Seagram, which tells the story of her role in the selection of Mies van der Rohe for the commission. The Seagram Building (now 375 Park Avenue) is regarded by many as New York's finest skyscraper of the modern era. Lambert was the daughter of Samuel Bronfman, the head of Seagram, and her zeal for architecture and civic responsibility led her to take up the cause in New York and in her hometown of Montreal. It may sound unlikely, but there is a small connection to Time and Space on the Lower East Side in this story.
In the late 70s at Cooper Union, one of my professors was Richard Pare, who at the time was assembling a collection of architectural photographs for Seagram under the direction of Phyllis Lambert. Those photographs, acquired by Pare, from all over the world, would eventually comprise a unique part of the collection of the Canadian Center for Architecture, another Lambert initiative. Soon after graduating, I began the Lower East Side project with Edward Fausty. After a number of months of work — once we had gotten some momentum going — we contacted Pare and showed him our pictures.
I remember visiting Pare in the Seagram Building on Park Avenue in 1980 bringing a box of 11×14 prints. We eventually sold a dozen or so prints to Seagram, which helped fund the project at a critical time when our money was running low. I also remember meeting Lambert, and attending an event honoring Berenice Abbot, the great photographer of New York City. I'm not sure I appreciated her importance until then.
There were several key funding moments that made the Lower East Side project possible — a New York State CAPS grant (similar to today's NYFA grants), an unexpected windfall of $10,000 left to me by a deceased relative, and the Seagram/Canadian Center for Architecture purchase. Without those three sources of money, it's doubtful that the Lower East Side project would have been completed, and my career — such as it is — launched.
Thank you Phyllis Lambert — and Richard Pare.