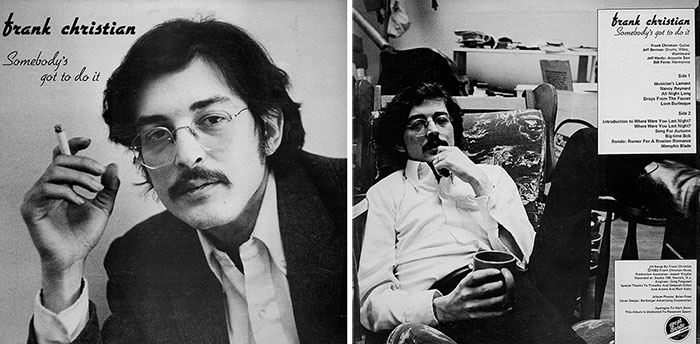 Adding to a post from a few days ago:
In 1982 I was asked by Frank Christian to take photographs for his forthcoming album "Somebody's got to do it." I went to Frank's skylighted studio apartment on the top floor of a Greenwich Village townhouse, and we sat around chatting, drinking coffee, snapping pictures. The two images used for the cover were from that session–back when albums were 12×12 inch LPs.
I didn't do a lot of photos of musicians in those days–largely because I wanted to be one of the songwriters, not just a witness to the scene. In retrospect I wish I had taken more pictures. I did, however, do a number of album covers for songwriter friends, and sadly, most of them–Frank, Richard Meyer, Tom Intondi, and Jack Hardy have died, way too soon.
Not many people made their own albums in those days, and Frank took his cue from Jack Hardy who was recording and releasing his own. That's Jack's Great Divide label on the lower right. Not a real company, but a certain imprimatur, nevertheless. I think that's where the title comes from, somebody's got to do it, and Frank would say it ironically with a sly grin.