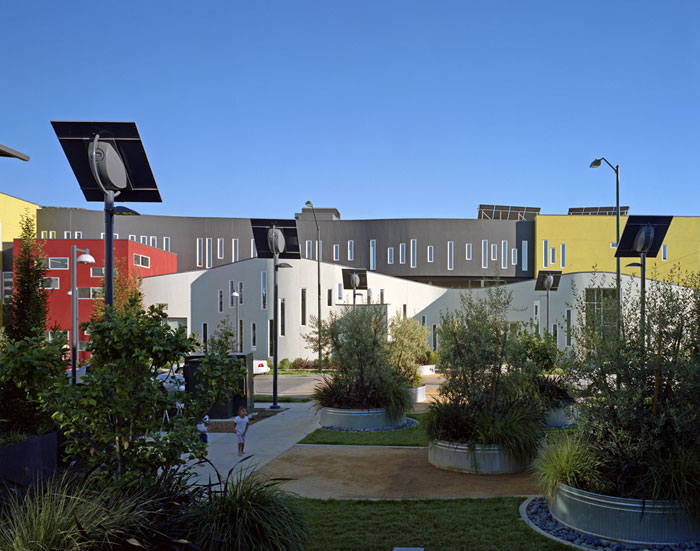 Tassafaronga Village, David Baker + Partners, Oakland, California — © Brian Rose
In today's New York Times, architecture critic Michael Kimmelman reviews two mixed income housing projects in the San Francisco Bay Area designed by the architect David Baker. Although Baker's work has been published in various professional magazines, his profile outside of the Bay Area has remained relatively low. Low, in spite of the fact that Baker has achieved something few others have even tried–to bring sophisticated design to the task of providing housing for low and middle income people.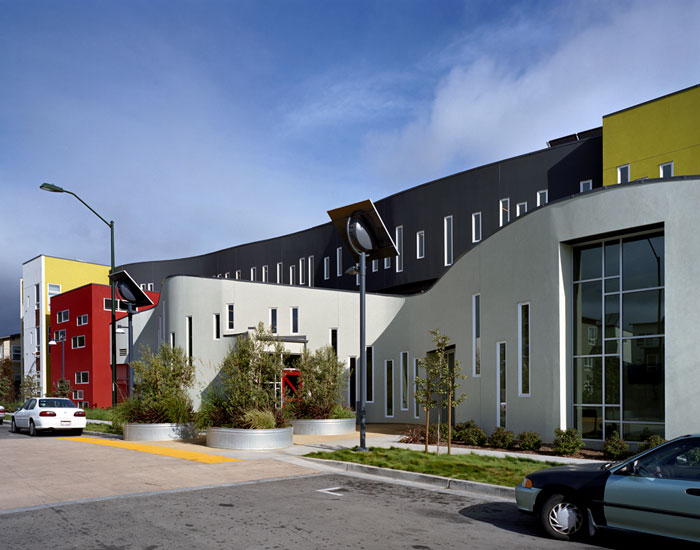 © Brian Rose
Tassafaronga Village in Oakland, California is a large complex of mostly new buildings that replace a troubled housing project set in the middle of neighborhood of small houses, factories, and stacks and stacks of rail containers. It's a tough area, lying in the shadow of Oakland Colosseum where the Athletics and Raiders play, and crime is high.
© Brian Rose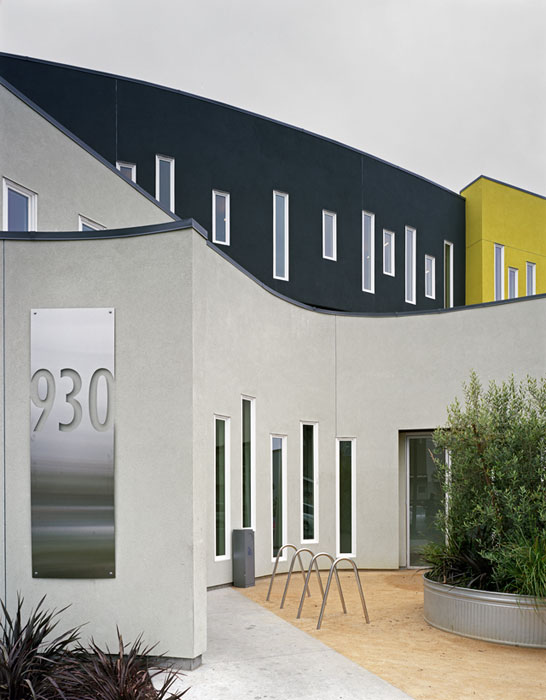 © Brian Rose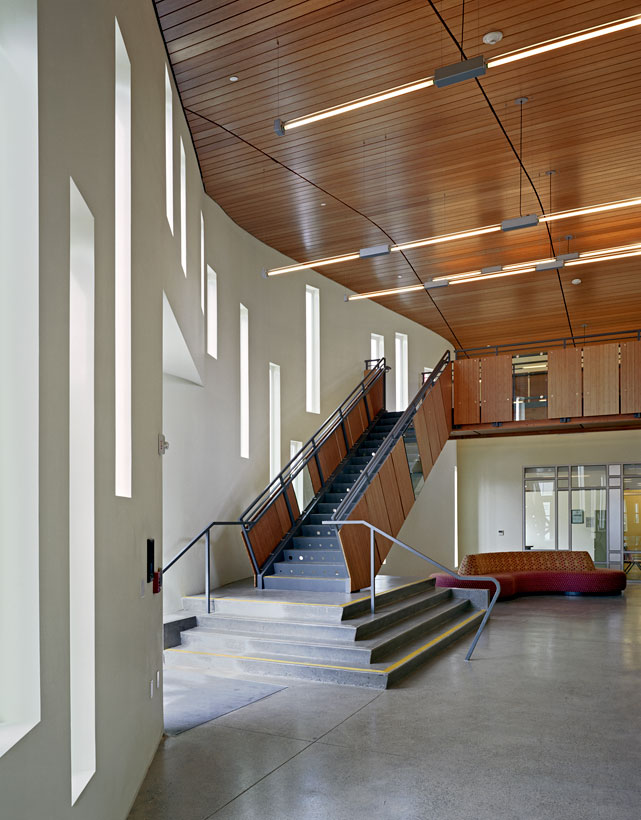 © Brian Rose
There are several aspects to the project. One is a single building situated behind the undulating facade that you see above. It contains low income apartments grouped around a courtyard. Entry is through a spacious lobby, seen above. Some of the street side apartments have individual doorways.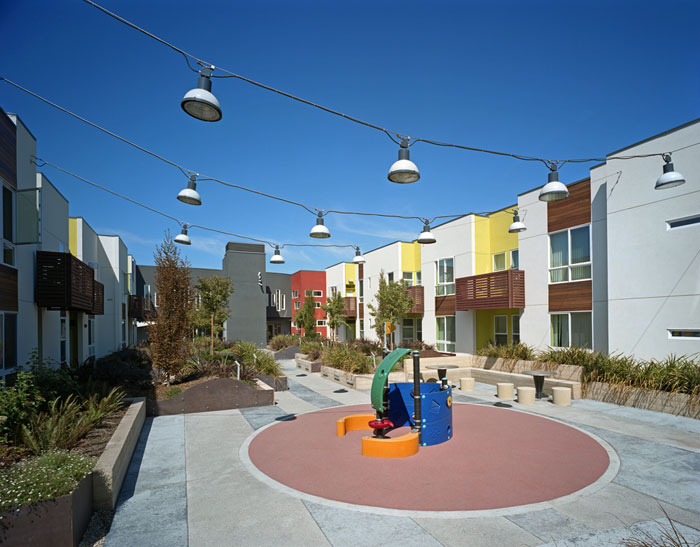 © Brian Rose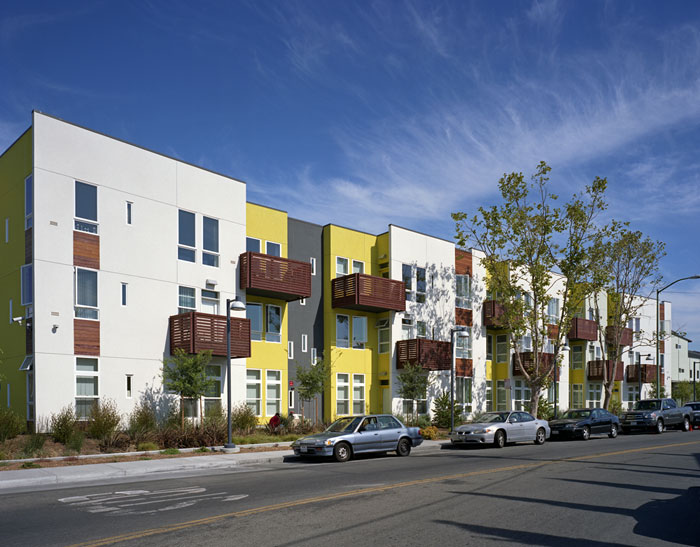 © Brian Rose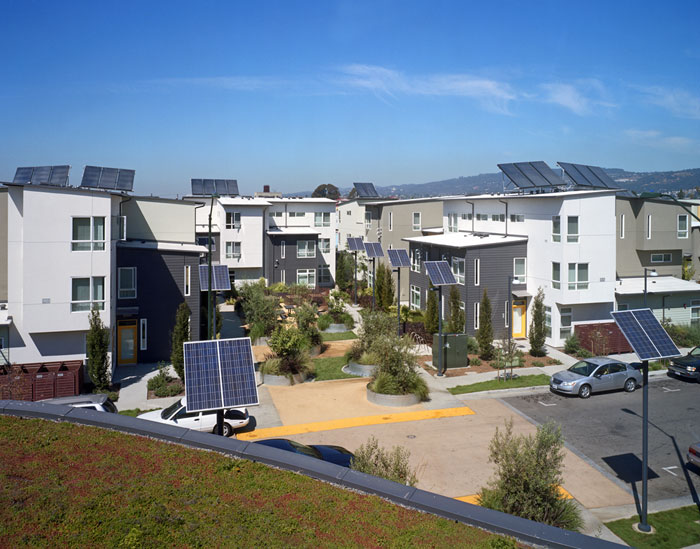 © Brian Rose
Throughout the project there are solar panels mounted on masts, and in the shot above, a green roof can just be seen in the foreground. Other parts of Tassfaronga Village include townhouses facing streets with courtyards and walkways within and between the groupings of houses. Large galvanized steel farm troughs are used as planters.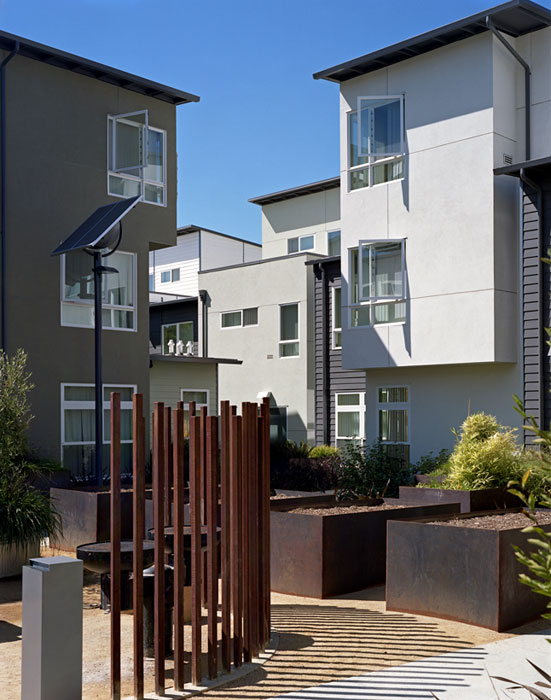 © Brian Rose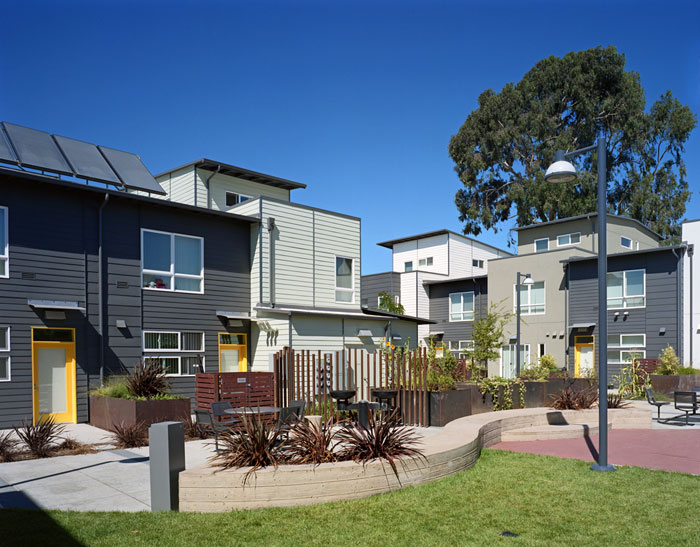 © Brian Rose
© Brian Rose
While the houses do not attempt to mimic historic styles, they do evoke characteristics of Bay Area architecture, with bright yellows and reds punctuating the generally white, gray, and muted green palette.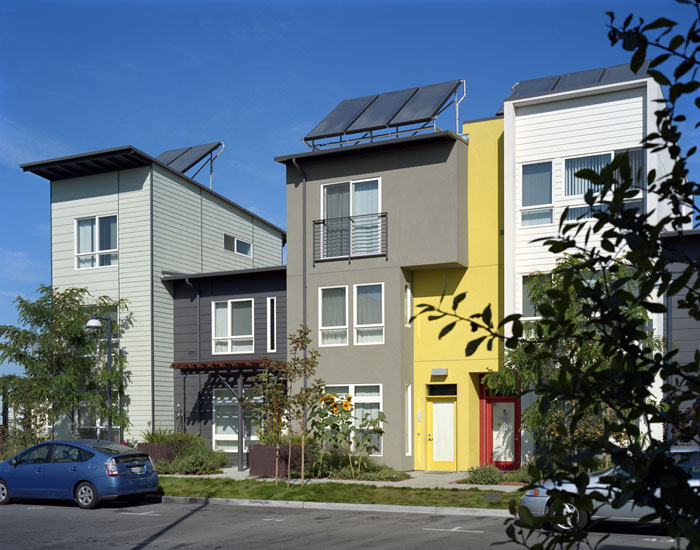 © Brian Rose
There is limited parking on the street in the complex, but a bus loop connects to the nearby BART subway system.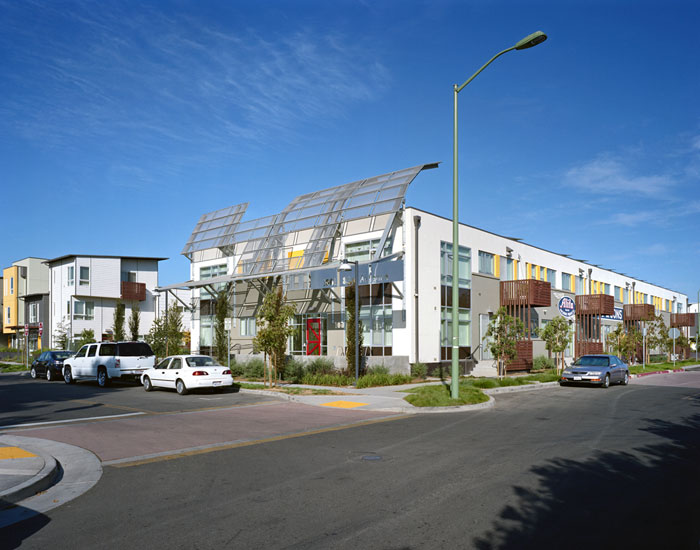 © Brian Rose
An existing building–a former pasta factory–is integrated into the complex. Seen above, a sloping metallic mesh screens the windows along the south facing end of the building. The red door is a signature element found somewhere in almost of all of David Baker's projects.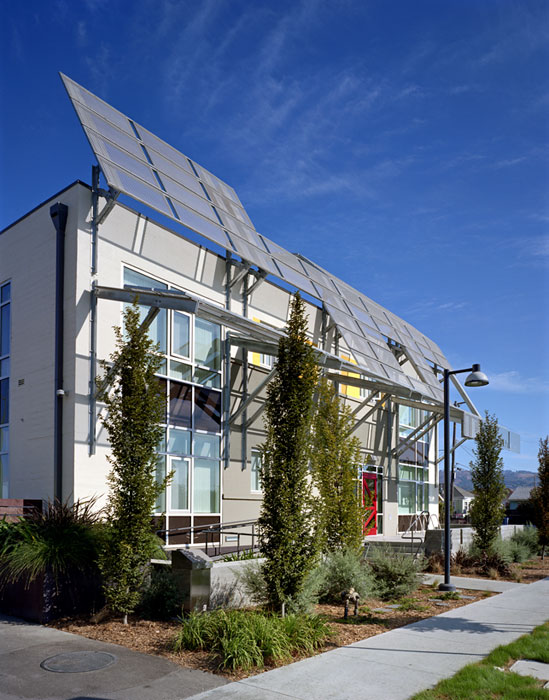 © Brian Rose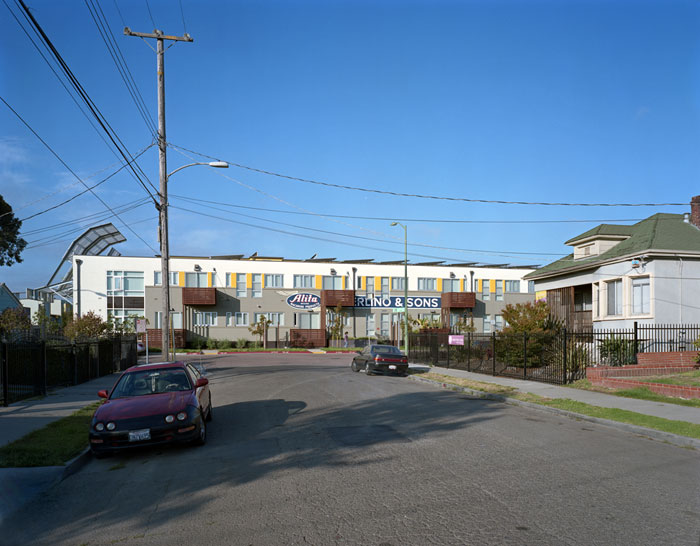 © Brian Rose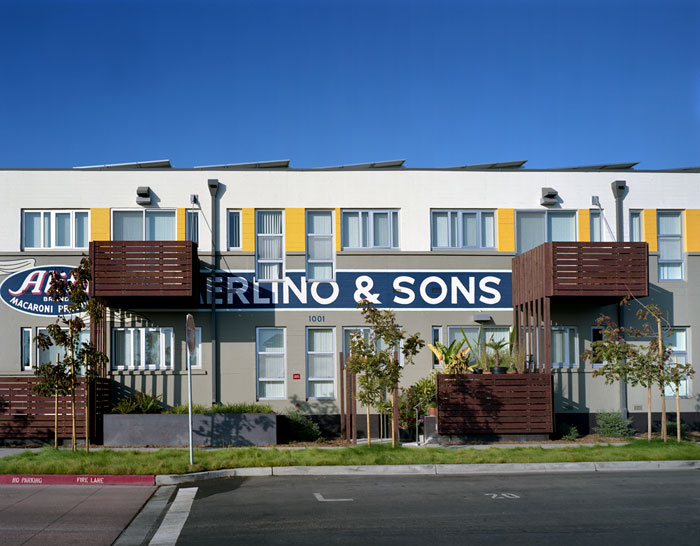 © Brian Rose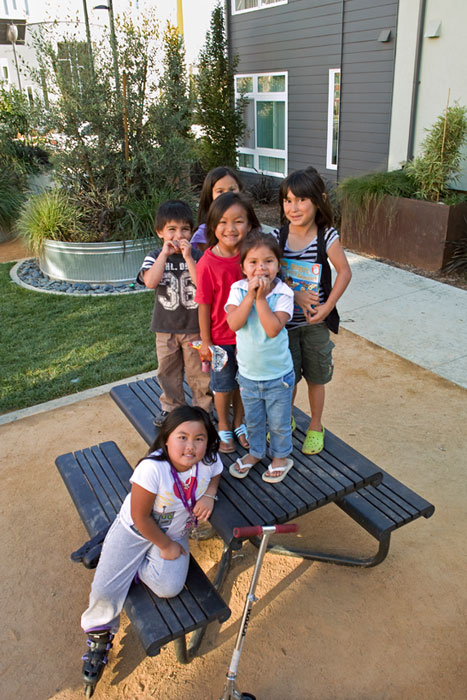 © Brian Rose
The question asked, and perhaps answered, in Kimmelman's positive Times piece, is whether good design can enhance quality of life and even dampen social ills. It would appear so with Baker's projects–for a number of reasons. One important one, is that there is always an active engagement with the street and with public spaces. The interior courtyards, playgrounds, and gardens encourage use, and can be easily watched over by surrounding windows. Baker does not plop down alien looking, monolithic blocks into the fabric of existing neighborhoods. His buildings look like they belong. However, his eclectic architectural vocabulary, which is as likely to quote European influences as American, is bracing and new.
Baker has rewritten the rules for subsidized housing in the San Francisco Bay Area. Working with knowledgeable developers, he has helped transform whole neighborhoods of San Francisco and Oakland, and he has demonstrated repeatedly that low income housing can be integrated into the urban landscape. Every day I walk out of my building here in New York and am confronted by the dispiriting brick wall and windows of a subsidized housing project, typical of what is done in this city and around the country. Tassafaronga Village, and other David Baker projects, shows another way forward.