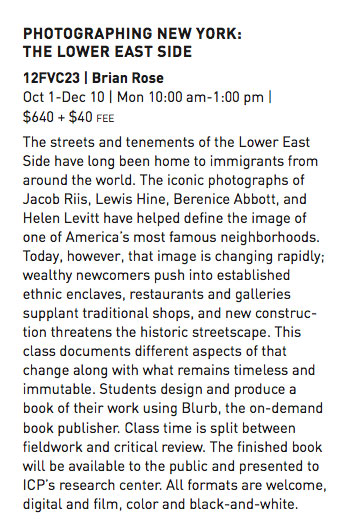 The above paragraph is from the ICP school catalog for this fall.  Anyone interested in taking the class, Photographing New York: The Lower East Side,  please follow this link. The last time I taught this class, we made a terrific book , which is viewable on the Blurb website here.
We begin the class by walking through the Lower East Side together, talking about its history, geography, and we discuss the changes that have overtaken the neighborhood in recent years. Throughout the semester I show the work of prominent photographers who have made images of the LES. From there, each student picks a theme or subject to photograph, and the next 4 or 5 weeks are spent making pictures. After that, the process of creating a book begins. We arrive at a conceptual framework, develop a layout, and work up the images in Photoshop or Lightroom. The final session is a book presentation and party. The whole class is only ten weeks, so a lot has to get done in a very compressed time period. Last year, it was a nail biting experience for me–would we get it all done in time?  But the final product was completed on schedule, and I have to say, it was all quite exhilarating.
If you want to learn a lot about photography, the Lower East Side, bookmaking, and, perhaps, something about yourself, join in the fun and sign up.