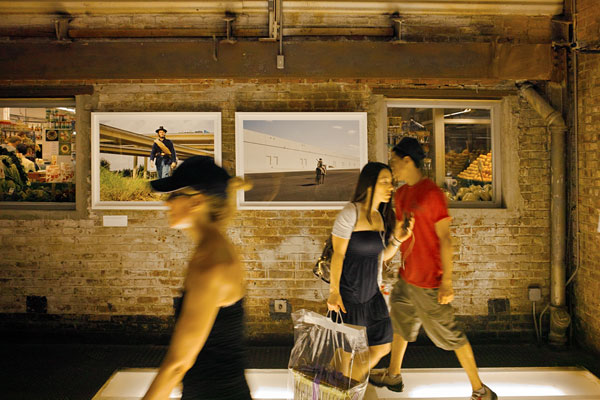 Chelsea Market – © Brian Rose
Walking through the Chelsea Market the other day I enjoyed seeing Gregg Segal's show Enactments, images of Civil War re-enactors and people who work as super hero characters. The images are a wry look at American culture–I particularly like the Civil War images, in which authentically uniformed soldiers seem lost in time, lost in suburbia. The Chelsea Market often has photo exhibitions, usually of middling quality, and it is a challenging environment for any sort of contemplative art. But Segal's photos work here in the crowded hubbub with the market setting adding another layer of odd juxtapositions. Although the images are highly staged scenes–not normally my thing–photographic artifice in this case connects aptly with the staged activities of the characters in the photographs. See more Gregg Segal photos here.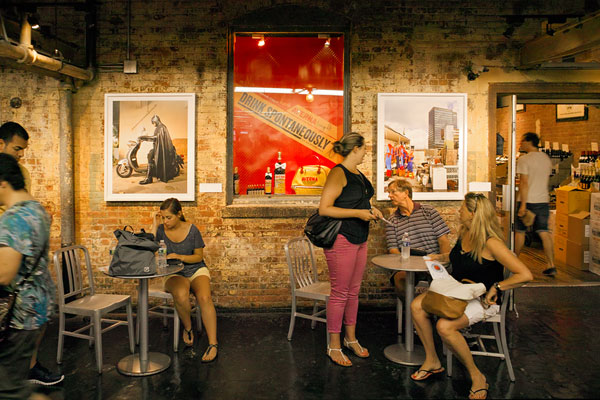 Chelsea Market – © Brian Rose
The Chelsea Market these days is overrun by tourists. There have always been plenty of them, but now it seems, whole busloads of foreigners are milling about, blocking the way, not buying anything. I've also noticed that a number of retail spaces are now occupied by boutiques diluting the focus on food that has makes this a great place and the primary reason for its success. Is the Chelsea Market reaching a tipping point? Is it losing its focus as other food markets pop up around the city providing alternatives for New Yorkers?
***
I'm heading off for Amsterdam this evening, the first time I've been back in a number of years. I'll be celebrating the publishing of Time and Space on the Lower East Side with some of my Dutch Kickstarter backers and friends next Thursday. Anyone who would like to join in please email me for details.