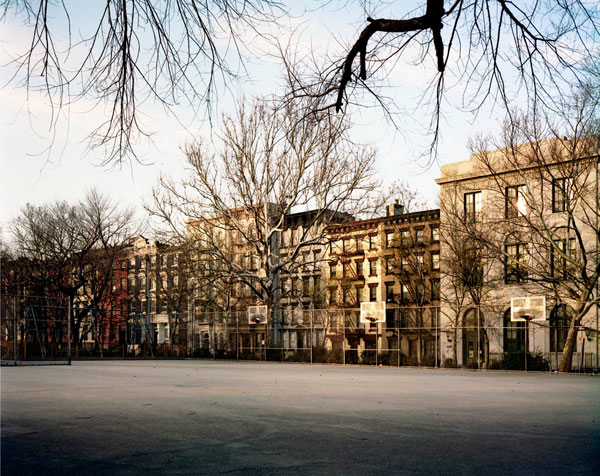 Tompkins Square Park basketball courts in 1980 (4×5) from Time and Space on the Lower East Side
© Brian Rose/Ed Fausty
Throughout the 80s and the early 90s I was regular at the pick-up basketball games on the courts near Avenue B and 10th Street in Tompkins Square Park. I played quite a bit on West 4th Street as well, the small cage-like court that still draws crowds of spectators today, but games there were hard to get into, and they often seemed more about the show than the game. The quality of play at Tompkins was pretty good in those years–lots of ex-high school stars and a few college castoffs. A couple of guys played pro in Europe for a while, and the NYU varsity team would sometimes show up together and challenge the neighborhood locals.
Games were typically played to 20 baskets, and you had to win by two with the winners staying on the court. Lots of close games would go on for an hour or more, so there was a heavy incentive to win, and as a result, games were played with great intensity. There's still good street ball on the Lower East Side, but it has moved to Sarah D. Roosevelt Park, and the old courts in Tompkins are barely used.
Pat Cummings, former Knick center
One day in the early 90s, the Knick power forward Pat Cummings came down and joined one of our games. I'm not sure if he was retired from basketball at that point, or between teams. But he was still in shape, a solid 6'9″ body. Fortunately, one of our bigger guys was there that day, heavy set, but relatively agile at 6'7″. He and Cummings battled away under the basket, neither one backing down, or bailing out by taking long jumpers. Cummings was on my team, and though it was a competitive game, it definitely helped to have an NBA starter on my side. I remember playing really well, the recipient of several sharp passes from Cummings, and I was surprised by how well this notoriously slow-footed player moved up and down the court. I think we played two games and won both. Even though we were a bunch of playground wannabes he played with us without the least condescension.
I read sadly the other day that Pat Cummings died at 55–just a few years younger than I. Probably a heart attack or something equally sudden. He lived in the Village. I don't know what he had been up to since retiring from the game, but my thoughts immediately went back to that afternoon in Tompkins Square Park. Here is Peter Vescey's column in the Post.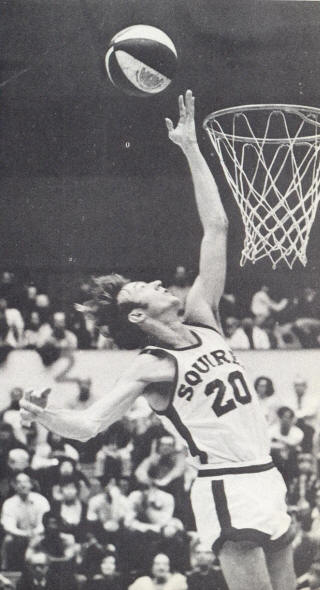 Mike Barrett of the ABA Virginia Squires
Years earlier when I was 17, I had another opportunity to play with a professional basketball player, also memorable, but not a happy story. I was attending a summer basketball camp at a community college in Newport News, Virginia, and was thrilled to hear that my hero Mike Barrett of the Virginia Squires of the now defunct American Basketball Association, was making an appearance at the camp. Barrett was the slender shooting guard–about my height–on a terrific team that for a fleeting moment included Hall of Famers Rick Barry, George Gervin, and Julius Erving.
It was the last day of camp and the counselors and better high schoolers were playing a pick-up half court game. Mike Barrett took part and played on my team. I didn't see exactly what happened, but suddenly Barrett stopped play clutching his hand. The game ended there, and a few days later it came out in the press that Barrett had broken his wrist and would likely miss a good part of the upcoming season. I was devastated. The injury, as I recall, did not heal easily, and Barrett did not play again for the Squires. He was later traded to San Diego where his career ended early in the season, apparently from another injury. In researching for this post, I discovered that Barrett died last year of cancer at age 67. All reports are that he was terrific guy.
Charleston Gazette article here.